Stealing a Tesla? Never a good idea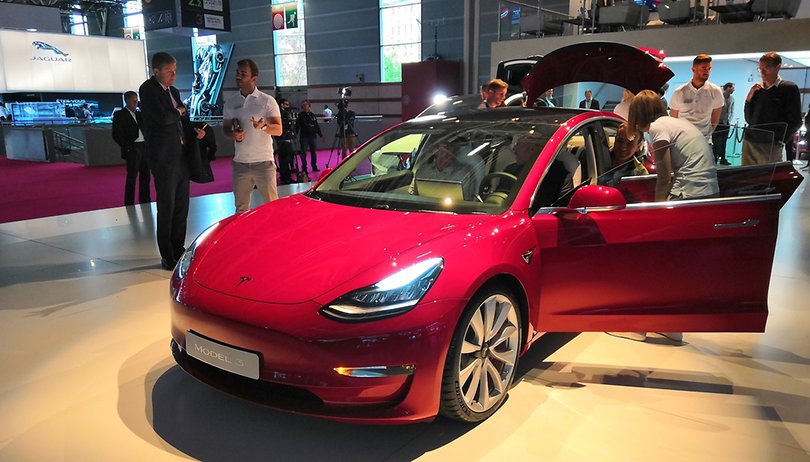 Stealing a car is never a good idea, but if you really have to join the family of car thieves, you'd better know who you're dealing with. You want to steal an elegant and expensive Tesla Model S? That might be the stupidest idea you've ever come up with, and I'll tell you why.
Easy to get in, hard to get out
Getting into a Tesla is child's play for a thief equipped with the right tools. The 'trick' they use is well-known and works not only on the cars by the famous brand, but almost 100% of electric vehicles. The attacker 'listens' with a probe and a PC (or tablet) and records the signal sent by the remote control to the car. Once the correct signal has been recorded, it can be played back to unlock the car doors.
That's what these two nice individuals did when trying to steal a Tesla. In the process, they were recorded by the owner's surveillance cameras. They didn't think that the owner of a Tesla would have protected it with hi-tech gadgets like simple night camcorders, did they?
The video deserves to be watched not only to understand how these criminals operate, but to have a laugh at their expense when they try to disconnect the power plug from the electric car in vain. Not aware of the presence of a small key that works as a lock, one of the two thieves continues to tug the cable until he finally manages to pull it off after several attempts.
In case you still decide to pursue grand theft auto after learning from others' mistakes, don't think you've gotten away with it if you've managed to drive the Tesla away from its driveway. All Teslas are equipped with a GPS system that constantly sends location data to the company's servers for the improvement of the autonomous driving software. In short, even if you were to be able to escape with the car, you wouldn't get very far before you get caught by the police...
Only three Teslas have disappeared so far
If we remove Tesla cars destroyed in accidents from the list (not relevant to the discussion), the number of Teslas which were stolen and vanished into thin air is only three. Incredibly, almost all of the 115 vehicles stolen from 2011 (the year of the first ever theft) to May 31, 2018 have been located and recovered.
In a market where the recovery rate of stolen cars is around 60%, Tesla positions itself as close as possible to 100%, making the brand's cars among the most difficult to steal. In 2016 the overall percentage of successfully recovered cars stood at around 58.4%. Meanwhile, in the same year Tesla could boast 100% recovery.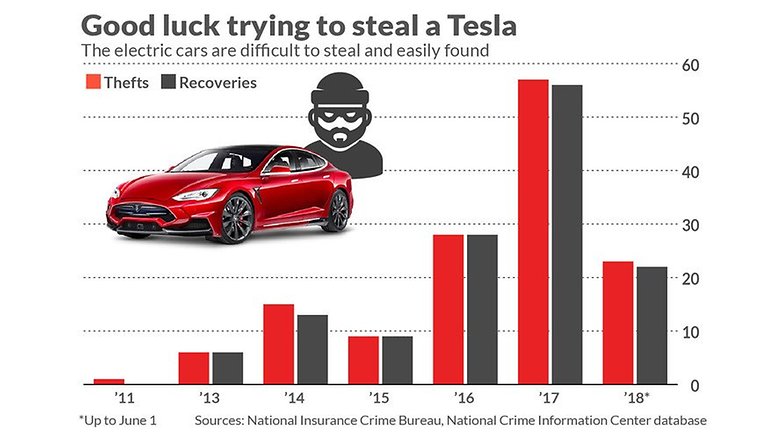 A smartphone on wheels
In addition to making it difficult for thieves to get into the car, to get it moving or to keep it, the autopilot and GPS navigation technology makes the recovery of a stolen Tesla much easier - to the joy of owners and the disappointment of criminals hoping for easy money.
Stealing a Tesla these days is comparable to stealing a smartphone. Both devices can be easily located even when switched off and it is almost impossible to make them untraceable unless they are completely disassembled. As I was told by my colleague Pierre of AndroidPIT France:
The Tesla more resembles a PC, which has a car built around it, unlike other cars which add the PC at a later time.
I couldn't agree more. Tesla vehicles are built with the technology at the heart of the experience and it is this technology that protects them from malicious acts too.
It is easy to get into a Tesla and take it for a spin, but it is very difficult if not almost impossible, to get away with it. In case you are still interested in the car thieving business, it is better to shift your focus to other brands. The two most stolen cars, for example, are the Honda Civic and Honda Accord, but I haven't told you anything, is that clear?