Google's Chief Legal Officer Gives His 2 Cents On Software Patents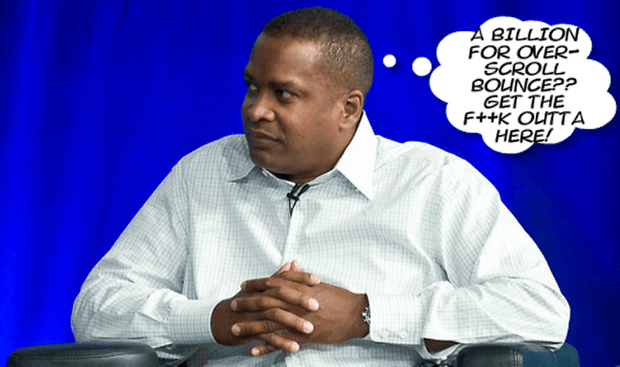 With the patent wars in full swing, we have heard multiple statements from Android OEMs and how they feel about the current software patent system and the companies that attempt to exploit them (cough, cough..Apple). But one company hasn't been too vocal about the issue, and I'm happy to report that they've recently broke their silence. David Drummond (Google's Chief Legal Officer) recently spoke with reporters in Korea about the subject of software patents, and if his comments are any indicator, Google seems to be losing their patience with Apple.
David apparently doesn't believe that any of these companies (again..cough cough Apple) actually wish to keep dealing with all this software patent nonsense, and stated that "It doesn't take much digging to find statements from Apple, Microsoft, all lamenting the fact that we have this patent litigation. These are not companies that say we're all about patents and wake up in the morning wanting to think about patents."
In his eyes, the real problem is that it's simply too easy to obtain software patents in the United States:
"There are places in the world where you can't get a software patent, or at least it's harder, like Europe. We think that's probably the better way to go."
The man speaks the truth.
The US patent system obviously has its reasons for the way they govern software patents (hardware as well), and even if they wanted to overhaul the entire system, tech industries (as well as pharmaceutical and other industries) could seriously be threatened, as they rely on patent protection to turn a profit.
David's solution?
"I think what we need to do is move past the one-size-fits-all and start thinking about software patents more specifically," Drummond said. "If you talk about software patents, I don't think those other industries will feel as threatened." He also went on to say that their are stark differences between innovation on hardware and software:
"I would argue semiconductors fit the model for [patent] protection more than software does. We're talking about algorithms here. In some ways, it's math. I think you'd want to be more careful about giving monopoly protection than you might for some hardware ideas. I don't think we should just say 'Well, this is the cycle we always go through.'"
David made some very valid points here, and considering that Google allowed him to publicly make these statements, it would seem that they are seriously worlds second most valuable tech company in the world to influence some changes within the current software patent system....
...although I seriously doubt that will ever happen.
Picture credits: farm4.static.flickr.com (edited by myself)