Smart speakers in your home: You'll have one sooner than you think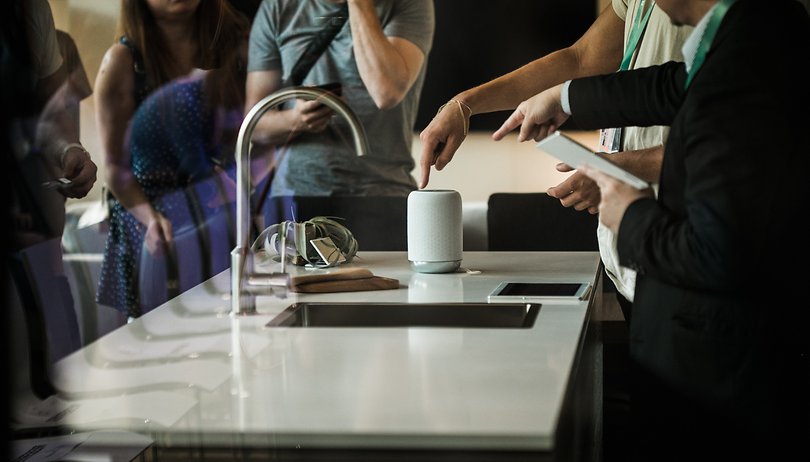 After wandering through stands at the IFA technology trade fair in Berlin last week and attending the keynote speeches for various brands, there was a clear resounding message: Smart Home isn't just for geeks. You might be surprised how soon even your own house will host a voice assistant, whether it's Google Home, Amazon Echo or one of the new Sony Panasonic or Harman/Kardon smart hi-fi speakers, .
Google Assistant is knocking at our door with Sony and Panasonic
You'd be wrong to think that Smart Home doesn't concern or won't affect you, even if you have no interest in it at the moment. Many manufacturers are now concentrating more and more on connected devices. During this year's IFA, we witnessed several brands introducing their latest smart speakers.
With names that are difficult to remember, particularly for Sony and Panasonic devices which are just a combination of letters and numbers, the smart hi-fi speakers are knocking at our doors. Both Japanese manufacturers have opted for to have the Google Assistant rather than Alexa.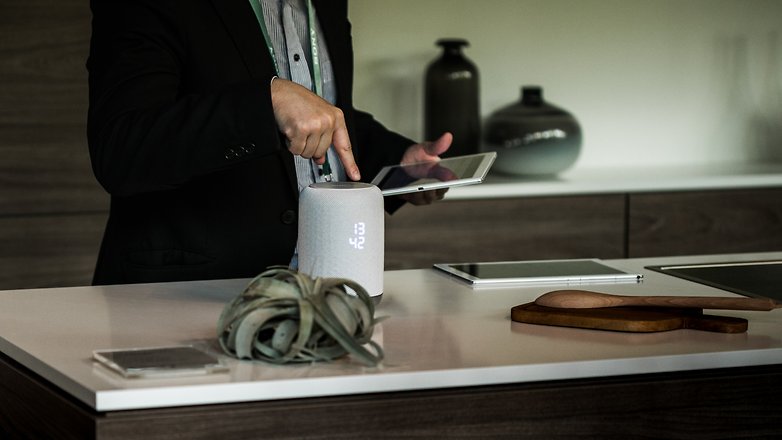 According to one of Panasonic's representatives, this doesn't mean that the future of Smart Home devices will systematically run with Google assistant. It's just that for the time being, Google's smart assistant seems to be the best choice if you consider the vast range of Google services that are available, but who knows what could happen in the future? Alexa could turn out to be the best. That is yet to be seen.
With the two new speakers, the manufacturers are focusing on audio as they have a lot of experience in this area. From a design point of view, as always, it's up to you to choose the one that fits in the best with the decor of your house and your personal taste. The Sony speaker is smaller, and thanks to the splash resistance, it can be easily placed in the kitchen.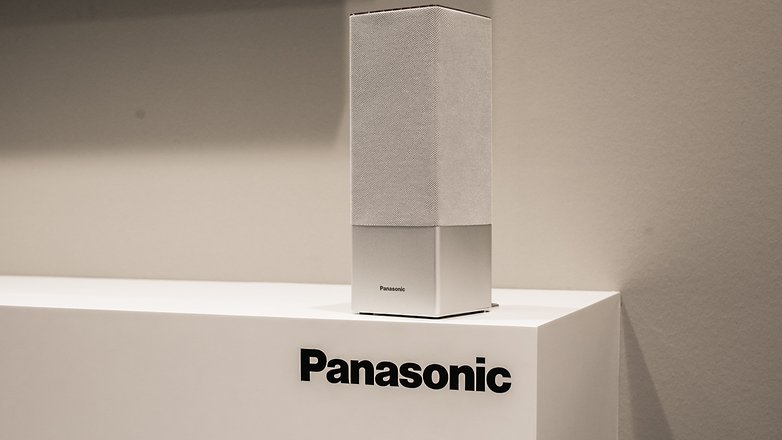 The Panasonic speaker is taller, doesn't offer any water resistance and is designed to be placed in a living room. To differentiate between the two smart speakers: you can use motion with the Sony LF-S50G speaker and the SCGA10 by Panasonic has the benefit of a network port and the AUX input at the back. The Sony device will arrive on the market soon and is priced at $199.99, whereas the Panasonic model won't be available in stores for a few months and its price point is not yet known.
Harman does even more as, in addition to Assistant, it also offers Alexa and Cortana
Google Assistant isn't the only alternative to Google Home or Amazon Echo, which isn't yet available in all languages. Harman offers several smart speakers: The Link range comes with Assistant, Invoke with Cortana and Allure with Alexa.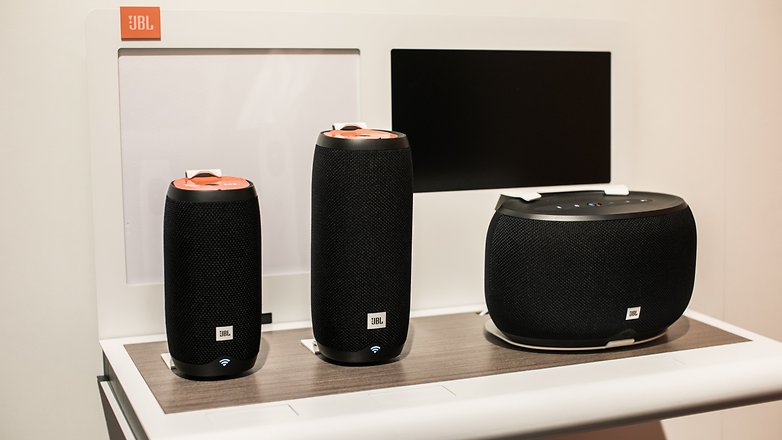 The Link 10 and the Link 20 are two portable and waterproof (IPX7) speakers, which are manufactured by JBL and stand out simply because of their size and their integrated battery (promising 5 and 10 hours of battery life). This makes them perfect for travelling, unlike the Link 300, which is better for indoor use but offers a superior audio experience. You can connect the Link 300 to various speakers and ask Google Assistant to play your music. There are touch controls located at the bottom of the device, which allow you to control the assistant requests. The three Link smart speakers will be available in fall on markets that support Google Assistant for the price of around $200 (Link 10), $230 (Link 20) and $325 (Link 300). It is interesting to see that the brand is not in charge of deciding which markets to sell its products on: Google holds the reins.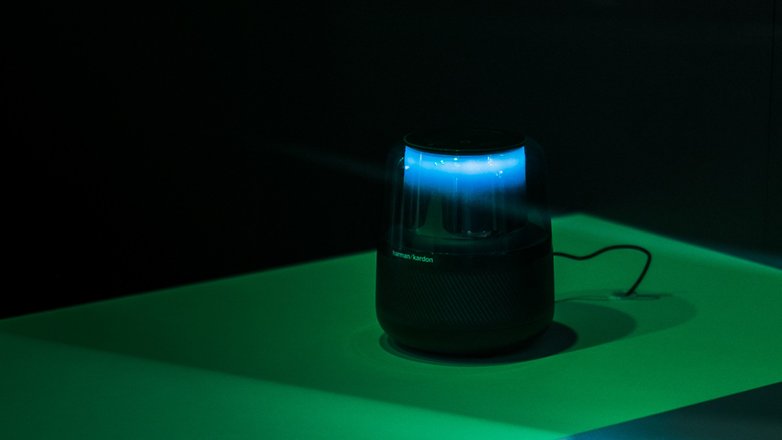 However, as previously mentioned, these speakers don't just have Google Assistant. In fact, Harman/Kardon Allure is also there to appeal to users who prefer Alexa. This speaker offers a much more elegant design than the JBL Link series and might appeal to a younger audience. Elegant and with surround sound, the Allure has four microphones with noise reduction technology and, thanks to Alexa's skills, it can play your favorite songs, manage your connected devices or read you the news with a simple voice command. It also has great lighting effects.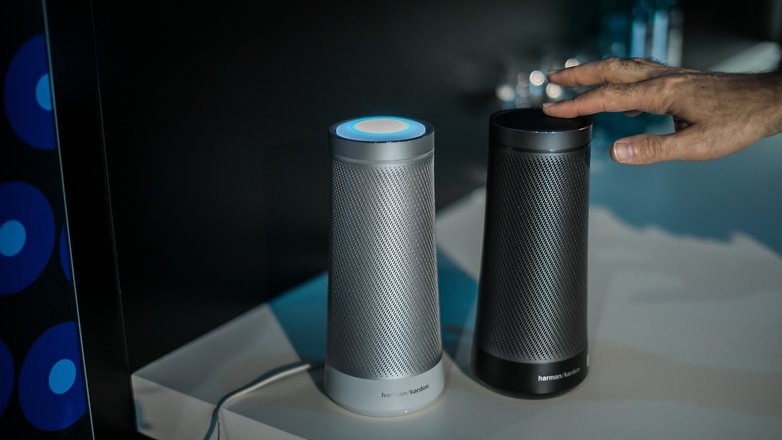 With Invoke, Harman combines Cortana's intelligence with a surround-sound audio experience thanks to its seven microphones, echo cancellation and noise reduction. In addition to this, in terms of design, you can see Harman/Kardon's taste shine through: elegant and designed to fit in with your living room or office. As with other smart speakers, you can configure your smart devices and music while also benefiting from the integration of Skype for making calls.
Which speaker to choose?
Choosing between different smart speakers is becoming increasingly difficult. Several brands have decided to put forward their own alternatives to Google Home and Amazon Echo. We've seen many of these devices in action and the results were definitely satisfactory.
I was pleasantly surprised by Harman's products: with the Link 10 and 20, you can bring Google Assistant to your home, on the condition that you have an available Wi-Fi network. And with the Link 300, you can draw the best parts from other speakers into your home. Sony, Panasonic and Harman/Kardon want to focus on audio experience and, to understand which of these solutions is the best, we have to properly test them at our editorial office.
The price will likely help you decide as well as the integration or non-integration of certain features. If I had to choose one of these smart speakers, I think that I would pick one from JBL. I thought that the button dedicated to Assistant is a great idea and really liked the portability of the devices.
In my opinion, one thing is for sure: soon everyone will have a smart speaker in their house. And if you think that's something you wouldn't be interested in, just think about how smartphones have become an integral part of our lives, how Facebook and WhatsApp have changed how we communicate and how many people now use voice messages. So, why not use your voice to make life easier within the walls of your home?
Which speaker would you get? Do you think everyone will have one in their homes soon? Share your thoughts in the comments below!