Are Samsung's new smartwatches an incremental improvement or a major leap forward?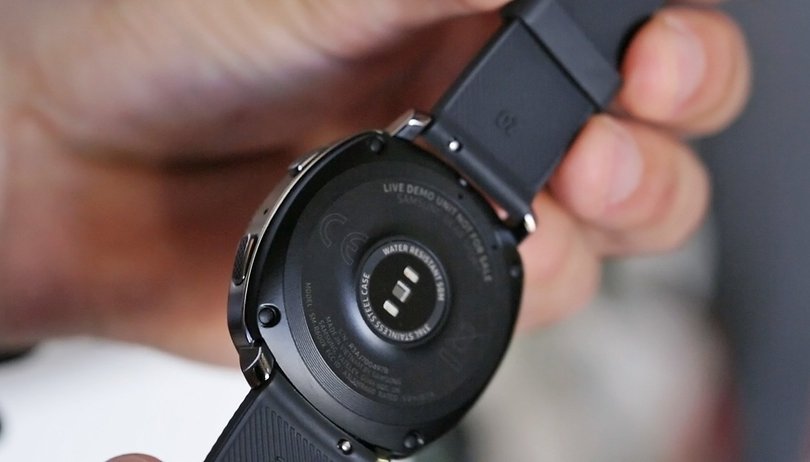 Samsung has dipped its fingers into the fitness wearables pie for some time now, and while there has been no standout device that ended up on the wish list or "must have" category, this does not mean the company has thrown in the towel. The newly announced Samsung Gear Fit 2 Pro and Samsung Gear Sport are gems in their own right.
Samsung Gear Fit 2 Pro: All you need to know
What about the Samsung Gear Fit 2 Pro?
The Samsung Gear Fit 2 Pro is clearly an incremental upgrade over its predecessor, the Samsung Gear Fit 2. Most of the changes were made underneath the hood, leading to an understated and elegant fitness wearable that is capable of handling laps in the swimming pool as you work through your fitness program. At first glance, the Samsung Gear Fit 2 Pro does not look at all different from the 2016 model, where both the screen and bracelet are actually a single component.
Following a similar design pattern is not going to win over new fans, but the positive spin to taking that design route would be to retain the existing fan base who have found the overall aesthetics pleasant to look at, and more importantly, wear around your wrist without coming across as gaudy. We are pleased to note that the Samsung Gear Fit 2 Pro features a ribbed design on the bracelet strap, accompanied by a buckle fastener with an overall greater degree of durability since it is now able to handle pressure resistance of up to 5 ATM under water. This is a step forward in the right direction and does not make a mockery of the IP68 certification that accompanies it.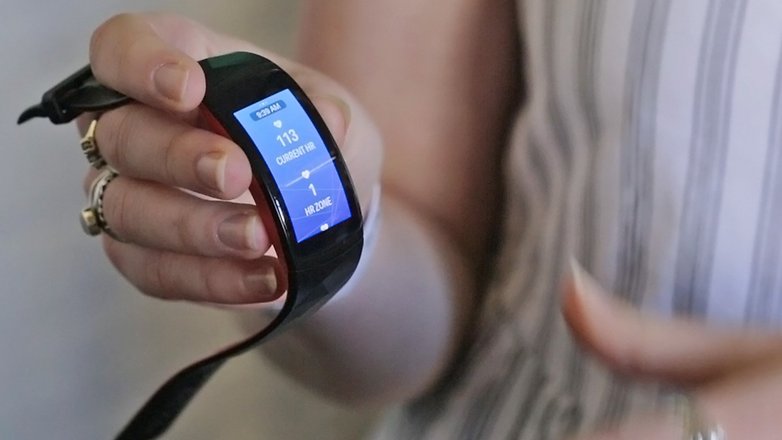 Overall, we are pleased that the interface continues to be easily accessible and intuitive, without being overly complicated. This makes it easier for new users to jump right into the action without having to go through a steep learning curve. Right smack at the back of the Gear Fit 2 Pro lies an optical heart rate sensor that does its job admirably well, and it tips the scales at a mere 30 grams, making it ideal for the physically active. With Gorilla Glass 3 protection thrown into the mix to add a toughness to the screen, it does make us feel more confident using the Gear Fit 2 Pro without being overly careful.
The expansion of its versatility when it comes to apps makes the Gear Fit 2 Pro a far more refined beast than its predecessor. With 4GB of internal memory, it should be able to carry more than enough music to keep your workout sessions on the edge. The inclusion of using Spotify while offline is also a good excuse to obtain an upgrade if you ever need to justify this purchase.
The new Tizen 3.0 operating system will run proceedings from underneath the hood, and will also play nice with the iPhone (compatibility is limited to iOS 9.0 or higher on the iPhone 7, 7 Plus, 6s, 6s Plus, and SE), while those who jive to Samsung's range of Galaxy smartphones can do so as long as Android 4.3 (and higher) is installed, or having at least Android 4.4 on smartphones from manufacturers other than Samsung.
We found the Gear Fit 2 Pro to be more of an incremental upgrade than a revolutionary device, but it is baby steps like these that makes it more than enough to warrant a place under the Christmas tree for this year.
Samsung Gear Sport ups the smartwatch ante with customizations galore
Samsung knows that the smartwatch market badly needs a kick in the butt, and they certainly hope that the new Gear Sport could be the right candidate for it. Right off the bat, we like the Samsung Gear Sport for its unprecedented level of fashionable customization options that will certainly drive fashionistas crazy with delight.
The possibilities are numerous: there will be 23 different kinds of 20 mm bracelets that are made of various materials, including plastic, leather, and a combination of both. Initially, black and blue colors are available, but do not expect the number of colors to stop at just two! Oh, did we mention, other kinds of 20 mm bracelets will also work just fine. This certainly brings back the era when Swatch reigned supreme among teens, thanks to a fantastic array of swappable straps and casings for their youthful timepieces.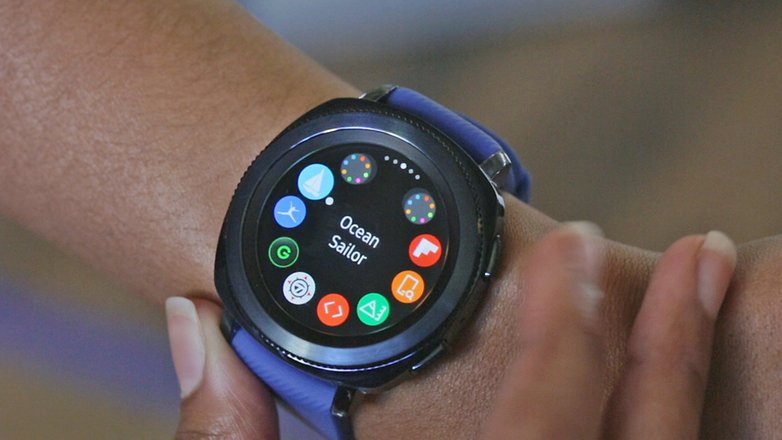 If there is one important design change in the Gear Sport, it would be Samsung taking this smartwatch for a unisex spin. It does not matter if your wrist is extremely small, the new Gear Sport will still look good without being gaudy. It takes on a more elegant look, where the metal body and accents complement each other while different aluminum textures add a touch of class.
Existing Gear S smartwatch users will find that the rotating dial and pair of physical buttons on the Gear Sport to be a familiar friend, while new users would certainly take to them in a jiffy. Just like the Samsung Gear Fit 2 Pro, the Gear Sport will now boast of 5 ATM water resistance, making it a faithful companion when you swim or shower. Offering Samsung Pay support will definitely be a boon to those who are curious about jumping aboard the contactless payment bandwagon, and it would come in handy should your Samsung Pay-compatible handset run out of juice when you need to make a purchase. It has similar compatibility parameters as with the Gear Fit 2 Pro, and it continues to support wireless charging like its predecessor.
Which smart wearable should I get?
It really depends on your lifestyle and needs. If you are in need of a smartwatch and a fitness device, getting the Samsung Gear Sport is a no-brainer. Otherwise, if you are already rocking to your favorite timepiece but need a fitness wearable to help you keep track of your exercise regime with a greater degree of accuracy, the Samsung Gear Fit 2 Pro will fit the bill nicely. We like both devices, and they are really a case of horses for the courses.