Whooooaaa Samsung..Take It Easy With The Tablets Will Ya?!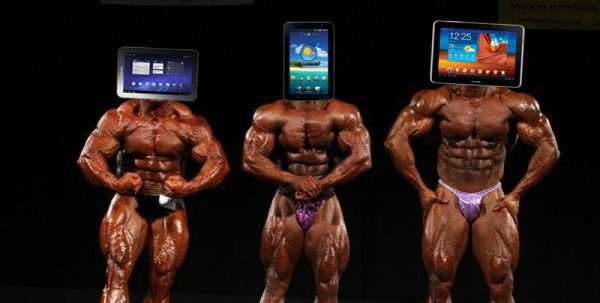 The Samsung Galaxy Tab 10.1 was the first Android tablet I ever purchased, and man oh man am I glad I did! I LOVE this thing, and use it constantly at work, at home, and when travelling. It's like a magazine on the coffee tablet, and it's definetely one of the most used devices in my apartment. But speaking of Samsung tablets, at MWC today Samsung product strategy executive Hankil Yoon was extremely direct when he said "Honestly, we're not doing very well in the tablet market." It really saddens me to say they even though I love my tablet, I know exactly why they aren't selling well, and it's unfortunately for a number of reasons.
When I first saw the iPad2 and got a few minutes to play with it, I thought.."WOW..this is pretty awesome. Imagine a tablet like this with Android running on it!". No lie. I saw so much potential in the idea that I had no problem waiting for Android tablets to hit the market, despite all the pressure I was getting from friends to get an iPad. The first one that really caught my eye was from Samsung, and it was the original Galaxy Tab. I didn't buy it because, well, it didn't impress me for one, and I had heard Google state that a tablet optimized version of their OS would be released soon. So I anxiously awaited Honeycomb.
And then there it was: The Motorola Xoom. I saw it, and loved it. But I wanted thinner, sexier, and a better screen. So I continued to wait....and the wait was worth it, as the Samsung Galaxy Tab 10.1V and the slimmer Galaxy Tab 10.1 shortly followed. "That's the one" I thought to myself. "Theres my tablet". It looked sexier than an iPad, was thinner thinner than an iPad, weighed less than an iPad, and was running Android. HEAVEN.
Now in the US, the 16GB Wifi edition was selling for $499, which was a good price for a tablet, considering that the iPad was the same price. But there's problem number 1: If you're going to bring out a tablet for the first time to compete with the iPad, it has to be CHEAPER than the iPad. In Europe I finally got my hands on the 16GB 3G model for 620 Euros. That's a whopping 834 US DOLLARS. Now I live in Germany, but am from the US, and I knew that for this price, I could easily get a high powered PC (if I bought parts and built it myself). Bear in mind that the Samsung Galaxy Tab 10.1 was almost 100 Euros CHEAPER than the Motorola Xoom when it came out, as the Xoom was 700 Euros when it arrived here. That's 941 USD. TOO MUCH. All this time, the iPad 2 was selling in Germany for 550 Euros.
So you have the iPad, a product that EVERYONE knew and loved, and then you have 2 Android tablets come out from Motorola and Samsung that NOBODY had heard of and that costed ALOT more than an iPad. The moral of this story isn't to demonstrate that prices in Europe are too high, but more so to state that despite the Xooms and Galaxy Tab's 10.1 superior hardware, you can't bring out the first high powered Android tablet's and make them this much more expensive than an iPad. PERIOD. Motorola and Samsung learned that lesson the hard way.
To make matters worse? Honeycomb. It boomed with potential, but it honestly wasn't ready. It was buggy, it lagged like hell, and did all the wrong things for consumers trying them out in the store. What consumer do you know that would consider paying almost 1000 USD for a tablet that lags like hell and was buggy as can be, as opposed to the iPad 2, a tablet that literally ZIPS through everything it does? Don't get me wrong, I love my tablet, but it wasn't until I rooted it that I really fell in love with it. If you want mass consumers to purchase you're product at a price more expensive than Apple, you probably shouldn't release it with buggy software. This wasn't only Samsung's and Motorola's fault, but Google's for releasing software that wasn't ready for the masses. In doing that, it already set consumer opinion very low of Android tablets, and left a taste in their mouth that still exists as we speak.
Then Ice Cream Sandwich came along, and WOW. THIS is what Honeycomb SHOULD have been. ICS on my tablet (CM9 ROM) absolutely FLIES, and should have been the OS Google should have initially released. But here comes another big mistake from Samsung. Look at how many Samsung tablets were released within a 12 month period:
Galaxy Tab WiFi
Galaxy Tab 7.0 Plus (N)
Galaxy Tab 7.0 Plus (N) WiFi
Galaxy Tab 7.7
Galaxy Tab 8.9
Galaxy Tab 10.1
Galaxy Tab 10.1N
Galaxy Tab 10.1V
Galaxy Note
Galaxy Note 10.1
Galaxy Tab 2 (10.1)
Galaxy Tab 2 (10.1) WiFi-Version

Did any of them sell well? Nope. Not one actually. Here's something that it doesn't seem Android manufacturers are getting yet: If you put out a product that is already overpriced and buggy, spamming the market with more of them WON'T help. You need to firstly go back to the drawing board on pricing and useability, and then re-enter the market. The only tablet maker that did it right from the beginning was the Eee Pad Transformer. They came in at a low price, included a keyboard dock, and outsold all other Android tablets. Coincidence? I don't think so.
The good news is that a lot of Samsung's newer tablets are a lot cheaper now, which came too late, but better late than never. What hasn't happened on Sammys end is proper marketing for tablets. Why they put all their marketing power into the Note makes no sense to me, as it's too awkward of a device. What Samsung needs now is a quad core 10.1 tablet running ICS for under 500USD, and when they have that, they simply need to market the $!&% out of it. This is NOT a Samsung rant. They make hands down the best Android tablets, but their execution has been poor so far. When their first quad core device comes out, believe you me that I will be buying one. But if you want the MASSES to buy them, get your pricing sorted, get your hardware sorted (don't go down the HTC road of spamming and releasing too many devices with more or less the same hardware), make sure consumer useability is there, and stop shipping tablets with Honeycomb.
Remember, theres a reason that so many people buy the iPad, and that reason has NOTHING to do with it being a better device, cause it's not. If Samsung does right in terms of it's next quad core tablet, gets pricing and the OS right, and applies the same MARKETING STRATEGY that it used for the Galaxy S2 phone, they might just find themselves with another consumer hit on their hands. Apple tried to stop the Galaxy 10.1 from getting sold in court. That's the first sign that you are doing something right. You got around them in court, and now you need to get to consumers!
Don't let me down Samsung! You got the design down, you got the OS you need, and you're getting price competitive. Let's get the marketing strategy down pat for your next big tablet and show the world how great Android tablets can truly be.