Samsung Bixby updates, latest news and features
Update:

Update allows users to disable Bixby button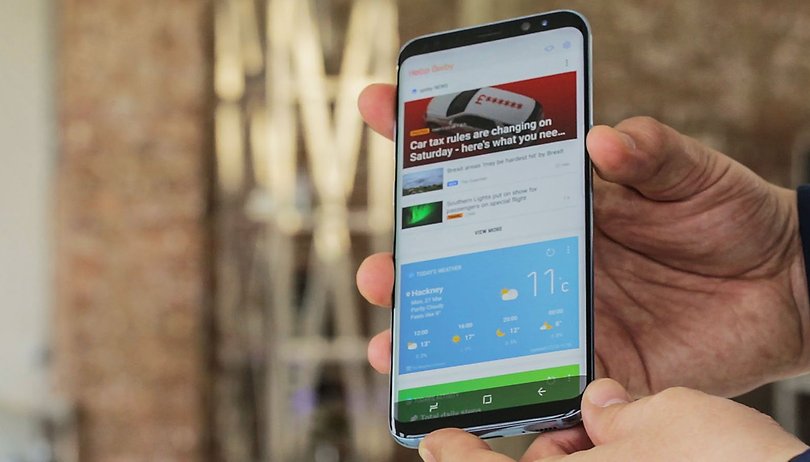 Samsung's new AI assistant Bixby is supposed to rival Google Assistant and Amazon Alexa, but it is still an unproven feature on two widely praised devices: the Galaxy S8 and Note 8. After months of delays, Bixby Voice features are now available for all S8 and S8+ devices in the US. Samsung has been crushing the dreams of those who want to remap the Bixby button, but now you can at least disable it.
You can now disable the Bixby button
The latest update to the Bixby software allows users to disable some of the functionality of the physical Bixby button on the side of the device. This will come as a relief to those who don't like accidentally bumping it and launching Bixby Home, but especially to those who are annoyed that they can't remap the button and would rather just ditch it entirely.
Here's how to do it: Make sure you update to the latest version of Bixby, then open up Bixby Home and you'll find a Bixby key toggle button at the top which says "Open Bixby Home when you press the Bixby key." You can also configure it in the Bixby settings menu. Once you disable it, when you press the Bixby button, nothing will happen. But a long press will still launch Bixby Voice as normal, so it's not an entirely dead button. And, if you want it, Bixby Home can be accessed by swiping left on the home screen.
According to SamMobile, some users are able to turn the button off with the toggle, but others aren't given the option after updating. It appears to be random, so we can hold out home that it will come to all Not 8 and S8 devices in due time.
Bixby Voice has arrived in US after months of delays
Bixby wasn't launched when the Galaxy S8 came out in the US in April. Samsung's plan was to roll out the voice-activated assistant a month late, in May. But, Bixby Voice has taken a full three months after the launch of the S8 to arrive finally. This has been frustrating for those who have already received their Galaxy S8 units, but good news for those who have been rooting for Google Assistant to win the AI battle.
As of June 19, an update bringing Bixby Voice is rolling out over-the-air to all Galaxy S8 and S8+ devices in the US. The voice control features arriving are the same as what was made available to a limited group of beta testers over the past few weeks. One key differentiating feature from the competition is that it can control things on your phone, rather than just fetch information from the internet for you. We will find out over the coming weeks if the feature is truly useful, and if the kinks leading to the delays have truly been worked out yet.
According to the Wall Street Journal, the reason for the most recent delay of the launch of the Bixby Voice feature was that Bixby was having trouble with the English language. Unlike Siri and Google Assistant, it had problems with grammar and syntax when forming sentences in English.
The Bixby button: Samsung doesn't want you to remap it
Some have been trying to remap the physical button on the phone so it can become more useful. Samsung doesn't seem too happy about that.
In early April, we first learned it was possible to use the All in One Gestures app to remap the Bixby button. This app, and others like it, work by intercepting button press events with Accessibility Services, then remapping them to perform another function. An S8 owner and app developer using Canadian carrier Telus received the latest system update from Samsung (NRD90M.G950WVLU1AQD9), and he reports that the update has already blocked the ability to remap the Bixby button (without root) just a couple of weeks after users discovered they could actually do this in the first place.
This almost certainly won't be limited to a specific carrier, as this was a swift and deliberate act by Samsung. A Samsung employee responsible for the reviews program in the US tweeted a confirmation that the ability to remap the button has been removed, and it won't be officially supported down the line.
@geoff5093 @Lostatsea1923 @One3OneKing @droid_life It was exploiting a system-level behavior. That behavior has been changed. Can't say it will never happen, but we won't officially support.

— Philip Berne (@philipberne) April 17, 2017
This move was clearly done to encourage S8 owners to use Bixby, but it's not likely to achieve that goal. The only people who would be remapping the button are those who go out of their way to download a third party app just to do so. Samsung is deliberately blocking their ability to customize their phone, and doing so isn't going to make people want to use the Bixby button, it's only going to alienate them. Samsung is showing that it cares more about forcing a feature on people that they don't want than pleasing its customers who only want their very expensive phone to be a little bit more useful.
What do you think of Samsung blocking the ability to remap the Bixby button? Is it a smart strategic move or just a disappointment for users? What do you think of the Bixby delays? Let us know in the comments below.