Why I decided to buy the Samsung Galaxy S8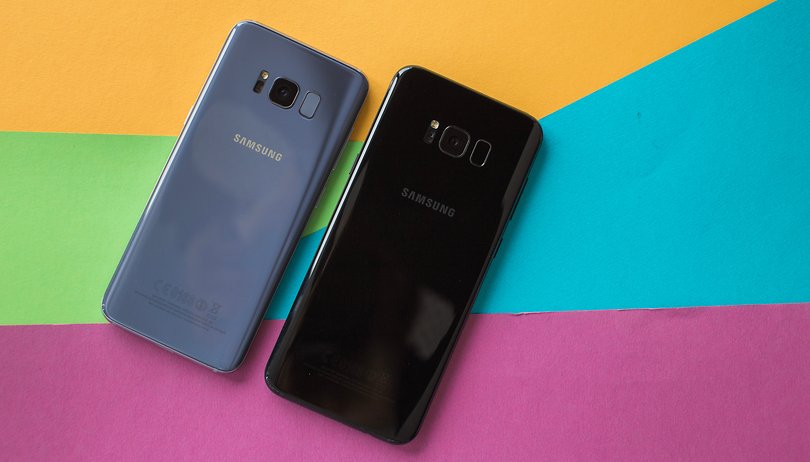 The Samsung Galaxy S8 and S8+ have arrived on the market! Although their prices are enough to scare off a lot of users (which I totally understand), the Galaxy S8 is definitely the best Android smartphone on the market this year so far. It's not surprising that a lot of people are singing its praises. Here are some reasons why I was swayed and decided to buy a Galaxy S8.
1. A magnificent design
For me, the design is a smartphone's biggest asset. The Galaxy S8 is quite simply one of the most attractive smartphones on the market at the moment. Samsung has taken yet another step forward with its new smartphone in terms of design. The phone features a beautiful screen that curves on both sides. On the front, you won't find any bezels on the left or the right side thanks to Samsung's Infinity Display.
On the top, bottom and even the corners, you can see that the glass is curved. This delineates the phone beautifully and, as you can imagine, it bodes well for excellent handling. Your nearest and dearest will definitely notice the wow factor. As my colleague Steffen explained during his first days of testing this phone, "the design got lots of 'Oooohs' and 'Aaaaaahs'. The giant screen (which, by the way, is awesome), the extra thin edges and the smartphone's appearance in general make it look much more compact than it actually is. In a nutshell, the Galaxy S8 is a beautiful smartphone.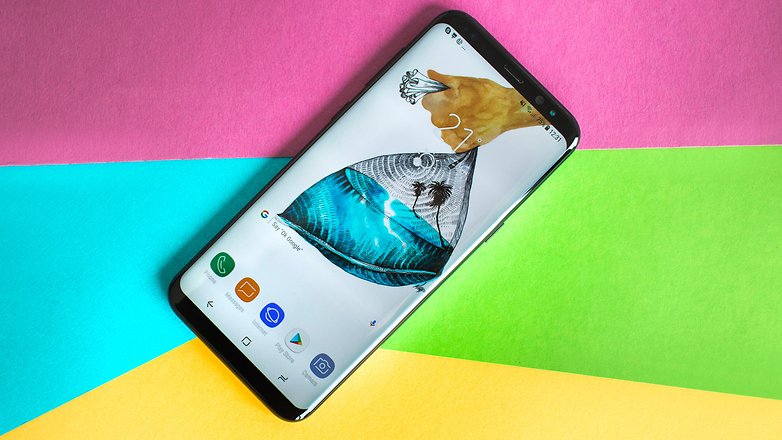 2. Excellent camera phone
Although Samsung still hasn't opted for a dual-sensor, the Galaxy S8 devices are excellent for capturing your favorite moments. The 12 MP camera, which is now manufactured in-house, has a f / 1.7 aperture and Dual Pixel technology, which helps it achieve stunning photos, even in poor lighting conditions.

And, while Samsung doesn't want to take any risks with the sensors, it has done its utmost to improve the user's experience. The smartphone's software has been significantly improved by the manufacturer teams. The camera app takes three photos and automatically combines them into one image to avoid shakiness and blur in the result. Focusing is even faster than it was for the S7 and the Pro mode is easily accessible, even for beginner photographers. The Galaxy S8 devices are even able to create the Bokeh effect by taking photos with different exposures.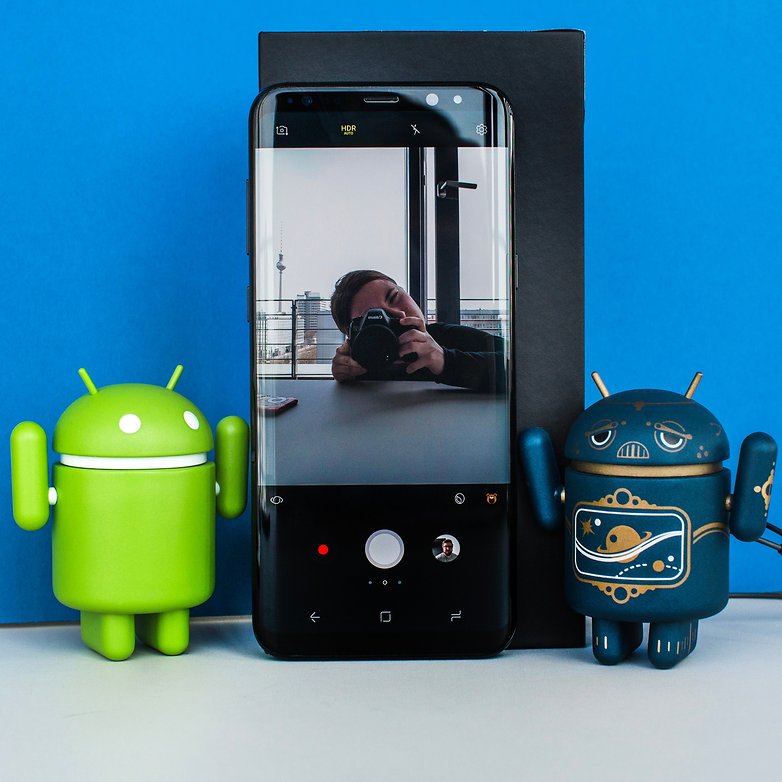 3. Monstrous performance
The Galaxy S8 has the latest Snapdragon 835 processor, combined with a Mali G71 graphics chip and 4 GB of RAM. In short, it's hard to slow this phone down, even if you are a fan of multi-tasking or an avid gamer. Everything runs smoothly and without a hitch. Don't just take my word for it, I'll let the smartphone's benchmark results speak for themselves.
Samsung Galaxy S8: benchmarks results
| | Samsung Galaxy S8 | Huawei Mate 9 | Snapdragon 835 |
| --- | --- | --- | --- |
| 3DMark SlingShot ES 3.1 | 3174 | 2293 | 3543 |
| 3DMark SlingShot ES 3.0 | 3217 | 2724 | 4540 |
| 3DMark Ice Storm Unlimited | 27,330 | 27,516 | 37,096 |
| Geekbench Single Core | 1983 | 1843 | 2061 |
| Geekbench Multi Core | 6402 | 5840 | 6440 |
| PCMark Work Performance | 6135 | 6350 | 7887 |
| PCMark Storage | 4644 | 7340 | 4900 |
| Google Octane 2.0 | 9775 | 8807 | 11,974 |
4. Finally, a refined software interface
With the Galaxy S8, say goodbye to TouchWiz and say hello to Samsung Experience UX. The smartphone software interface is purer, simpler and less focused on the color blue. The app drawer now appears by touching the screen, as we have seen with the Google Pixel. What's even better is that now there's virtual navigation buttons which can be arranged according to your preferences. This puts an end to Samsung's recent desire to put the back button on the right and not on the left as it is on other Android smartphones.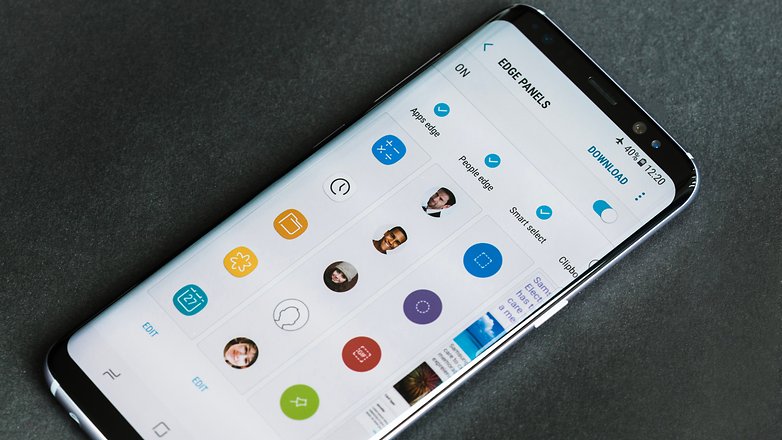 Finally, not to be a spoiler, but Samsung seems to be more subtle in their approach to bloatware.
5. Bluetooth 5.0
The Galaxy S8 devices are the first Android smartphones to have Bluetooth 5.0. With this new version, the wireless technology is twice as fast as with Bluetooth 4.2 LE and the signal reaches four times as far. The new version is also more stable and secure, and it requires less power.
You can control the sound level independently on both devices.
Thanks to the practical features with Bluetooth 5.0, the Galaxy S8 offers a Dual Audio option. This allows you to play music on two wireless device, headsets/headphones or loud speakers, simultaneously. The best part is that you can control the sound levels independently on each device. This is a great idea if you want to watch a film with your partner or if you want to avoid using your friend's headphones.
6. Water and dust resistance
Last but not least, I'll finish up my list with a feature that is still lacking in certain top-range smartphones, like the Google Pixel. The Galaxy S8 devices have IP68 certification! This means that the Galaxy S8+ and the Galaxy S8 are waterproof. So you can give them a bath for up to 30 minutes at a maximum depth of 1.5 meters and you won't cause any damage (it would have to be a pretty deep bath to do that though).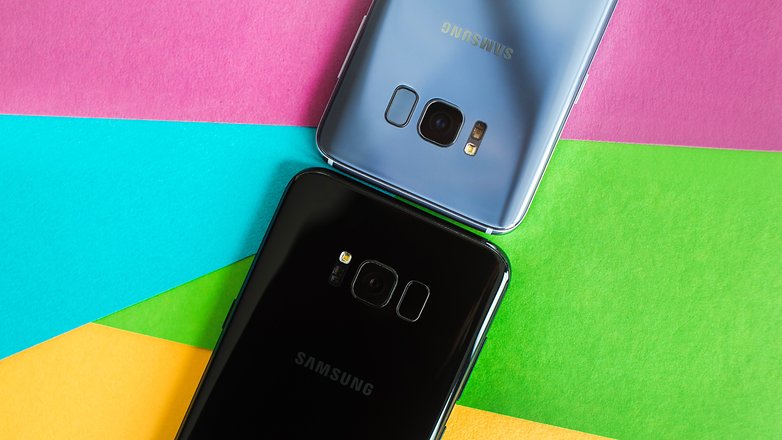 What do you think? Have I exaggerated the merits of the latest Samsung smartphone? Let us know your thoughts in the comments below!