OnePlus 3 running Android 7.0 Nougat: here's what you can expect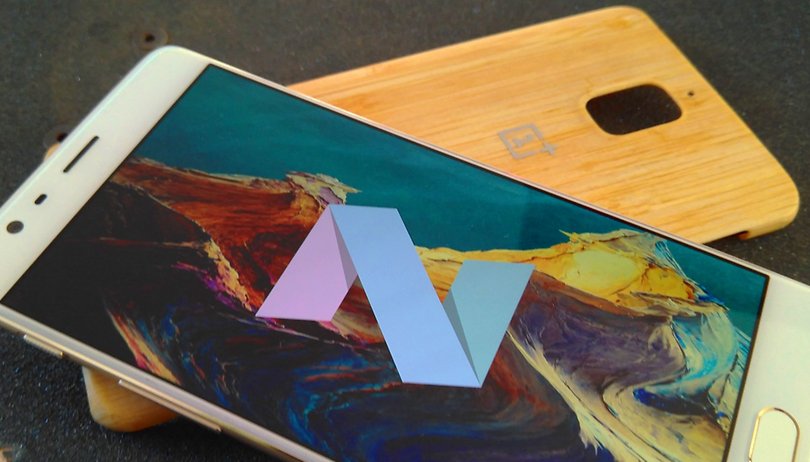 A few days ago, beta 8 was released with OxygenOS 4.0 built on Android 7.0 Nougat for the OnePlus 3. OxygenOS is much more than a layer of personalization. It's the pure essence of the company, the interface you fall in love with and the thing that keeps you coming back for more. That being said, it has to be taken care of and above all, updated regularly. This update, which just barely fulfills what was promised, is only a beta version, but raises the bar to where it should be.
OxygenOS is moving ahead of the competition
It's true that OnePlus isn't the first company to update their devices but considering the short time they've been around and their relatively small team, they've jumped ahead of many of their competitors, especially their fellow countrymen.
OxygenOS includes some features that we're still waiting for on stock Android
Not only are they making a splash in their native country but in the international market as well with a winning design and philosophy. We already saw some features on the OnePlus 2 that we've been waiting a while for to come to stock Android, such as a dark theme or a restart option. Something else we had on Oxygen OS 3.5, before it officially reached Nougat, were the five quick settings toggles on the notification bar. You could even change their color the same way you do with the rest of the system icons.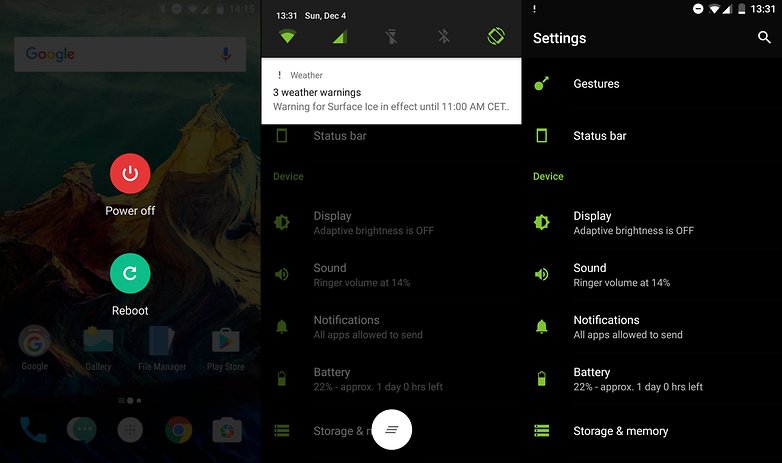 Connection shortcuts change their function when they're part of the five quick access toggles or when they're all displayed. That is to say, from the quick access bar, WiFi and Bluetooth shortcuts only turn these connections on or off. When all the quick access icons are displayed, tapping them will send you to a quick settings mini-menu. Before, there was a little arrow to access these settings.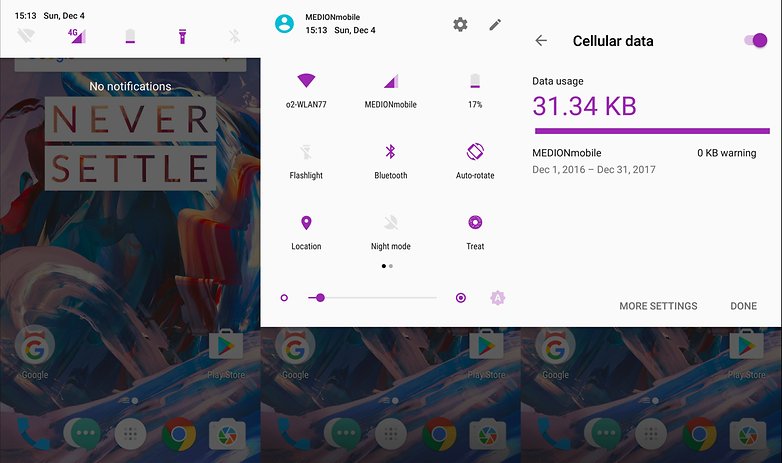 New features for Oxygen OS 4.0 with Android Nougat
Notifications and direct Reply
As we've talked about before, the first thing that Android Nougat introduced was the new notifications. You can expand them in order to get more information. You can even reply directly from the same notification without having to go through the App, thanks to a new reply option added to the end of notifications.
You can also directly manage notifications from specific apps. If you slide a notification to the left or right, a settings symbol will appear. Opening it will allow you to adjust the priority of that app's notifications.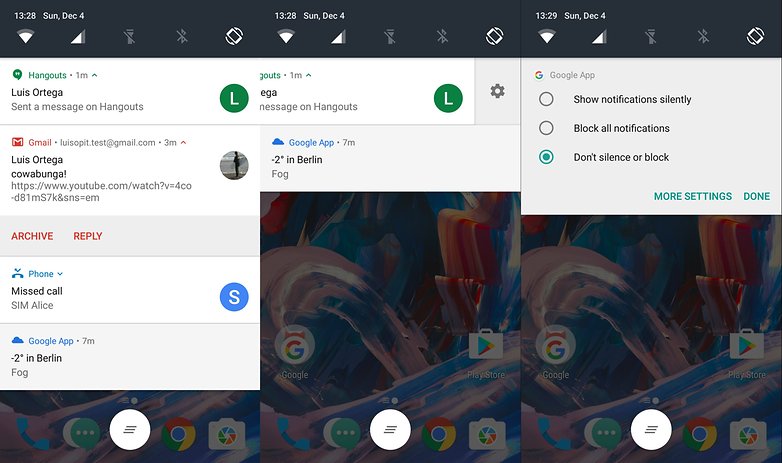 These small notification upgrades increase productivity. The process to respond to a notification is much quicker now that you've saved yourself quite a few taps on the screen.
Multi-window view
The multi-window feature works through the multi-task button. All you have to do is long press an App's bar in the multi-task screen. When you have it selected, drop it in the shaded area at the top. Next, you can choose which App will use up the other half of the display.
Not every App supports this feature. You'll know which ones don't because they'll let you know. You can't adjust how much display space each App takes up though. It's either half of the screen or the whole thing. There aren't any other options. Orientation change in multi-window mode is pretty fluid.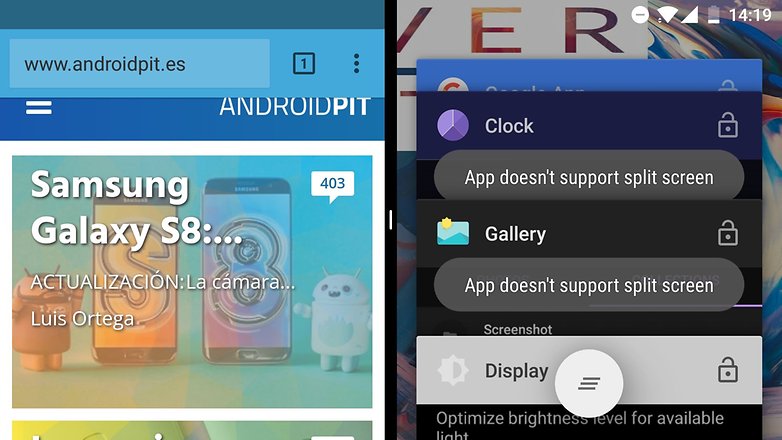 The launcher's new look
Launcher includes a few surprises updates. Tapping an open space on the display, in the personalize menu, you can choose between three different icon sizes and shapes (standard, square or round). If you click on settings, you can change the design to a simplified version without an App box, similar to MIUI or iOS. In the same settings section, you can activate two very practical motion controls: swipe down to open notification panel and swipe up to activate Google search.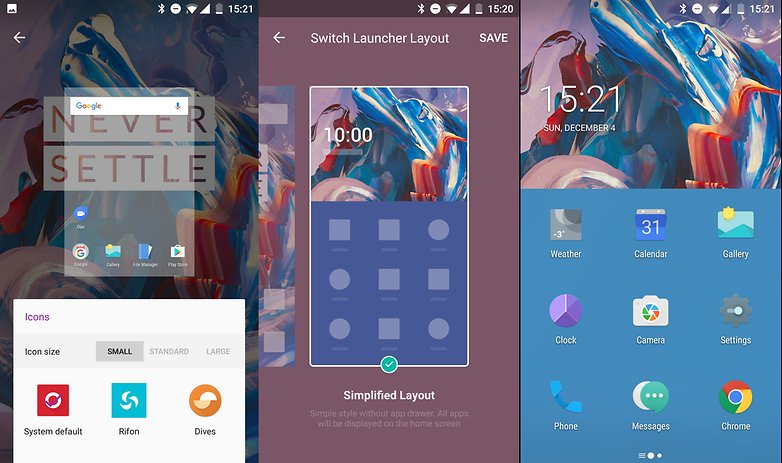 Within Settings > Display > Display size, Nougat allows you to adjust screen density (DPI) to five different settings, from small to largest. Using the smallest size, five app columns fit on the main display as well as in the app drawer. Plus, it gives everything a much softer look.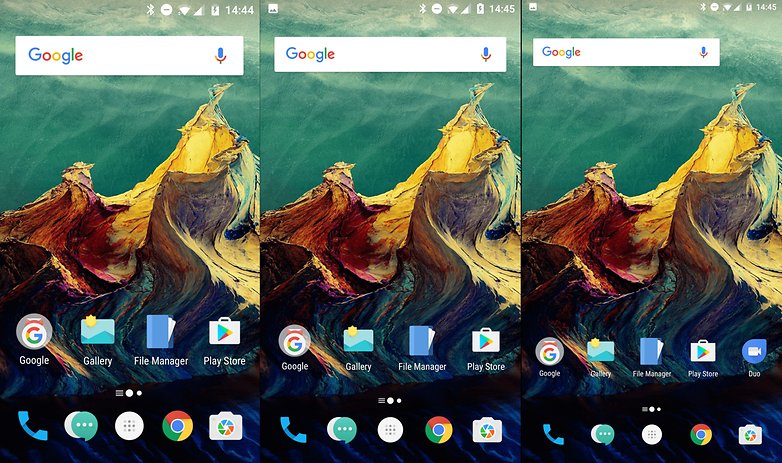 Shortcuts: Shelf, double-tap and drop-down settings menu
Shelf is the reinvention of Google Now for OnePlus. It's located at the same spot on your display but you won't find news cards, weather, route home or what's around you. In their place, you can have recent contacts, widgets, feeds and app shortcuts. It's pretty much a limitless main display that can be slid downward. It can also be personalized a bit more with the new update.
Shelf doesn't have a lot of added value right now but they might get more out of it in the future.
Now, by double tapping on the multi-task button we can jump directly to the most recently used app. This can come in very handy when you're moving information between apps. For example, if you're writing an email and you want to copy information from a web page, double tap and you have the web browser, copy, double tap again and you can paste it into your email.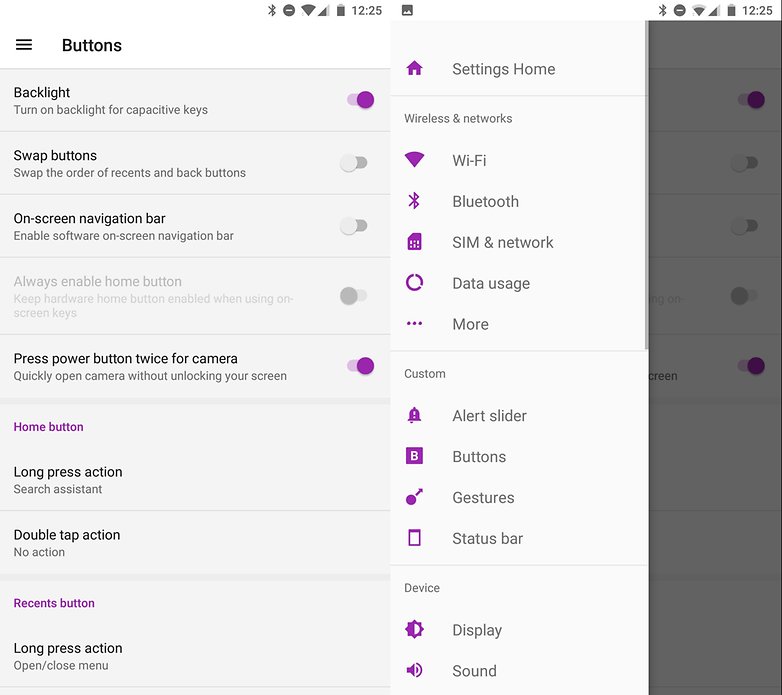 Another shortcut option is the new sliding menu in settings, the famous Hamburger menu. In Nougat, there's an icon with three horizontal lines in each settings section. Tapping this icon opens a complete list of settings. This saves you the step of having to return to the main menu.
Performance
Among the known issues published by OnePlus are problems with stability and performance, but there are certainly many ROMs out there with less stability than this beta. Performance has actually been quite good. I put it through the same benchmarking tools and every number has improved from Oxygen OS 3.5 based on Marshmallow.
New features are nice to have but performance is essential.
Although it's only a beta, it has worked brilliantly during daily use and I haven't noticed any major issues in games, such as Need for Speed or Real Racing 3. Another known error is with Android Pay but I haven't had the opportunity to test it yet.
Verdict
It's only a beta version but it's much more stable than what we expected. I would also say that the warnings about performance problems might be exaggerated. We've also been able to get a good idea of what the new software has to offer, which will be released this month for both the OnePlus3 and the OnePlus 3T. It must be said that it's noticeably well done and it gives us a lot of hope for what the stable version will bring.
As far as battery life is concerned, I didn't notice a big difference but I was only able to try it out for a few days. Without a doubt, new and improved features are just around the corner since Beta 8 was only available for one day. After reaching a good amount of beta testers, OnePlus took down their download link.
I've been looking forward to seeing how the OnePlus 3 would work with Nougat and the flash file system F2FS (faster than EXT4), which the OnePlus 3T comes with out of the box. It seems like you should be able to format the memory of the OnePlus 3 in this filing system with a clean installation of the stable version of Oxygen OS 4.0 for F2FS.
What do you think about the latest OnePlus 3 update? What is your favorite feature?
You can also check out the Nougat update on the Galaxy S7 Edge and Moto G4 Plus.