Motorola Razr+ (2023) Review: The Best Foldable Ever?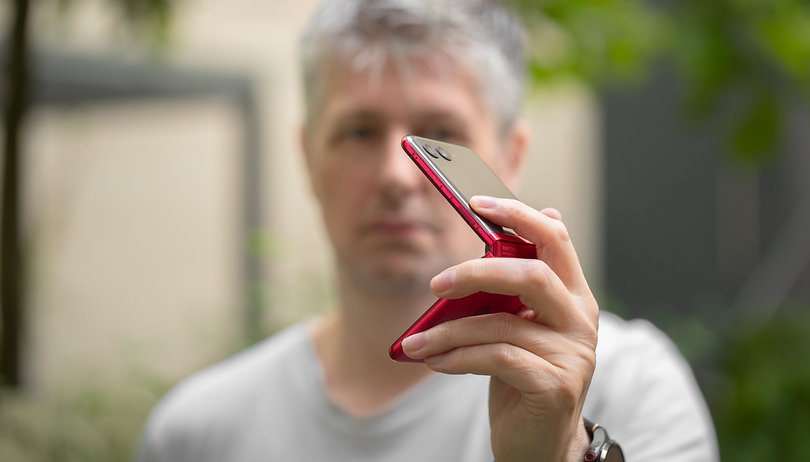 Motorola's new foldable flagship, the Razr+ 2023, also known as the Razr 40 Ultra, has arrived for review at nextpit. This Android device features a compact clamshell design, reminiscent of the iconic flip phones. Despite its small form factor, it unfolds into a full-sized smartphone. Our first impressions, tests, and recommendations for this device will follow.
Good
Good photos under good lighting conditions

Fully functional cover screen

All-day battery life

Adequate processing power

Pleasant form factor

Fits well in the hand

Wireless charging support
Bad
Cover display is a fingerprint magnet

Camera performance is poor at night

Battery capacity is too small
Motorola Razr+ (2023): All deals
The Motorola Razr Plus 2023 in a nutshell
The former Google subsidiary Motorola presented not one, but two foldables in a practical clamshell form factor this year. With the Motorola Razr+ 2023, the Lenovo subsidiary has made it clear that Razr Plus is the flagship model among its foldables.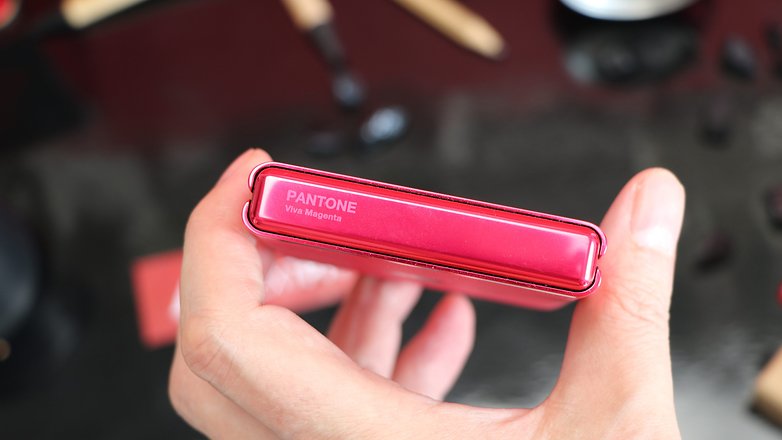 This is also reflected in the $999 asking price. It will feature 8 GB of LPDDR5 RAM and 256 GB internal program memory. In the case of the Motorola Razr Plus 2023 review unit, it will arrive in Infinite Black, Glacier Blue, and Viva Magenta colors, which can probably be deemed as eye-catching. Of course, the Viva Magenta shade was sent out to all editors for the review.
Motorola Razr+ (2023) design and build quality
The Motorola Razr Plus 2023 is the newest and most modern foldable from the Lenovo subsidiary. It is not square but shares the same width as the Samsung Galaxy Z Flip 4. It is also a tad thicker—but much thinner (15.1 to 17.1 mm) in comparison. More importantly, the Motorola foldable is lighter at 184.5 grams compared to its Samsung competitor at 187 grams.
---
Pros:
Best form factor.
Quality workmanship.
Water-repellent based on its IP52 rating.
Grippy "leather" back (Viva Magenta only).
Cons:
Crease on the screen is visible.
No 3.5 mm audio jack.
No microSD card slot.
---
I was so thrilled when we got word that the Motorola Razr Plus 2023 has arrived at the nextpit editorial office! This was a smartphone that could very well replace my current device. However, the longer I looked at the foldable, the more flaws I came across. However, that's in the nature of things and don't worry: I won't provide any spoilers right at the beginning.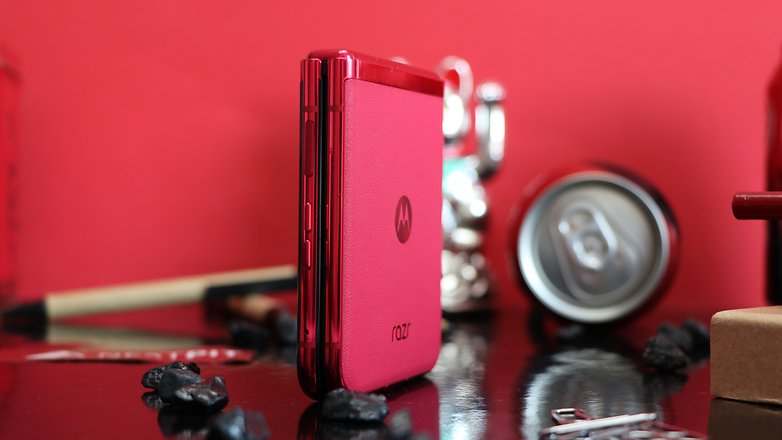 Anyone who holds the Motorola Razr Plus 2023 in their hands for the very first time won't be able to help but let out "wow". Whether it is the aluminum frame, the perfect width itself, the thin and secure feel when folded, as well as the overall impression, everything just feels right here.
The keys are perfectly positioned in both folding positions. The only thing that occasionally bothered me was how I had to visually search for the fingerprint sensor. However, that is certainly a problem that solved itself in the course of its use.
The Lenovo subsidiary granted the Razr Plus 2023 an IP52 certification rating. This only protects the user's $999 smartphone against dust and water to a limited extent. However, the foldable smartphone can withstand the effects of a rain shower, so don't worry about heading out when it pours.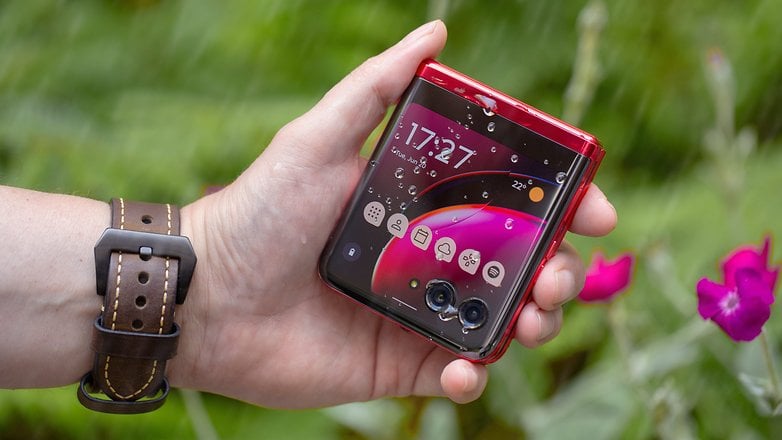 Unlike its predecessor, the hinge also made a far more mature impression this time around. The folding mechanism remained secure in all positions without being too heavy or light. Of course, you can still see and feel the internal "crease". But this neither bothered me in daily use nor did I expect anything else. Of course, the cover screen is impressive to look at. It is larger than ever this time and invites full-fledged use.
Motorola Razr+ (2023) display
For the first time in history, the Motorola Razr Plus 2023 has a 3.6-inch pOLED display that delivers a maximum refresh rate of 144 Hz and a resolution of 1,066 x 1,056 px at 413 ppi. Yes, impressive values for a "small" secondary display that shows off information at a glance.
---
Pros:
High touch sampling rate.
LTPO, HDR10+, 100 - 120% DCI-P3 color space supported.
Ingenious and full-fledged cover screen.
High refresh rate for both panels.
Up to 1,400 nits brightness.
Cons:
I still see the crease (and you don't).
---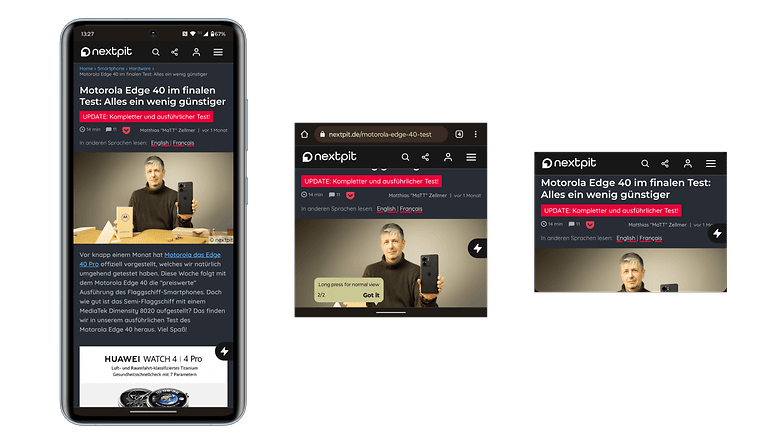 The Razr does not reveal its full usable area at once, which extends to below the two camera lenses. You will have to edge it along here. Not all applications have been optimized for the "entire" cover display to date. The Chrome browser, for instance, is already making it possible to continue working seamlessly from the 6.9-inch foldable pOLED display within the 2,640 x 1,080 (413 ppi) resolution.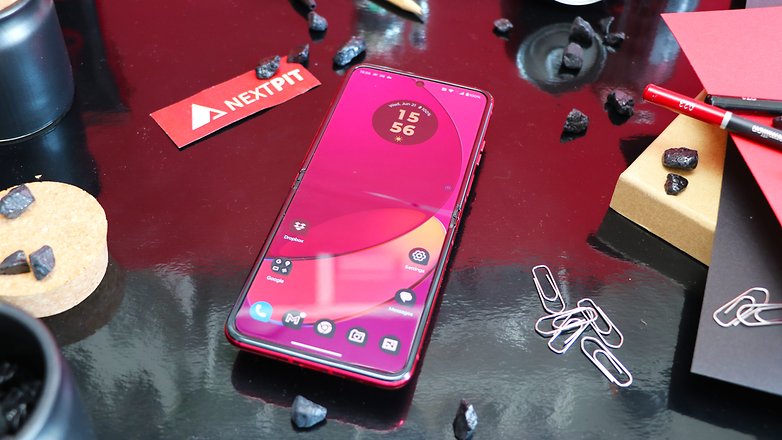 If I wanted to look for the fly in the ointment, I would find fault with the fact that the outer display does not go all the way to the top of the edge. I have been unable to verify whether this is a technical issue or not. Otherwise, the cover screen offers plenty of added value that hardly makes it necessary to flip open the device.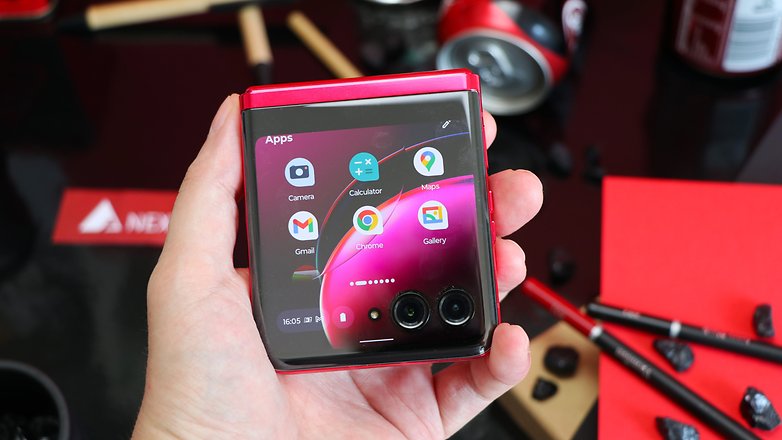 When you do flip open the device, you can expect a display that does not let you down in terms of brightness, viewing angle stability, color space, contrast, or intensity. You can also use two apps simultaneously in split mode as well. To keep the long story short: There is nothing to complain about the display when viewed indoors or outdoors.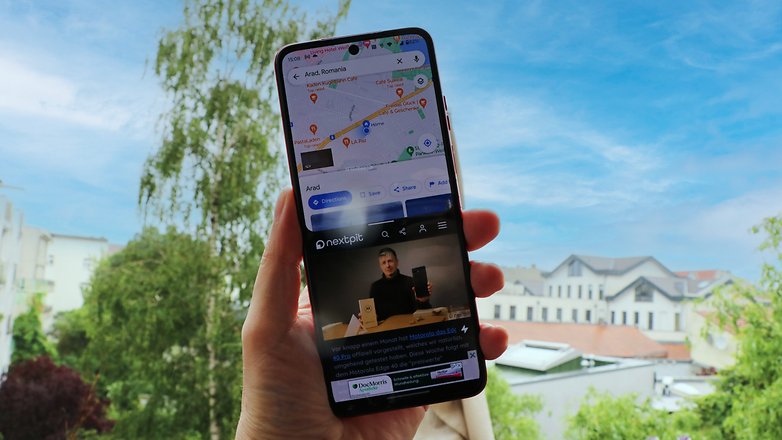 Motorola Razr+ (2023) software
When it comes to software, Motorola also likes to remember how it was like as a Google subsidiary with the Razr Plus 2023 . At the very least, the almost exclusively preinstalled Google applications and the close to stock Android 13 experience suggest that!
---
Pros:
Acceptable update policy.
You decide on whether you want any bloatware.
The "My UX" user interface is easy to use.
Cons:
Updates are not on par with Samsung.
---
Okay, with apps like Facebook, TikTok, and Spotify, I do not necessarily want to speak about bloatware yet, since at least everyone and their dog probably has installed these apps on their smartphone. However, it is clear as day that the inclusion of the Booking.com app was meant to subsidize the handset in my eyes. Sorry, Motorola, but this definitely warrants a point deduction.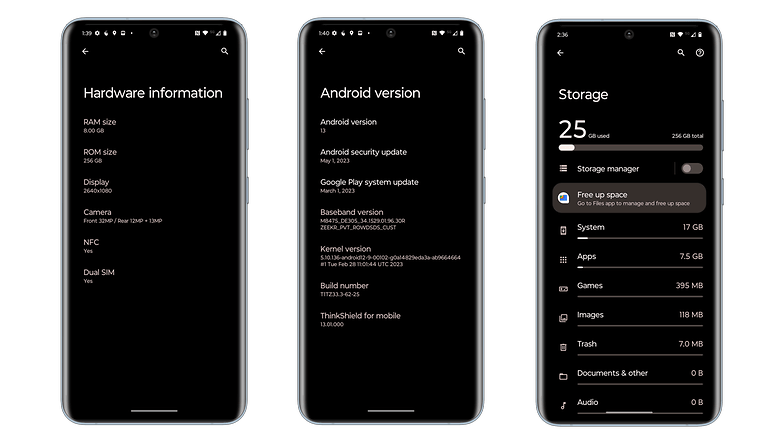 We would like to acknowledge the efforts by Motorola when it comes to the update policy. Certainly, having a warranty of three system updates and four years of security patches isn't the best in the market, but it is already improved compared to its predecessor. The Motorola Razr Plus 2023 ships with the Google security update dated May 1, 2023. This makes it a bit behind, translating to room for improvement.
Motorola has the in-house user interface known as Moto My UX running on top of Android 13, which does not offer a typical always-on display with different themes. However, Motorola offers different clock styles for the cover screen. For the internal display, it is the familiar clock with the handy battery indicator all around.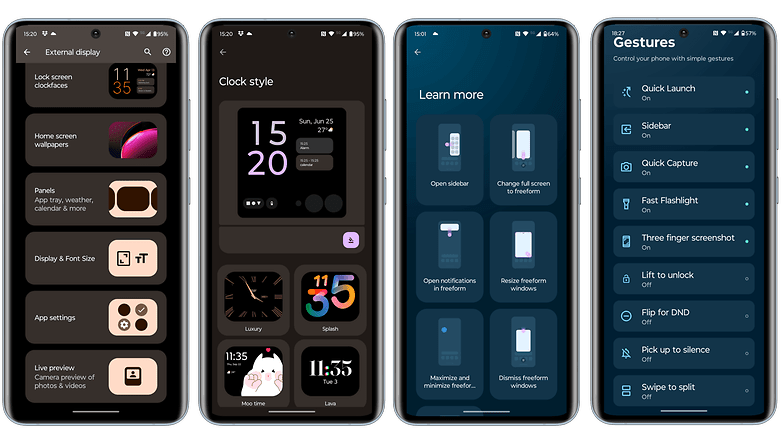 Likewise, some useful components were inserted into the user interface. I would like to mention the various customization options in particular, such as streaming to the computer or TV via "Ready For", the Moto Games Hub, and the many useful gestures (Fast Flashlight, Quick Capture, Slide to Sidebar & Swipe to Split). All these little "gimmicks" make the Motorola Razr Plus 2023 so perfect.
Motorola Razr+ (2023) performance
To our surprise, the Motorola Razr 40 Ultra has the identical octa-core processor as its predecessor, the Motorola Razr 2022. This means the Snapdragon 8+ Gen 1 (SM8475) that was manufactured using the 4 nm process with a maximum clock frequency of 3.2 GHz via the ARM Cortex X2 prime core carries the device.
---
Pros:
Flagship processor.
No unusual heat development.
Cons:
Thermal throttling kicks in too early.
---
This includes three additional performance Cortex A78 cores (2.5 GHz) and four energy Cortex A55 cores (1.8 GHz). An Adreno 730 GPU is responsible to handle all graphics needs. In addition, there is 8 GB of LPDDR5 working memory and 256 GB of internal UFS 3.1 storage memory. There is no option for memory expansion, and neither can you buy a 512 GB model.
Even though the result should probably be clear in advance due to the Motorola Razr 2022 review and its identical processor, we still went ahead and performed the typical benchmark tests. In addition to the comparable numbers, we also discovered heat development in the clamshell review sample.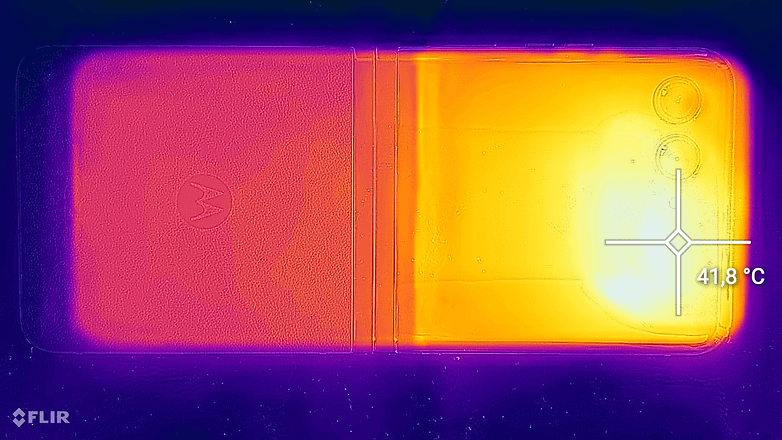 As with its predecessor, this is comparably smooth and tolerable. This is mainly due to the fact that the Snapdragon 8+ Gen 1 has been throttled hard in terms of its software, so much so it is almost outrageous. However, its performance is sufficient for demanding gaming sessions that occur outside of daily work.
Here are the cold, hard facts.
Motorola Razr Plus 2023
Motorola Razr 2022
Samsung Galaxy S22 Ultra
Samsung Galaxy Z Fold 3
Huawei Mate XS 2
3D Mark Wild Life
Maxed Out!
6,838
5,682
5,683
5,793
3D Mark Wild Life Stress Test

Best Loop: 7,010

Worst Loop: 3,563

Best Loop: 7,306

Worst Loop: 4,107

Best Loop: 5,741
Worst Loop: 3,351
Best Loop: 5,579
Worst Loop: 3,435
Best Loop: 5,782
Worst Loop: 3,267
Geekbench 5
Single: 1,303
Multiple: 3,712
Simple: 1,310
Multiple: 3,957
Single: 1,155
Multiple: 3,356
Single: 1,095
Multiple: 3,239
Single: 840
Multiple: 2,759
Okay, the fact that the Razr Plus 2023 is slower than the pre-production model across all benchmarks is a bit surprising. Nobody will notice the difference in everyday use, but it is still strange.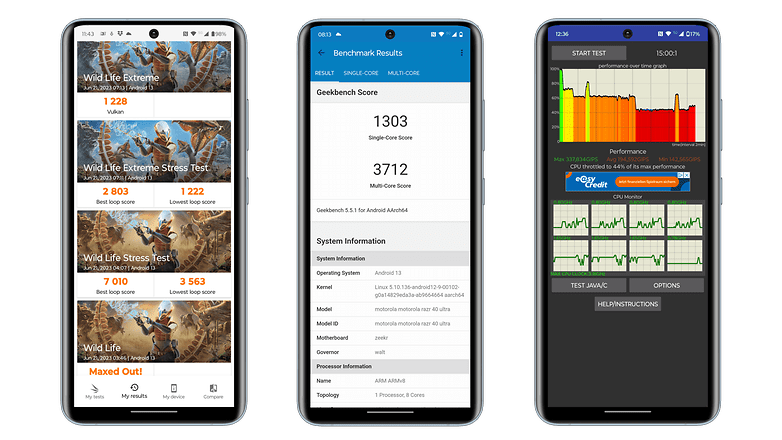 Motorola Razr+ (2023) camera
The camera section is probably the one that surprised me the most in the entire Motorola Razr Plus 2023 review . Not only in terms of hardware equipment, which was actually downgraded compared to its predecessor, but also in terms of the photo results in general.
The Lenovo subsidiary installed a 32 MP front-facing camera in a punch-hole design in the foldable inner display at the top center section. The dual main camera, which can be used as a selfie camera with gesture control, is equipped with a 12- and a 13-megapixel sensor, respectively.
---
Pros:
Good overall package of main, macro, and wide-angle shots.
Daytime shots look great like before.
Added value due to cover screen.
Cons:
The Digital 8x zoom is too unimpressive and too poor quality.
Night shots are not the foldable's strength.
---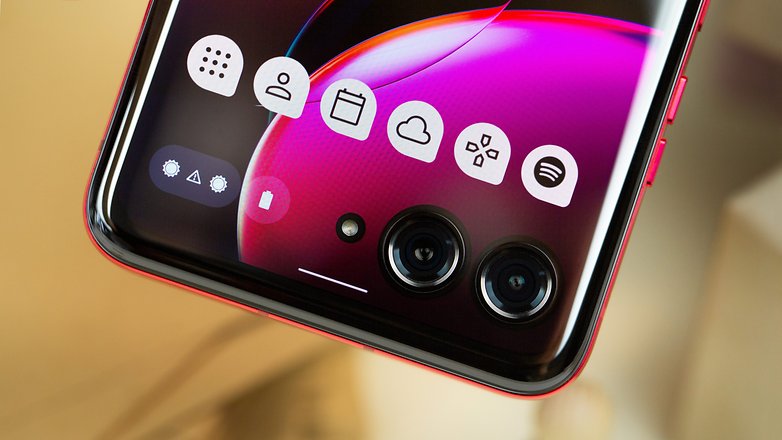 In the Razr 2022, Motorola still relied on a 50 MP main camera and a 13 MP wide-angle camera. However, the sensor area has grown from 1/1.55 to 1/2.55 inches. The photo results show that megapixels are not necessarily the measure of all things. Daytime shots were basically excellent regardless of which camera took that shot.
It does not matter if it was shot from the hip thanks to optical image stabilization, a portrait photo with a pleasant bokeh effect, wide-angle shots that immortalize the identical colors of the main camera, all the way to macro shots that require the right distance, were made easy in this handset.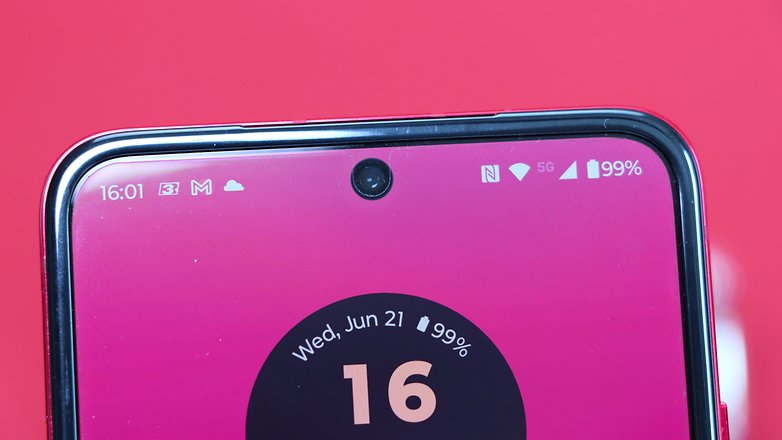 Motorola actually managed not to produce over-rendered and unnaturally colored photos. Of course, you might like to have that. However, the strengths of the Razr Plus 2023's camera do not include digitally enlarged or night shots. The ones with a maximum 8x magnification are muddy-looking from 3x zoom onwards and thus unusable in my opinion. In fact, shooting in little to no light is also not its strength.
So, as a brief conclusion to the camera, it is safe to say that owners of the Motorola Razr Plus 2023 can capture excellent photos during the day when there is sufficient light, but the foldable reaches its limits at night.
Motorola Razr+ (2023) battery
The Motorola Razr Plus 2023 is equipped with a 3,800 mAh battery. That is not much compared to an average smartphone capacity, but it is in the world of a clamshell foldable. Still, I would have wished for more in a flagship!
---
Pros:
The battery lasts throughout the day.
33-watt power adapter is included.
Wireless charging supported.
Cons:
Charging takes forever.
Would have liked to see a 4,000 mAh battery.
---
Motorola included a 33-watt TurboPower adapter in the packaging. However, it did not make sparks fly in our review. A grand total of 135 minutes were required to achieve a full charge from 0 to 100 percent.
After a short 5 minutes of charging, it only amassed 2 percent of juice, and after half an hour there is just a mere 26 percent in total. However, its primary competitor, Samsung, also has to deal with this problem. We will have to wait and see whether Samsung's Galaxy Z Flip 5 can deliver better charging speeds here.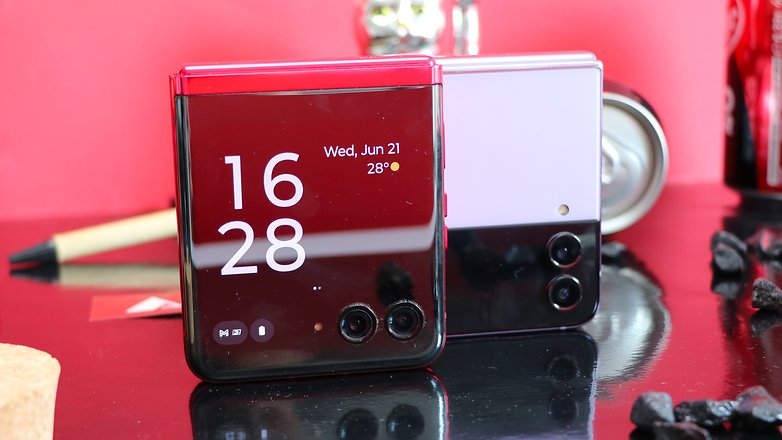 What does this mean when it comes to using the Motorola Razr Plus 2023 as a daily driver? Well, I can easily get through the day with average usage of the cover and inner display. However, there is no WhatsApp or Slack set up, which can already ruin my daily energy consumption—but several Gmail accounts can do the same job.
In our test with the "PC Mark Work 3.0" battery test, we managed a proud 10 hours and 44 minutes in flight mode and a display brightness of 200 nits. For general knowledge, its predecessor, the Motorola Razr 2022 delivered 8 hours and 37 minutes, while the Samsung Galaxy Z Flip 4 achieved an incredible 13 hours and 6 minutes. The Lenovo subsidiary still has some catching up to do here.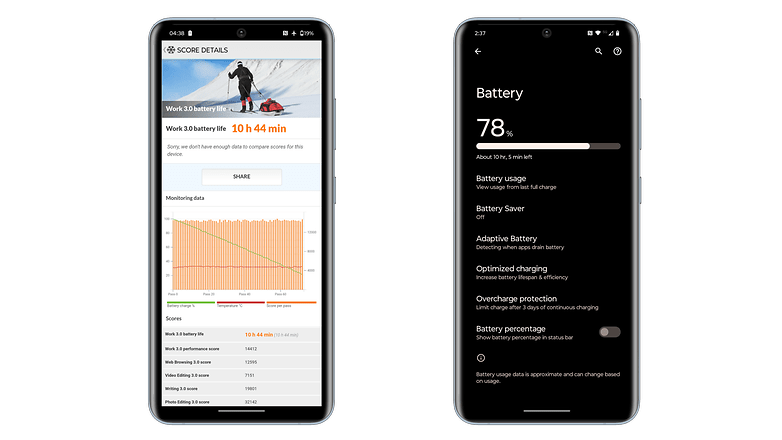 As a side note: Charging it using a 67-watt Xiaomi power adapter also took 100 minutes from 17 percent to a full charge. The Motorola Razr Plus 2023 can also be charged wirelessly, albeit at only 5 watts. However, before you buy a Qi charging station, you should test whether the inductors are in the correct position for the Razr.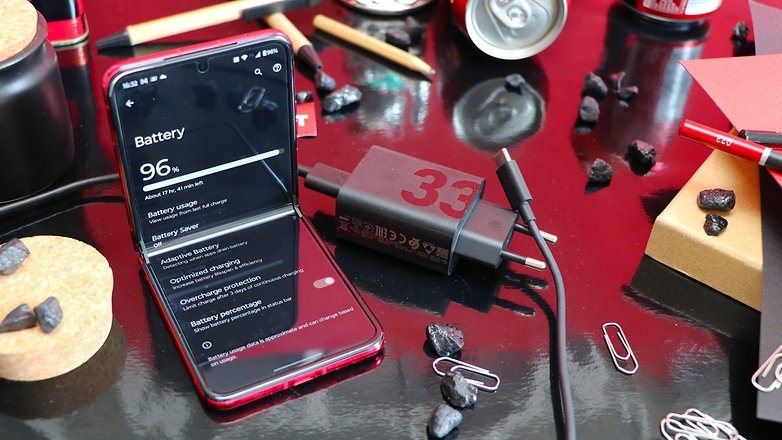 Motorola Razr+ (2023) technical specifications
Technical specifications
Device
Image

Internal display
6.9-inch pOLED, FHD+
2,640 × 1,080 px (413 dpi)
LTPO 165 Hz refresh rate
Touch rate: 240 Hz/360 Hz (in gaming mode)
max. 1,400 nits
Cover screen
3.6-inch POLED
1,066 × 1,056 pixels (413 dpi)
144 Hz refresh rate
Touch rate: 120 Hz/360 Hz (only in gaming mode)
max. 1,100 nits
Corning Gorilla Glass Victus
Dimensions
opened: 73.95 x 170.83 x 6.99 mm (H x W x D)
closed: 73.95 x 88.42 x 15.1 mm (H x W x D)
Weight
188.5 g (Infinite Black, Glacier Blue)
184.5 g (Viva Magenta)
SoC
Qualcomm Snapdragon 8+ Gen1
Memory
8 GB LPDDR5 RAM
256 GB UFS 3.1 ROM
Software
Android 13 | Moto My UX
Expandable memory
None
Main camera
12 MP | f1.5 aperture | 1/2.55 inch image sensor | 1.4 µm pixel size | OIS
Ultra-wide camera
13 MP | f/2.2 aperture | 1/3 inch image sensor | 108° viewing angle | 1.12 µm pixel size | Macro
Selfie
32 MP | f/2.4 | 0.7 Pixel Size
Quad Pixel Technology: 8 MP | 1.4 µm Pixel Size
Video
4K at 30/60 fps
Audio
Stereo speaker | Dolby Atmos
Battery
3,800 mAh
Charging via cable
Max. 33 W
Wireless charging (Qi)
5 W
UWB
No
Others
IP52 certified
USB Type C (2.0)
NFC, BT 5.3, Dual-SIM (5G),
WLAN 2.4, 5 and 6 GHz
Aluminum frame (7000 alloy)
Faux leather back (Viva Magenta)
Final verdict
As soon as the Motorola Razr Plus 2023 arrived at the nextpit test lab, it was already clear that this will be a very special smartphone that will set new standards in the clamshell foldable sector. Our headline itself announced that no clamshell foldable is better than the Motorola Razr Plus 2023 at the moment.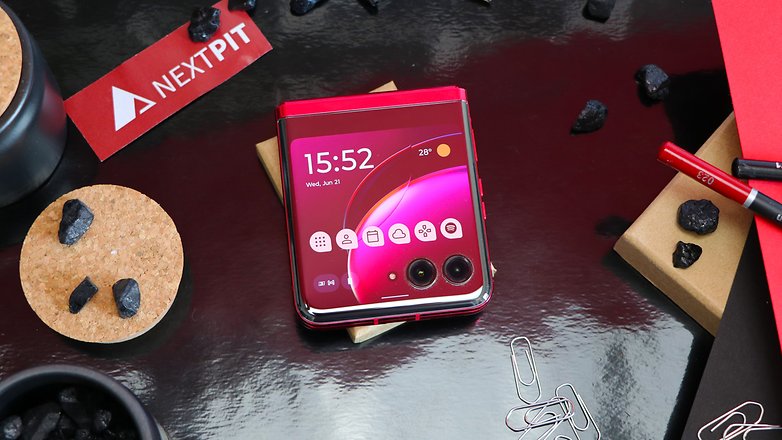 However, what is currently the best Motorola foldable is not quite as perfect as this headline suggests. The dual main camera can only take satisfactory pictures under sufficient light. 8x zoom or night shots? Forget it! The Snapdragon 8+ Gen 1 along with 8 GB of RAM and 256 GB of program storage were already available last year. However, that is still enough for a foldable smartphone in a clamshell design to duke it out in the top-tier segment in 2023.
The 3.6-inch cover screen, which is a real gem, makes up for almost every faux pas that the former Google subsidiary made for itself, since this panel is basically fully usable without the large 6.9-inch AMOLED display inside and provided many Eureka moments in daily use.
The 3,800 mAh battery is not a brilliant performer either, certainly not in terms of charging times. But that has never been important to you, if we can believe your comments. In this respect, yes: There is no better foldable in the market currently!