The most connected man on Earth shares his thoughts on wearables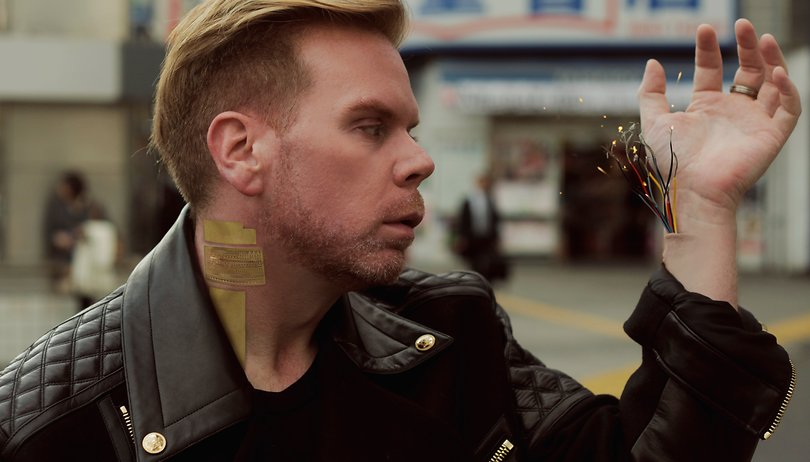 Known as the most connected man on Earth, Chris Dancy takes the quantified self to a whole new level. He became a world renowned authority on wearable tech by using hundreds of sensors, devices, applications and services to track his life. Analyzing all of the data he generates allows him to optimize his quality of life in many ways. We spoke with him to find out what he predicts for the future of wearables, and to get some tips on how to take control of our health data and turn it into wellbeing.
Quantified self means knowing more about yourself by self-tracking with technology. As the most connected man on Earth, Chris Dancy can tell you what he ate on this day last year, as well as how many steps he took, how long he slept, how many emails he sent, the weather at his location and more. Even you can see his data, as it is available online here. All of this tracking has allowed him to live better, and now he wants to share the benefits of what he has learned with the world.
You may recognize Dancy from the Showtime special Dark Net, which he starred in last year. To get an idea of just how quantified he is in day-to-day life, check out this clip:
What to expect from wearables and health tracking in 2017 and beyond
The field of medicine has evolved to shift its focus from disease management to wellness. For technologies like wearables, Dancy says the ultimate goal "is to create a world where people are focused on prevention." He believes this could happen in about 30 years from now.
Right now, Dancy says we're in the "era of the wearable." Devices will get cheaper and more ubiquitous, and they will be in service of wellbeing. The era of "imperceptibles" is coming in the next 3 years. Then, technology will be embedded invisibly, in our clothing and our smarthomes. After that, digestibles are next.
Taking control of your health data
Being aware of your own health data can have a lot of benefits. Getting a better idea of how active or inactive you are, for example, can help you develop healthier habits and stay committed to your fitness goals. But, it can be difficult for the average person to determine where to start when they want to take control of their health data. Dancy says that the "obvious" options like making a list of goals or buying a wearable aren't necessarily the best place to begin.
Make yourself aware of all the health data your phone is already collecting
Instead, the first thing you should do is make yourself aware of all the health data your phone is already collecting about you. Apps like Samsung's S Health or Apple Health collect a wealth of information you're probably not even aware of. Apple Health, for instance, has a list of Sources that shows exactly what it collects, and when.
Pedometer apps are a common way to begin tracking data about one's own activity levels, but vanity metrics like step count don't actually give you a good picture of your overall wellbeing. Dancy says there's information about your health and happiness hiding in plain sight, if you know where to look.
"You are where you spend the most time," he says, suggesting that people keep a closer eye on their location check-ins, battery consumption and emoji usage. With these, you can see behavior patterns emerge that correlate strongly with your health. Look at your Facebook and Foursquare check-ins to see if you're going to the gym less often, or unhealthy restaurants more often. Open up the battery consumption stats on your phone to see which apps you spend the most time with. It's possible that your mood might be lower during times when you use certain apps more than others. And finally, check out your recently used emoji, as it can actually be indicative of your emotional wellbeing.
Turning data into wellbeing
In theory, tracking and quantifying all your health habits could be really empowering and helpful. But, too often, it leads to pressure and anxiety instead of positivity and results. A lot of apps are designed in such a way that they tell you what you're doing wrong, or just make you feel bad about your inactivity when you're not hitting your fitness goals. Dancy calls this "shamification" rather than gamification, because it can be so demotivating.
As someone who has quantified every imaginable part of his life, he said that quantifying yourself can reinforce the idea that you're a "human doing" rather than a human being. He explores the intersection of the human experience and technology in-depth in his upcoming book, "I Am You Tomorrow", which will be released soon. For now, he suggested a few apps to turn all of that anxious self-loathing into compassion for yourself. He says that the following apps will help to positively reinforce healthy behaviors:
Moves
The app automatically records your daily walking, cycling and running, and it displays your daily activity in simple circles, as either steps, calories or distance. Plus, it can visualize your day in the form of a timeline, recognize places that you've been and track your routes on a map.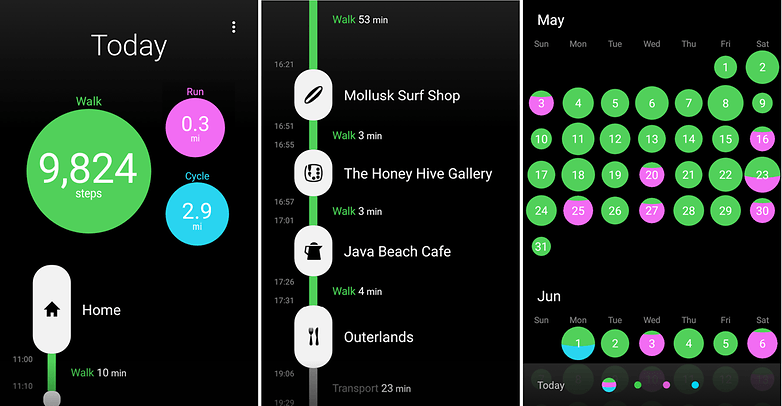 Sleep Cycle
This alarm clock app senses your movement and tracks your sleep cycles throughout the night in order to wake you up during the lightest point of your sleep phase, so you wake up feeling rested. The app will show you a graph of your nightly sleep quality and tell you which location and day of the week you sleep best during. You can also keep track of how coffee intake, overeating and stress affect your sleep as well, so you can alter your habits for better sleep.
If you want to keep up with the most connected man on Earth, you can do so on Twitter (@ChrisDancy) or by peeking at his data here.
Are you excited about the future of wearables? How do you use tech to stay happy and healthy? Let us know in the comments.