LG G2 software tour: More than just a rear-key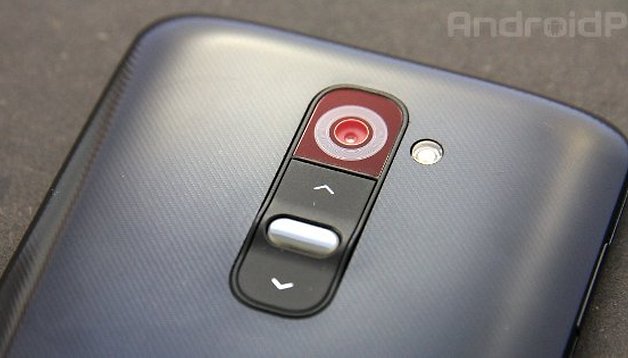 There's been a lot of talk about the design of the LG G2, but there's more to the device than just a big screen and rear-key. The new flagship has a 5.2" Full HD LCD display (with 424 ppi), quad-core Snapdragon 800 beating away at 2.26GHz, 2 GB RAM, 16/32 GB internal storage, a 13 MP rear-facing camera (with Optical Image Stabilization) and a whole bunch more. It's currently on the market for $630 outright or $199 on-contract with the major carriers. But what about software? We've done a walkthrough of the LG G2's software features (video at the end). NEXTPITTV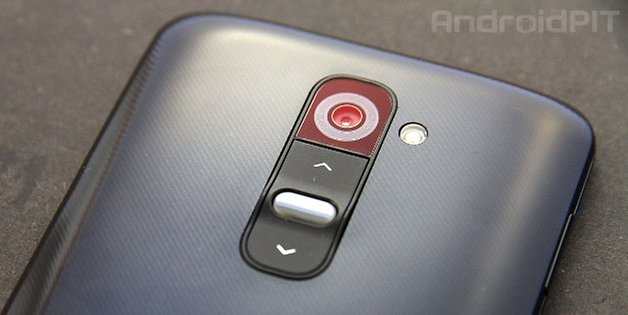 The big four software selling points for the G2 are QSlide, Quick Memo, KnockON and Slide Aside as well as a bunch of customization options. There's also the rear-key placement, which also functions as a shortcut from power off direct to either the camera or Quick Memo feature. The smartphone ships with Android 4.2.2 and should get the upgrade to 4.3 before too long.
Home Screen
On the home screen, you can long press to bring up a customization menu that gives options to add apps or widgets to any of the screens, or to change the wallpaper. Pinching on the home screen brings up your various other screens where you can add or remove them as you please. Swiping up from the bottom of the home screen will give you options for either Google Now, Quick Memo and perhaps some other carrier-specific shortcuts. If you press and hold an icon without moving it, you can change the icon for that app, just like you're used to on your computer. You can switch it for other pre-loaded icons or install your own.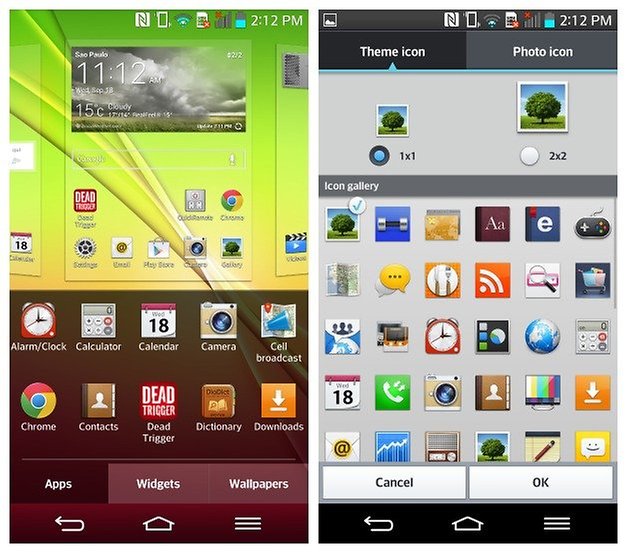 Quick Memo
One of the main software features of the G2 is Quick Memo, a write-on-top function that lets you take notes anywhere and then keep that text floating above the screen while you navigate. This is great for jotting down phone numbers or email addresses on the fly and saving them afterward. You can either write on top of whatever screen you're currently on or switch to a plain yellow notepad background. It's a handy feature that can also be added to the touch keys at the bottom of the screen for quicker launching. Of course, you can also use it for doodling on photos too, which can then be saved and shared.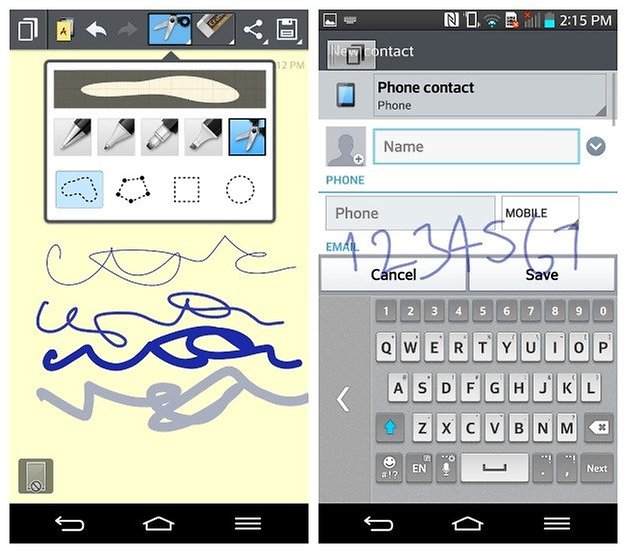 Slide Aside
Slide Aside is a multiple app management tool that lets you open up to three different apps and keep them running concurrently while switching between them with ease. Say you're writing an email but need to check a fact from your browser and then do some quick calculations as well. This multi-window function is something we're all familiar with already from PCs and it's a nice addition to your smartphone productivity. A three-finger swipe to the left moves an app off screen and a triple-swipe to the right displays a cascade of your current Slide Aside apps. You can also see a notification at the top of the screen and access your apps from the Notifications bar.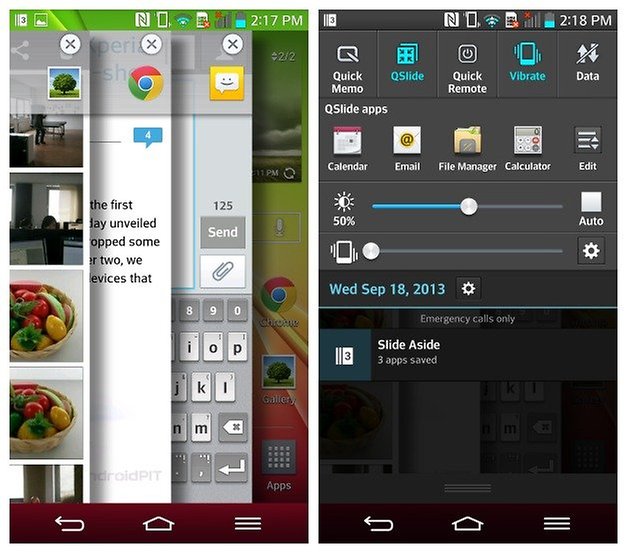 QSlide
QSlide lets you resize apps and have several apps sharing the same screen at once. Take our example from above, you could be writing an email with a small browser window at the bottom of your screen and a calculator floating to the side as you write the content of your email. This is a great multi-tasking option, but the windows are pretty small on a screen even as big as the G2's and other than watching videos while you do something else, I'm not sure how useful it will be long-term. You can also adjust the transparency of the floating apps, but again, I'm not too sure which particular purpose this serves. In any case, it has a few applications that make it a worthy addition.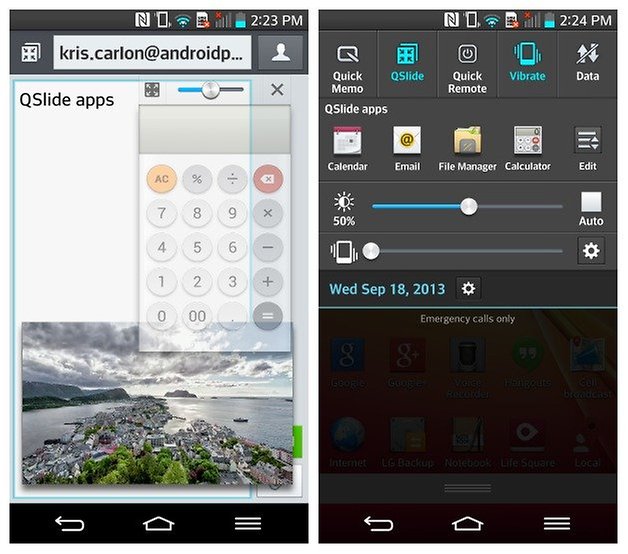 Display and General Settings
There's a variety of display settings you can modify, from swipe effects between screens to lock screen apps and unlock animations. You can choose your screen unlock options: PIN, password, pattern, face recognition and so on; and choose which touch keys you'll see at the bottom of your screen. There's also Smart On options to handle screen activity when you're not looking at the display, like pause a video or turn off screen. There's a range of gesture options too, like KnockON, which lets you turn your device on and off with a simple double tap on the screen, and one-handed operation settings if your hands are big enough to wield that massive screen with just one paw. You can also set the options for Guest Mode by selecting available apps and protecting User Mode with a lock.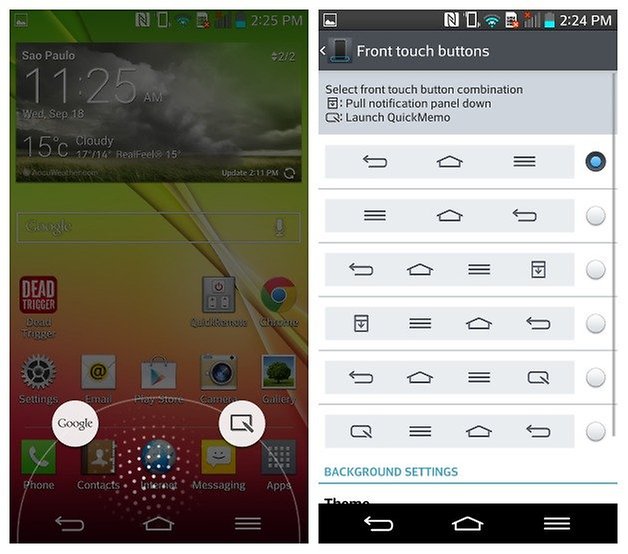 Notifications Bar
The Notifications bar has 20 tabs at the top which you can customize as you wish, as well as the Slide Aside app slider underneath. This can be removed if you want to maximize your Notification bar's available space. You can also launch Quick Memo from the Notifications bar and use Miracast for broadcasting your smartphone content to a Miracast enabled external display. On some models there's also a screen brightness scrubber bar for quick adjustments of that gorgeous LCD screen.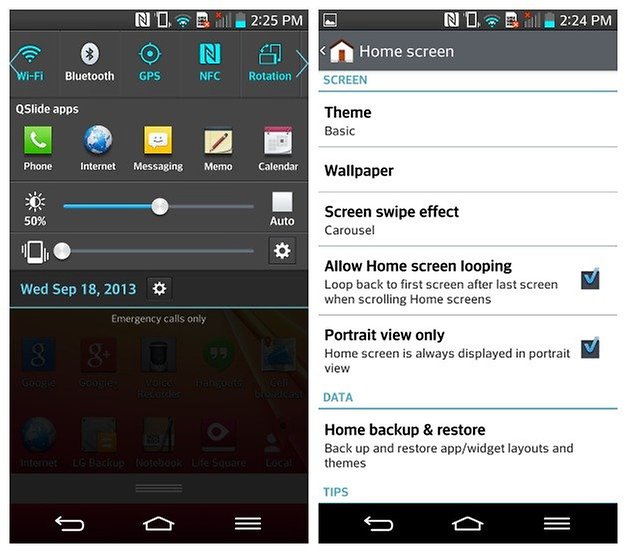 Camera
The G2's camera is pretty nifty: a 13 MP shooter with ''Optical Image Stabilization'' and a 2.1 MP front-facer for selfies. There's a range of camera modes, mostly familiar ones like full auto, sports, panorama and so on. VR Panorama mode allows for endless ''ring'' panoramas and the time capture mode starts recording images before you hit the shutter. My favorite is ''Shot & Clear'' which lets you remove any pesky photo-bombers or passersby from your perfectly framed images. Check out the video below to see this in action.
​
Bottom Line
There's a bunch of other cool features to the G2 which I haven't mentioned here, like the professional recording studio sound quality (24-bit at 192 KHz), directional Audio Zoom, Text Link information sharing, Plug & Pop automatic launcher and Capture Plus expanded screen capture. You can read more about those features and others on LG's official G2 hardware page.
As far as I'm concerned the rear-key is great once you get used to it and the software features listed here are generally above and beyond what you'd expect, although some will have limited use-value for certain users. While most of these features we've seen before, it's nice to have them all stock. And while the LG user interface still needs some work and the plastic build quality won't appeal to everyone, I think the G2 is a great new device. It's better than I expected at any rate, and I expected quite a bit.
What are your thoughts on the G2's software features and customization potential?