Did Apple Just Inadvertently Boost Nexus 7 Sales?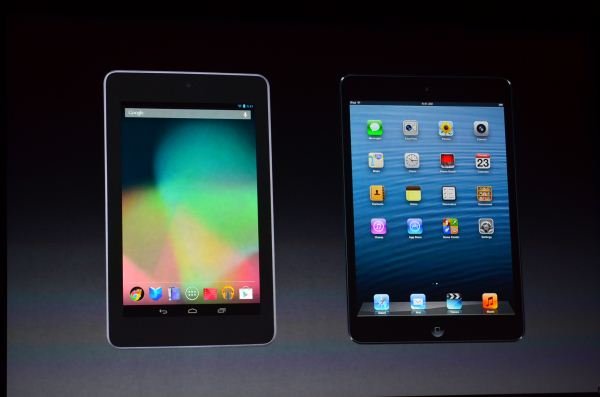 In Apple's iPad Mini presentation yesterday, the company was ruthless when comparing the iPad to its Android rivals. "Others have tried to make tablets smaller than the iPad and they've failed miserably," said Apple senior vice president Phil Schiller. The presentation then focused on how the iPad Mini compares to the Nexus 7. Apple put a few plain looking Android tablet apps on the big screen and then showed them side-by-side with the same apps on the iPad. Predictably, the apps looked better on the iPad than the Android tablet. The crowd "oooed" and Apple made themselves look like the kings of the tablet market.
But now that the presentation is over, some are wondering whether Apple may have shot themselves in the foot by comparing their newest member of the iPad family to the Nexus 7. Haven't they inadvertently handed the limelight to Android, highlighting a device that costs less, offers a better resolution display and a faster processor? Come Christmas, shoppers will see the Nexus 7 sitting next to the iPad Mini on Wal Mart's shelves and wonder whether or not they should purchase one. After all, it's $130-180 less.
The Nexus 7's screen – the number one factor all rational shoppers consider when purchasing a tablet – is 1200 x 800p, with a PPI density of 216. Apple's iPad Mini, meanwhile, has a 1024 x 768p resolution, which seems retrograde for a tablet released in late 2012. You better believe shoppers will notice just by picking up the device. And now, thanks to Apple, they may actually try out an Android tablets.
I'm not saying I'm positive that the Nexus 7 has a better screen than the iPad Mini — we'll have to test it to see for sure – but at least on paper, it looks superior.
Moving on to the processor, the Nexus 7 is certainly no slouch. I'm not sure how the A5 will compare but I'm pretty sure it'll be a relatively similarly smooth UI experience. If the average consumer didn't know about the Nexus 7, you better believe they do now.
When it comes to apps, Android owners have responded that there are plenty which look great on tablets. Bloomberg, Evernote, Fancy, Field Trip, Google Chrome, Google Maps, HuluPlus, Pocket, Zagat, and – of course – just about any game out there will look great on an Android tablet. Eric McBride profiled 10 of the best Android tablet apps here and here. You should check out the posts if you get the chance. But of course, we can see Apple's point. There are plenty of apps that look better on the iPad than on Android tablets. That's just the truth. Android's tablet app ecosystem is growing, but its a long way to being able to compete with Apple.
But the most compelling reason of all to go with a Nexus tablet over an iPad Mini is the price. We're pretty sure right now that Google is about to release a 32GB version of the Neuxs 7 for $250 and drop the price of the 16GB version of $200. That means, it will cost $130 less than the iPad Mini. Oh, and if consumers are looking for a tablet with 32GB of storage, they're going to have to spend $430 to buy the iPad Mini. That's over $180 more than a comparable Nexus 7 device. That's insane.
I know I may have said that Apple had presented a serious threat to Android budget tablets last night and I still believe that's true. But at such a low price point, and with such a big head start, I think Android tablets are going to be just fine. And who knows, maybe some people are even going to recognize the Nexus 7 from Apple's presentation and buy one instead of the iPad Mini. They'll find that the device offers a customizable experience for a whole lot less money. And then maybe (when hell freezes over, perhaps) Google will write Apple a check, thanking them for the free marketing. Hey, crazier things have happened, right?