HTC Vive: We tried out four spectacular VR games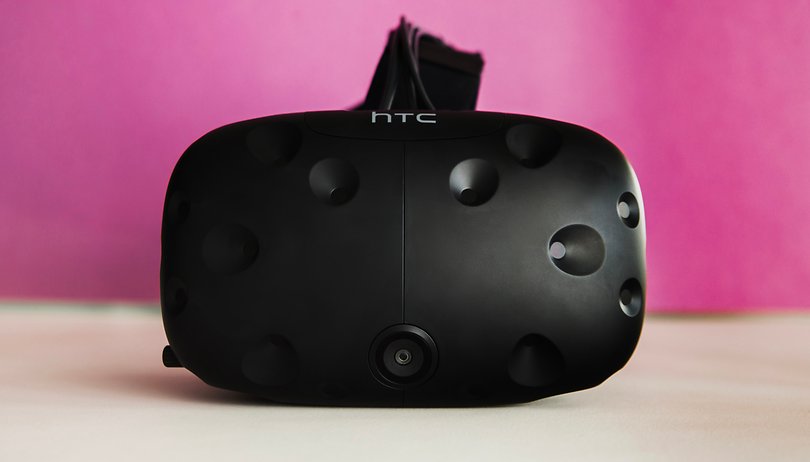 A few weeks ago in our office, we set up the HTC Vive - and it's proved to be very popular! Over the past several weeks, we've tested many different VR games, so we thought we'd share out insight into these spectacular VR experiences with you.
HTC Vive shooter: SuperHot VR
A black sword floats in the air in front of me, and I can only see empty space around me. I grasp the sword and suddenly find myself on a street, where everything is white and gray. Abstract red opponents walk toward me, and my only goal is to eliminate them. But there's more to it: Time only passes in the game when I move, and the speed of my movement determines how fast it passes. If I slowly turn my torso away, I can avoid enemy fire. If I stop, I freeze my enemies as well.
Skill and tactics are crucial to defeat enemies that rush toward you. If you are hit, whether it's a fist punch, a bullet or other, you'll have to start the level from the beginning again. Each level consists of several rooms, which if you die, will need to be repeated again - this was a bit annoying.
SuperHot VR is a VR version of the PC hit SuperHot. A notable change is that the VR version allows little spatial movement, while the PC game relies on the classic discovery tour through levels.
HTC Vive game: Batman: Arkham VR
I must admit that my knowledge of the Batman world is limited. I've seen some films, but that's about it. The Batman VR game Arkham VR shows me a side of Batman that I did not know from the action films: Batman is also the best detective in the world, so to speak. So, instead of action galore, detective work is needed in Batman: Arkham VR. You are investigating the death of Batman's friend and ally, Nightwing, and are looking for Robin, with whom Batman has lost contact.
Batman fans will mainly love the beginning: in the first ten minutes, you witness the death of Batman's parents from the nightmarish first-person perspective, then you don the Bat suit. Afterwards, you see yourself as Batman in the mirror.
The game itself is relatively short, and most players will probably make it to the credits after about an hour. Controls have not been ideally implemented in all areas. Why do we think Batman Arkham VR deserves a recommendation despite its relatively short game play? Well, in this case it's about the graphics: the detail is excellent and it really puts you as the player in the middle of the action. Hardly any other game presents the environment as vividly as Batman: Arkham VR.
HTC Vive experience: Richie's Plank Experience
No matter how you look at it, games like SuperHot or Batman Arkham are spectacular, but smaller games or short demos also set the right mood. Richie's Plank Experience is such an example. The game is very simple: You go up an elevator and can step out on two floors. On the first, you must fight a fire at dizzying heights and can fly a jetpack through the air to do so. The second floor is where it gets its name: Here, you exit the elevator onto a plank and you must master the plank test 160 m high, which requires a great deal of effort—even on solid ground. Anyone who thinks that this is only imaginary should face the plank challenge. On a side note, many users on Steam comment that they want to show this game to VR beginners. If you really want the ultimate VR experience, you could place a wobbly plank on a board then play the game (but be careful!).
HTC Vive app: Google Earth VR
Virtual reality not only gives games a whole new experience. Entirely new possibilities can also be opened up for informational and educational offerings. Google Earth VR is one example.
VR normally places you in a life-size environment. In the case of Google Earth VR, you are a giant, because the cities look like medium-sized models. Cities are shown with enormous detail, although they are not comparable with classic 360-degree shots. To that end, you can fly to practically any city in the world and discover the environment. To some extent, you have the perspective of a drone, allowing you to re-discover your favorite places in the world.
Unfortunately, Google Earth VR is not entirely flawless. Even the controls aren't as intuitive as you might like. The enormous amount of data furthermore leads to a limited field of view when moving - at least on our test device. Only when you stand still do you see everything again. And even then, it takes a few seconds until all the detail is shown, since it needs to download it from the internet - a quick internet connection helps a lot with this app.
HTC Vive: Here's some new VR stuff
Essentially, there are two places where Vive owners can obtain VR content. On the one hand, there is good ol' Steam, which mainly provides you with playable content. Some VR games are free there, and most cost between $5 and $40. Steam mainly has games, but it also has edutainment offerings - such as Google Earth VR.
A second source is Viveport. This is the HTC shop, which not only contains games, but is also the content distributor for VR, providing educational offerings and other apps. In addition, you can obtain a subscription: For $6.99 per month, you can download five VR apps and games that you can use in this time period.
Have you ever put on and tried out a Vive? Would you like to? Let us know what you think in the comments below!