HTC One gets Android 4.2.2: new functions & improvements on board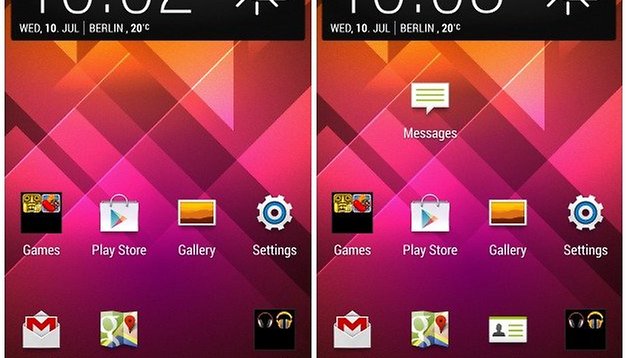 HTC is in the process of distributing the Android 4.2.2 update for the HTC One in Europe, much to the disappointment of many in North America. The beginning of the mass distribution of this new firmware has already arrived for many HTC One's in Germany and luckily, ours at AndroidPIT got the new make-over as well. Though it will likely take a while for all HTC One owners to receive the update, we have already had the chance to check it out and examine the new features and improvements that it has in store. We will show you the most important changes in our video. You can also read the transcript below, accompanied with some screenshots demonstrating the new Android functions. NEXTPITTV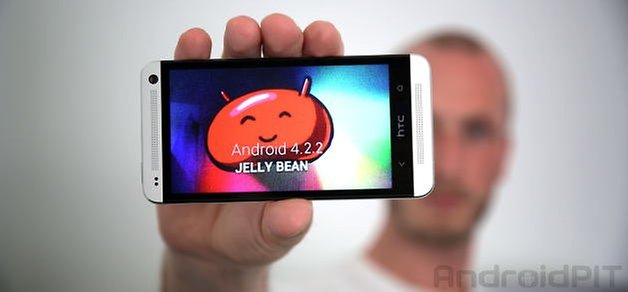 The new software update for the Android 4.2.2. After the official update, the HTC One runs even smoother than it did before. Like any other update, this new version has an enormous amount of new functions in tow.
Launchers have been better adapted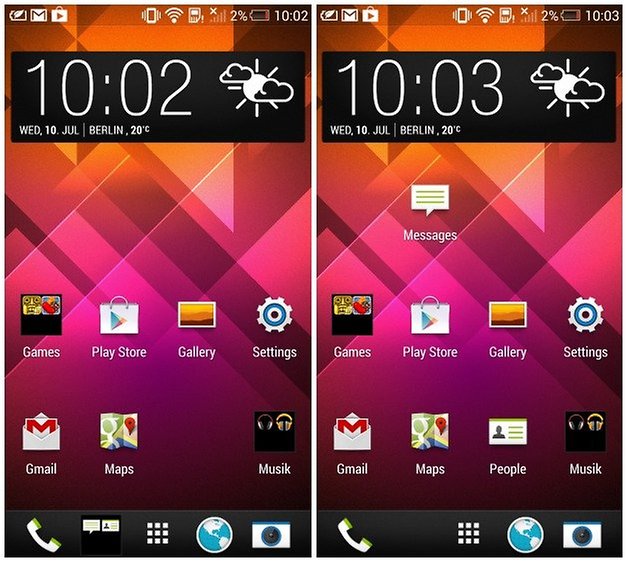 Docked apps can be simply added or removed by using drag and drop. If you pull an app within the launcher, it will instantly disappear from the home screen and appear in the app drawer. It's also easier to set up folders to better organize your apps by dragging their icons over other ones in order to combine them in one folder.
Access to new widgets on the lock screen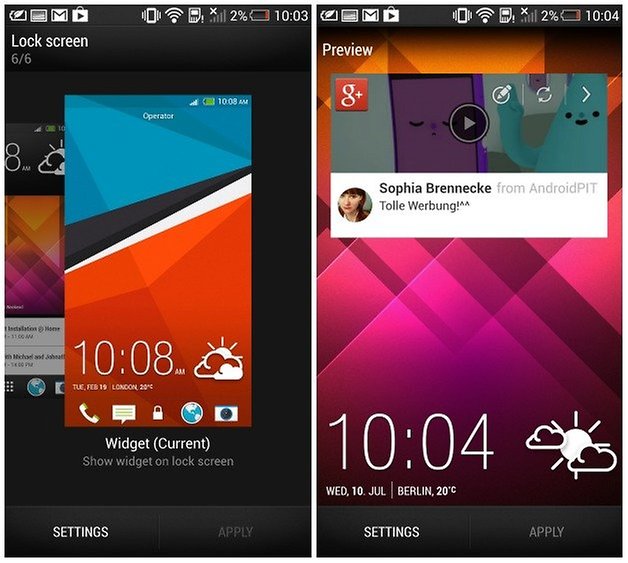 Android 4.2.2 supports widgets on the lock screen. This was, however, already a feature on the HTC One before the update. With the update you're now able to add further widgets to the lock screen, but unfortunately only one at a time. Scrolling through multiple apps is also not possible.
Improved home button function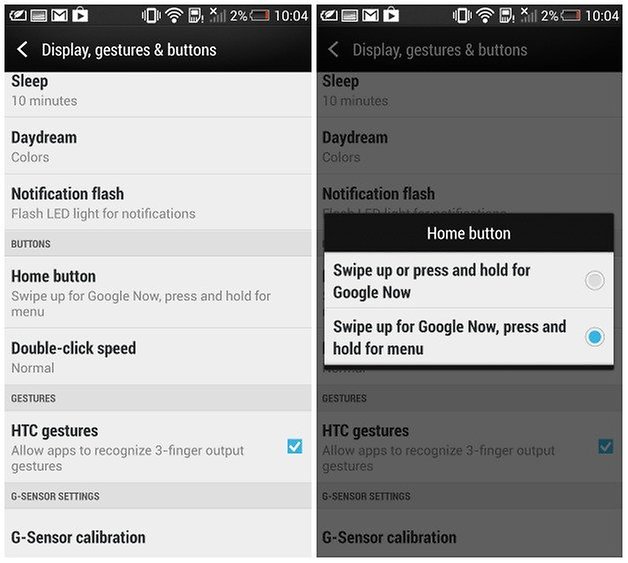 The functionality of the home button can now be customized and converted to a menu button. Swiping up on it will pull up Google Now, while long pressing opens up the menu. This change has brought about the disappearance of the black menu bar or legacy menu button which is used in certain apps like Facebook and had previously taken up a lot of precious room on the display.
Battery life shown in the status bar & Quick Settings via the notifications bar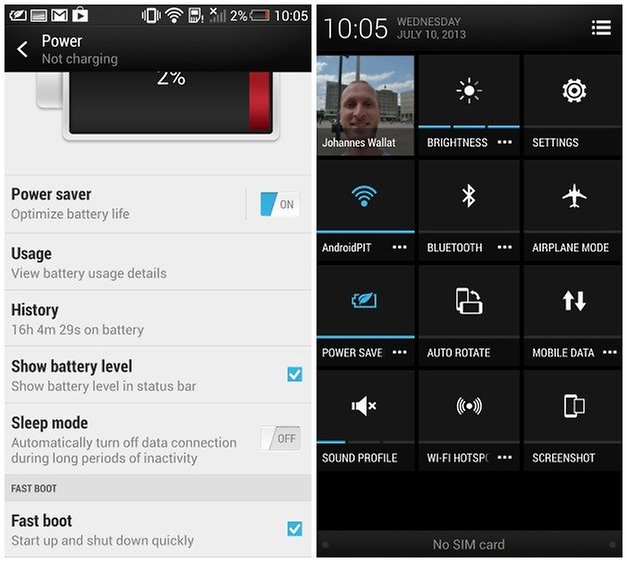 Another useful detail, thanks to the new update, is the fact that battery life is now displayed in the overhead status bar and shows a percentage figure. When you pull the notification bar downwards, you're able to switch to the quick settings by tapping on the toggle on the top right corner.
Camera: locking the exposure value and focus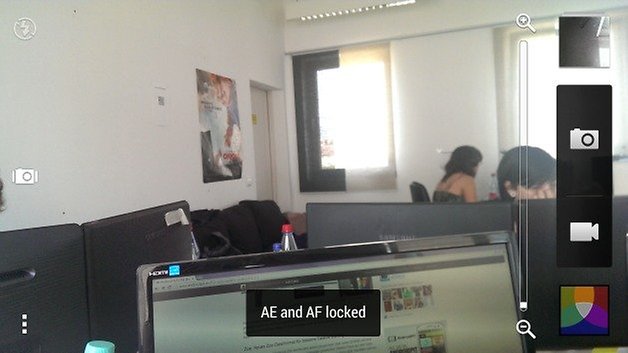 By long-pressing in the viewfinder image, the exposure value and auto-focus can now be set. This is quite practical if the image section that you've chosen is too bright or too dark. You're also able to determine which part of the picture is sharp before regulating the actual frame. Unfortunately, you're only able to set both simultaneously.
Zoe: new Zoe file format for better file management
Zoe picture and video files are now saved differently than before: instead of the 20 pictures and one video file that were stored before, you only need to save one picture and one video file. Additional photos can be saved from the video at any point in time. The pictures now take up less room and the video file is a lot bigger than it previously was.
Video highlights: 6 extra filters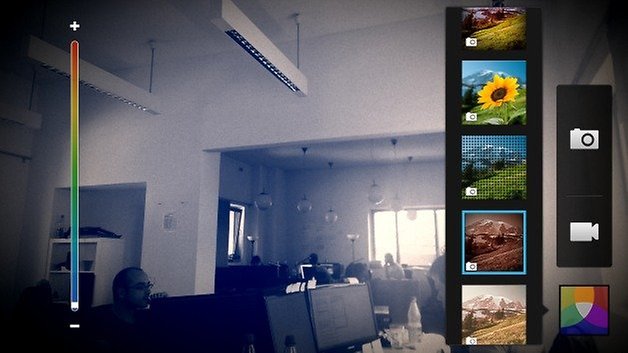 HTC One's new video highlights allow you to be a bit more creative, thanks to six new filters and effects that you can apply to your videos. Each new effect and filter has a preview picture to give you an idea of how it will look.
New screen saver: Daydream Mode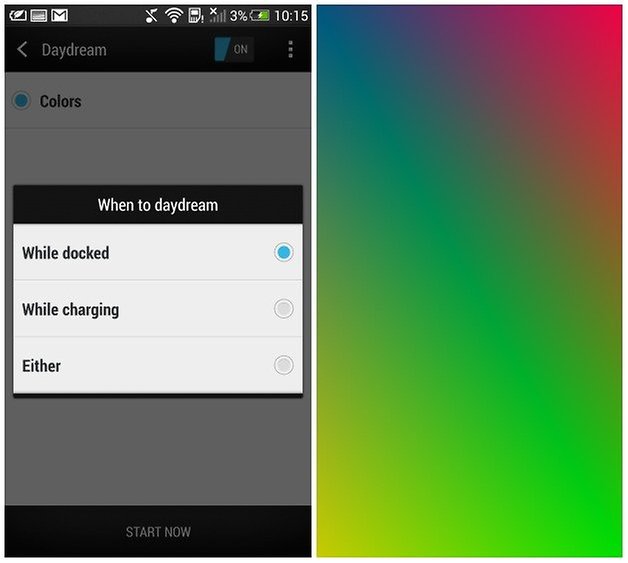 Android 4.2 packs a new screen saver called Daydream which can be switched on when the HTC One is docked or plugged into a charging cable. The HTC One only offers one option on update, which you can expand by installing the suitable apps from the Play Store.
Background picture: choose from your computer pictures or file manager
You're now able to upload pictures directly from your computer or file manager by using the file structure on your smartphone to then use as background pictures.
The Firmware update 2.24.401.1 should reach HTC One devices in Germany within the next two weeks, much to the despair of our friends overseas. When we asked HTC for some more specific dates, they were unable to give us any further information. The update is a hefty 416.46 MB, therefore it's wise to install it when using a stable WLAN connection.
What do you think of the new features and improvements? Are you happy with them or would you have wished to see some other new functions? What should HTC bring with its next update?