HTC Android 4.0 Update: March Brings Ice Cream Sandwich To HTC Devices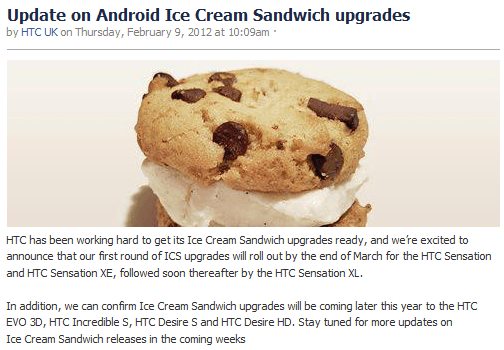 HTC has announced that an OTA update to Android 4.0 / Ice Cream Sandwich for many HTC devices will roll out at the end of March. Leading the charge to ICS for HTC will be the HTC Sensation, HTC Sensation XE followed shortly by the HTC Sensation XL.
If you're in possession of an EVO 3D, Incredible S, Desire S and Desire HD, don't worry! The ICS update will be available after the OTA update for the other named devices. Of course, HTC has not yet set a date in stone but "later this year" is better then never, am I right?
HTC's Official Statement:
"HTC has been working hard to get its Ice Cream Sandwich upgrades ready, and we're excited to announce that our first round of ICS upgrades will roll out by the end of March for the HTC Sensation and HTC Sensation XE, followed soon thereafter by the HTC Sensation XL. In addition, we can confirm Ice Cream Sandwich upgrades will be coming later this year to the HTC EVO 3D, HTC Incredible S, HTC Desire S and HTC Desire HD. Stay tuned for more updates on Ice Cream Sandwich releases in the coming weeks."