5 Things I Really Hate About Android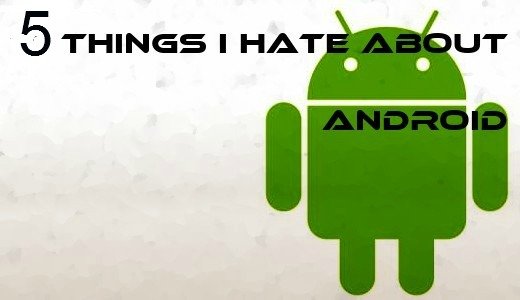 NEXTPITTV
Here at AndroidPIT, we naturally write a lot about all the things we love about Android. Obviously, we love Android phones, tablets, the logo, Google...pretty much everything to do with Android. I personally have owned over 7 Android phones and am on my second tablet, and I can confidently say that I know my way around this OS. I really really love what this operating system is capable of, and I have more or less been with it since the beginning days of the G1. With that being said, there are some things that I really HATE about Android as well, and just for a change of pace, I thought I would share 5 of those things with our readers (in no particular order).
Payment methods for buying apps
So I got the first Android phone, (HTC Dream aka T-Mobile G1) back in 2008, and the Android market has definitely improved. But how is it possible that almost 4 years later that you can still ONLY pay with a credit card? Not everyone has credit cards Google. Look how many options you have to purchase apps on the Apple market (or even Amazon for that matter), and then ask yourselves why sales are much lower on Google Play. No Paypal or support for gift cards yet? No excuse for that.
Apps can only be bought & sold in certain countries
Google wants to become a global player when it comes to Android's integration with Google Play, but they often seem to miss covering the basics. Again, how in the world is it possible that in 2012 only certain countries are allowed to actually sell apps? And to make matters worse, in many countries, buying paid apps still isn't possible. How can this be? This is not only irritating, it's simply not fair to owners of devices in those countries, and not only does it cheat them, it also takes potential profit right out of Google's pocket. Pretty silly Google.
Google Music, Books, And Movies only available in a few countries
This REALLY irritates me and a whole lot of other international Android users. I am originally from Florida, but have lived in Berlin Germany for the last 10 years, meaning I have never got to see any of the Google Play services. But last year when I had my iPhone 4, I didn't have this issue, and if Apple can do it, Google certainly can. Here's the breakdown of which countries have access to which services right now, which is so far not very promising:
US: Apps, Movies, Books, Music
UK & Canada: Apps, Movies, Books
Australia: Apps & Books
Japan: Apps & Movies
Others: Apps
To get the best overall experience AND receive timely updates, I still have to root my device
Don't get me wrong..I LIKE rooting my devices. The problem is that in doing that, I see all the things that Google and Android OEMs simply aren't getting right. How is it possible that developers on XDA and RootzWiki are SO MUCH FASTER at getting Ice Cream Sandwich on devices than Google and carriers are? How is it possible that in order to get the fastest and smoothest experience that I still need to root? For those of you saying that it's not true, I can assure you that out of the many phones and tablets I have, rooting will 9 times out of 10 GREATLY increase performance. Are XDA Developers better than Google's and OEM engineers?
The fact that I have friends with unrooted devices that literally had to either wait half a year for an update, or even worse, find out they won't get an update when they were originally told that they would is just horrible. There are multiple parties at fault for this, but this system really needs to change. Hopefully, when every OEM has their own Nexus device, this situation will change for the better.
Support for "older" devices is HORRIBLE
Ever get an Android phone, and then like a year and a half later find out that support for it will be dropped? There's always some lame OEM excuse along the lines of "the devices hardware limits us from updating to ICS", ect ect. Then ironically you go XDA to see that Cyanogen or another great developer has updated the phone that supposedly couldn't be updated to the newest version of Android? I've had it happen twice on phones I have owned, and now I have learned to put very little faith in OEMs when it comes to Android updates. A year and a half isn't old. It might not be current or recent, but it certainly isn't old.
Those are 5 of the things that I really hate about Android. I'm sure there are more, but these 5 came to me without having to wonder about it for long.
P.S - I could certainly list WAY more things that I like and love about Andy, but you already knew that :-D
What about you guys? What are some things that you dislike about Android? Don't be shy!!!
Picture credits: s3.hubimg.com (edited by myself)