Google and Apple CEOs in Secret Negotiations Over Patent Disputes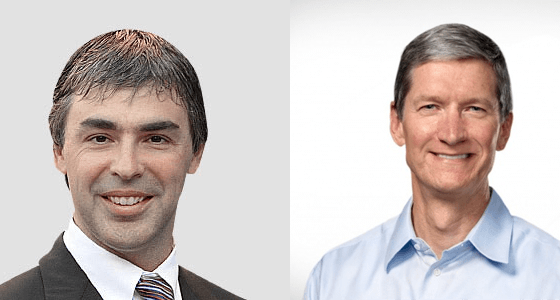 Is Apple finally sick of suing Android? Would they like to give their legal team a break?
Reuters is reporting that Google CEO Larry Page and Apple CEO Tim Cook have been meeting to discuss the never-ending patent wars between the two companies. According to the report, Google and Apple are "keeping the lines of communication open at a high level" about a range of intellectual property matters including the patent dispute betwen the two companies. Of course, this comes just as Apple won a patent trial against Samsung, ending up with $1.05 billion awarded to them in damages.
What's befuddling about these talks is that Apple and Google have never seem so estranged. Apple has fought to recently filed a lawsuit to ban multiple Apple products.
Apple has been quick to sue manufacturers, but we've always thought of that as a proxy war in their much larger fight against the whole Android OS. After all, Steve Jobs famously said he wanted to "destroy Android" – not Samsung. Could these talks mean Apple is focusing their legal attention elsewhere?
It's possible that Google and Apple would like to resolve their issues over stock Android, including unified search, which Apple recently claimed infringed on their patents. Apple won an injucntion against the sale of Samsung's Galaxy Nexus over this patent, but Google has promised to find a work-around in the Android Jelly Bean 4.1 update.
I want to be hopeful that these talks will lead to fewer lawsuits, but I can't imagine Apple giving up their patent superiority complex. Maybe they'll find some settlements and work-arounds for stock Android, but I'm sure the OEMs will continue to be seen as enemies in the eyes of Apple. They still want war.