BREAKING: Facebook Acquires Instagram For Around 1 Billion Dollars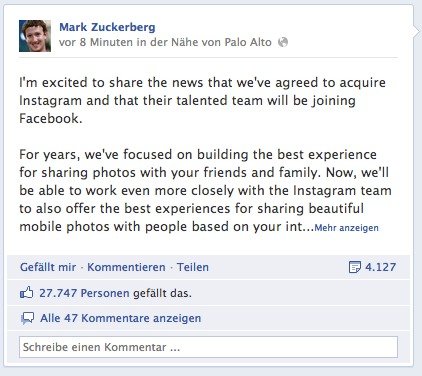 It's literally only been a few days since Instagram for Android first launched, and already it's in the news again. Now while I personally would never ever EVER use Instagram (I still can't get over how DISGUSTED iPhone users were following the release of Instagram for Android), it was very interesting to see Facebook CEO Mark Zuckerberg's comment made on his Facebook wall just a few minutes ago, stating Facebook have just offically acquired Instagram for a pretty hefty chunk of change. Instabook? Facegram? How about Instaface? Ok I'll stop....But seriously, the acquisition of Instagram makes a lot of sense for Facebook, as it very nicely complements their existing business model.
Surprising? No, not really. Instagram's social sharing features have been what has made the application so popular, and as Facebook also centers around sharing photos, it's actually a very logical purchase for Facebook. While we don't have an exact figure regarding purchase price, a press release stated that in the end it was sold for "around 1 BILLION dollars and shares in Facebook". In other words, JACKPOT for Kevin Systrom, CEO of Instagram :-D
Seeing as Instagram's business model is centered on photo sharing, I doubt much will change in terms of the functionality of the app itself. So to all you fans of Instagram, don't worry. Congrats Instagram, you certainly have had a big week.
For anyone who wants to download Instagram for Android, it can be found here.