Controversy Erupts Over Sexist ASUS Tweet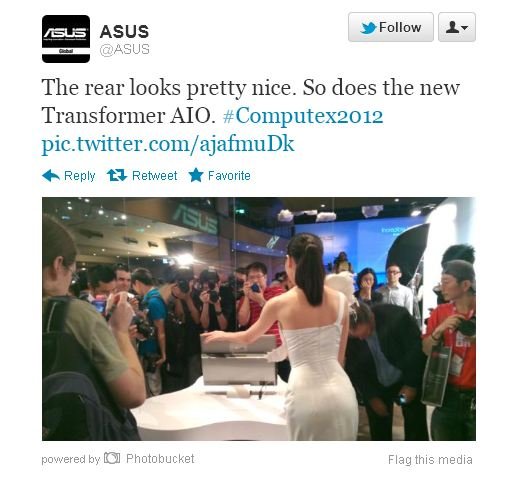 NEXTPITTV
ASUS scraped the bottom of the barrel in a Tweet yesterday showing an Asian model turning her back to the camera while opening a Transformer AIO. "The rear looks pretty nice. So does the new Transformer," ASUS tweeted. HAAAAAAAAAAAAAAAAAAAAAAA....except not.
The Tweet was promptly deleted (and hopefully the13 year old social media coordinator who tweeted it has crawled back into whatever he cave he came from), but it's still left bad vibes with lots of potential customers. "Women aren't decorations," tweeted one user. "It's just stupid to alienate potential laptop buyers with this kind of idiotic grade school kind of joke," said a commenter on Gizmodo.
Now, compliments are always nice, but I'd say this tweet goes too far in objectifying this woman's behind. I'm not going to stop loving ASUS products just because of a little goof up, but I expect better jokes next time on the Twitterscape. Kapeesh?