Android Tablets Compared: These Are the Best Models to Buy in 2023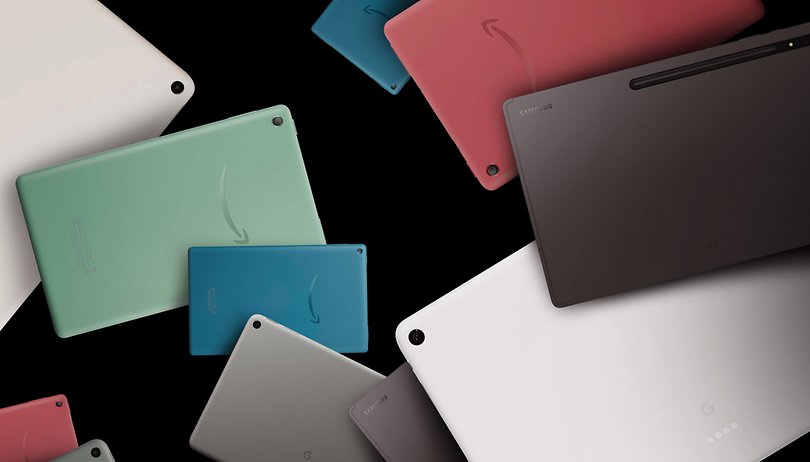 After a full year of teasers, the Google Pixel Tablet is official, and that raises the question: What are the best Android tablets to buy today? We will try answering that by putting the new device face-to-face with the Samsung Galaxy, Amazon Fire, and more.
All of a sudden, Android tablets are apparently back, with a new option from OnePlus, Google's return to the market with a real Pixel model (not a ChromeOS hybrid), and even some new features such as OLED displays on the more expensive Galaxy Tab S8 models.
We took the opportunity to list the best options available to help you make the most of your money. And we will start with a comparison table.
Best Android tablets compared
Top of the line
Pure Android experience
The challenger
Cheap big tablet
12-inch alternative
Traditional 11-inch tablet
Mid-range alternative
Entry-level Samsung option
The bare minimum
Product
Picture

Display
14.6'' OLED
2960 x 1848 pixels
120 Hz refresh rate
10.95'' LCD
2560 x 1600 pixels
60 Hz refresh rate
11.6'' LCD
2800 x 2000 pixels
144 Hz refresh rate
10.'1' LCD
1920 x 1200 pixels
60 Hz refresh rate
12.4'' OLED
2800 x 1752 pixels
120 Hz refresh rate
11'' LCD
2560 x 1600 pixels
120 Hz refresh rate
11.0'' LCD
2560 x 1600 pixels
120 Hz refresh rate
10.5'' LCD
1920 x 1080 pixels
60 Hz refresh rate
7'' LCD
1024 x 600
60 Hz refresh rate
CPU
Snapdragon 8 Gen 1
Google Tensor G2
MediaTek Dimensity 9000
MediaTek Helio P60T
Snapdragon 8 Gen 1
Snapdragon 860
Unisoc T618
MediaTek MT8168V
Memory
8 / 12 / 16 GB
8 GB LPDDR5
8 GB LPDDR5
3 / 4 GB
8 / 12 GB
6 GB LPDDR4x
3 GB
2 GB
Storage
128 / 256 / 512 GB
128 / 256 GB UFS 3.1
128 GB UFS 3.1
32 / 64 GB
128 / 256 GB
128 / 256 GB UFS 3.1
32 GB
16 / 32 GB
microSD
Yes, up to 1 TB
❌
Yes, up to 1 TB
❌
Yes, up to 1 TB
Battery
11200 mAh
27 Wh
9510 mAh
6500 mAh
10090 mAh
8000 mAh
8720 mAh
7040 mAh
3750 mAh
Software
Android 12 with One UI
Android 13
Android with FireOS 7
Android 12 with One UI
Android 12 with One UI
Android 11 with MIUI
Android 11 with One UI
Android 11 with Fire OS 8
Rear camera
Main: 13 MP, f/2.0
Ultra-wide: 6 MP, f/2.2
8 MP, f/2.0

13 MP

5 MP

Main: 13 MP, f/2.0
Ultra-wide: 6 MP, f/2.2
13 MP, f/2.0

8 MP

2 MP

Front camera
Wide: 12 MP, f/2.2
Ultra-wide: 12 MP, f/2.4
8 MP, f/2.0

8 MP

2 MP

12 MP, f/2.4

8 MP, f/2.0

5 MP

2 MP

Bundled pen
✔️
❌
❌
❌
✔️
❌
Connectivity
Wi-Fi 6, Bluetooth 5.0, optional 5G
Wi-Fi 6, Bluetooth 5.2, UWB
Wi-Fi 6, Bluetooth 5.3
Wi-Fi 5, Bluetooth 5.0
Wi-Fi 6, Bluetooth 5.0, optional 5G
Wi-Fi 5, Bluetooth 5.0
Dimensions
12.85 x 8.21 x 0.22 in
326.4 x 208.6 x 5.5 mm
10.2 x 6.7 x 0.3 in
258 x 169 x 8.1 mm
10.2 x 7.5 x 0.25 in
258.03 x 189.41 x 6.54 mm
9.7 x 6.5 x 0.36 in
247 x 166 x 9.2 mm
11.22 x 7.28 x 0.22 in
285 x 185 x 5.7 mm
9.99 x 6.51 x 0.25 in
253.8 x 165.3 x 6.3 mm
10.03 x 6.54 x 0.27
254.69 x 166.25 x 6.85 mm
9.72 x 6.37 x 0.27 in
246.8 x 161.9 x 6.9 mm
7.11 in x 4.63 in x 0.38 in
180.7 x 117.6 x 9.7 mm
Weight
Wi-Fi: 25.6 oz | 726 g
5G: 25.7 oz | 728 g
17.4 oz
493 g
19.6 oz
555 g
16.5 oz
468 g
Wi-Fi: 20 oz | 567 g
5G: 20.2 oz | 572 g
Wi-Fi: 17.7 oz | 503 g
5G: 17.9 oz | 507 g
18.0 oz
511 g
17.9 oz
508 g
9.9 oz
282 g
Good

Great AMOLED display
Very high-quality workmanship
Awesome performance without overheating issues
S Pen included
Fantastic sound

120Hz AMOLED display is exceptional
Strong and stable performance
Included S Pen
Never heats up
Dex UI helps with multitasking
Expandable storage up to 1 TB

Bad

Too bulky
Potential is only maximized with a keyboard
S Pen is not integrated into the device
Fast charging is not really that "fast"
Lacks a charger
High price

Charging can barely keep up
No internal slot for the S-Pen
The SoC could be pushed harder
Android tablet software is (still) unwieldy
Ultrawide lens is without purpose
Dex mode still needs work

Rating

Read the Galaxy Tab S8 Ultra review

Read the Pixel Tablet hands-on

Not yet rated

Not yet rated

Read the Galaxy Tab S8+ review

Not yet rated

Not yet rated

Not yet rated

Not yet rated

Offers*
Buying advice: What to look for when buying a tablet
The Android tablet market covers a huge landscape of products, ranging from bargain bin models at around $50/€50 on deals days up to more than a thousand bucks with all the bells and whistles you can imagine.
Performance: We listed below only models that offer a reasonable level of performance, that is why we didn't list models under $100/€100. Even though they are very popular, you shouldn't expect much from them when it comes to daily performance or longevity. Additionally, storage space on very cheap tablets is limited, restricting their use even after installing a microSD card.
Accessories: Tablets are usually very versatile when it comes to usage, some are more geared towards multimedia consumption, while others are positioned as productivity machines. From kick-stand covers to pens and keyboards, try to visualize the intended use for the device and check if all necessary accessories are available. That will save you the hassle of getting a generic option which can ruin the tablet's portability.
Display and audio: Since most people use tablets for online browsing and watching streaming content, having a good screen and speakers are critical. Except for the Fire 7, all models on the table above are Full HD-compliant, but some offer higher refresh rates that can make games and page scrolling smoother than on 60 Hz models. On the audio side, all tablets above offer at least stereo sound using dual or quad speakers but none have front-firing speakers for better sound immersion. If you care about sound quality, consider getting a good headphone.
Best Android tablet: Samsung Galaxy S8 Ultra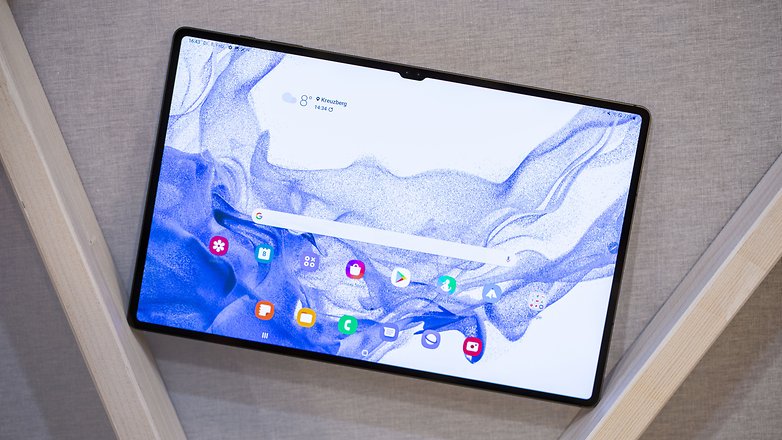 Read the full Galaxy Tab S8 Ultra review
My colleague Carsten Drees didn't spare words to call the Galaxy Tab S8 Ultra "The best Android tablet in the world" in his review. Recent advancements in OLED production took the technology to notebook screen sizes, and Samsung simply took a 14.6'' 120 Hz display to create a big tablet that overshadows even Apple's big 12.9-inch iPad Pro.
And the rest of the specs are equally top-of-the-line, with a flagship-class Snapdragon 8 Gen 1 processor, memory options that top at 16 + 512 GB (RAM + ROM), an included S Pen stylus, and even 5G cellular connectivity. All for a price that goes from $1000 all the way to $1250.
Despite the huge screen size for a tablet, Samsung tried its best to have a compact device with slim bezels—including a notch for the selfie camera—and only 5.5 mm thick. Still, our review found out that the Galaxy Tab S8 Ultra's "Pro" potential is only realized when used with a keyboard.
The best Android tablet for multimedia: Pixel Tablet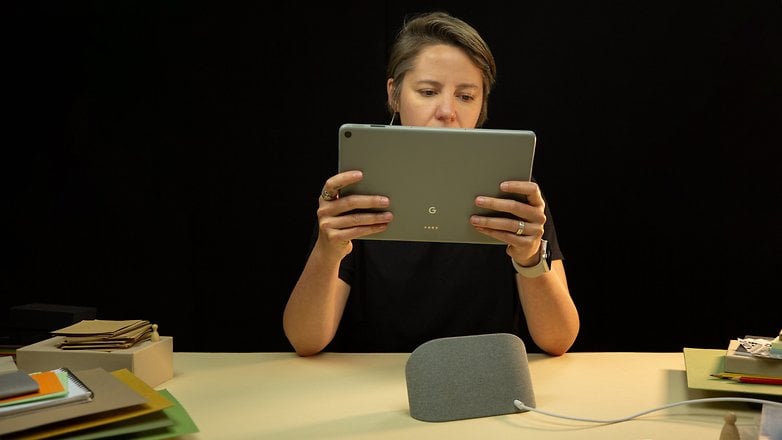 Google's new assault on the tablet market is slightly different from its past contenders. The Pixel Tablet is bundled with a charging dock—which can be purchased separately and basically transforms the tablet into a smart display with a Google Nest-like speaker.
The multimedia features of the Pixel Tablet don't stop there, as the device also features Chromecast support, not only to beam its contents to a bigger screen but also as a target to share a streaming session from your smartphone. On nextpit's test, the speaker dock offered excellent sound quality and a reliable docking experience by using magnets for alignment.
In the specs department, the Pixel Tablet features the same Tensor G2 processor found in the Pixel 7 phones, fast RAM and storage standards, average 8 megapixels sensors for both cameras—a bit disappointing considering the brand—and promised software support of 5 years of security updates, which is only rivaled by the Samsung Tab S8 models that cost considerably more than the Pixel Tablet's $499/€679 MSRP.
Our full review will be published shortly but in the meantime, you can read Camila Rinaldi's first impressions with this new season of Android tablets here. Spoiler alert: The hardware is solid but is betrayed by the still lackluster tablet experience on Android.
The best high-end Android tablet alternative: OnePlus Pad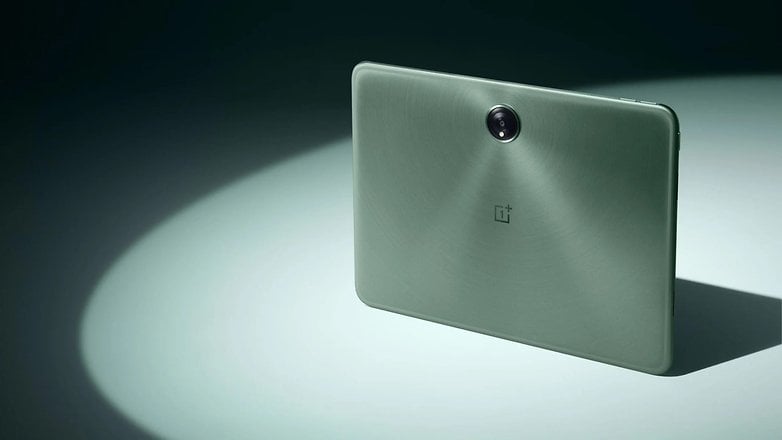 If you are not looking for a productivity tablet or a hybrid smart display but still want high performance, you might want to consider the OnePlus Pad. The brand's first device for the tablet market managed to bring a couple of firsts to the tablet segment, including the fast Dimensity 9000 processor from MediaTek and a very fast refresh rate of 144 Hz for smooth animations on the 11.6'' display.
The OnePlus Pad also sports a rather unusual screen ratio of 7:5 for the LCD panel, which reaches a maximum brightness of 500 nits. OnePlus equipped the tablet with a relatively big (for the size) battery with 9510 mAh, all in a thin build.
The Pad's speed can also be seen in the charging department, compatible with the 67 W SuperVooc power adapter that promises a "full charge in just over 60 minutes". We are still waiting to test the device in the coming weeks, so keep checking NextPit for a review.
The best cheap Android tablet: Amazon Fire HD 10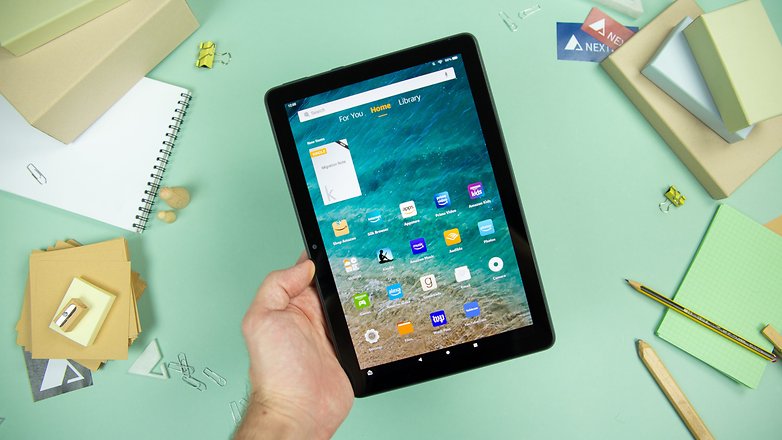 An unusual selection for this list, the Amazon Fire HD 10 tablet runs Android but under a heavily customized FireOS skin. Most Android apps are not available on the Amazon App Store, but you can easily bypass that limitation by sideloading the Google Play Store on the Fire tablet.
Amazon's MSRP for its biggest tablet is $149.99/€147.99, but frequent discounts take the price under $100/€100 if you can wait. The trade-offs for the low price can be seen in the weak memory options, low-resolution cameras, and a display that is just ok for the price.
Performance on the Fire HD 10 is fine, approaching Android smartphones twice as expensive, with four performance cores and four efficiency cores. You can go even cheaper on the Amazon Fire line, but the other models offer much lower performance, despite the impulse buy pricing.
There are a bunch of other options in the Android tablet space, including alternatives from Xiaomi/Redmi, Oppo, Nokia, Lenovo, TCL, and much more. You can check a few suggestions in the table above, but you are welcome to suggest more tablets for this list, and hopefully, we will be able to test them.
Do you think it is worth spending more than $400 on an Android tablet, or that is a space exclusive to iPad models? How often do tablets get upgraded in your household? Share your opinions in the comments below!
---
This article was updated in June 2023 with our first impressions of the Pixel Tablet. Comments prior to the update were kept and may appear out of context.