Google Pixel Tablet Review: Your Roommates Will Love It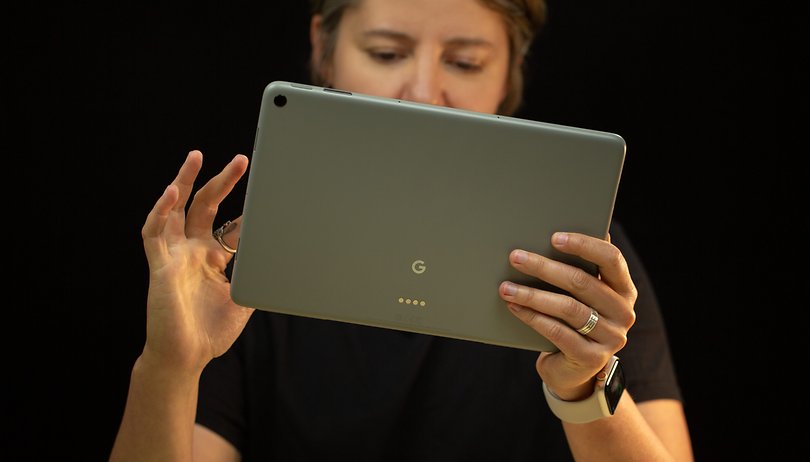 The Google Pixel Tablet doubles up as a smart display when used with the included dock, and it's Google's new attempt to enhance the Android experience on larger screens. But just how good is it, really? Here is our review of the Google Pixel Tablet.
Good
Compact design with a great display experience

The speaker dock is useful

Great tablet for sharing

The charging dock ensures battery autonomy

Good software update policy
Bad
Physical buttons are practically hidden

Still feels like the Android mobile experience

Key software features missing

Finding third-party accessories may be tricky
Google Pixel Tablet: All deals
Price and availability
The Google Pixel Tablet, with its 128 GB base model, is currently available for purchase at a starting price of $499. If you require additional storage, the 256 GB variant can be yours for $599.
The tablet offers a grand total of three different colors for you to choose from: Hazel (sleek gray), Porcelain (elegant white), and Rose (a shade that is exclusively available in the US). Please note that the package includes the speaker dock.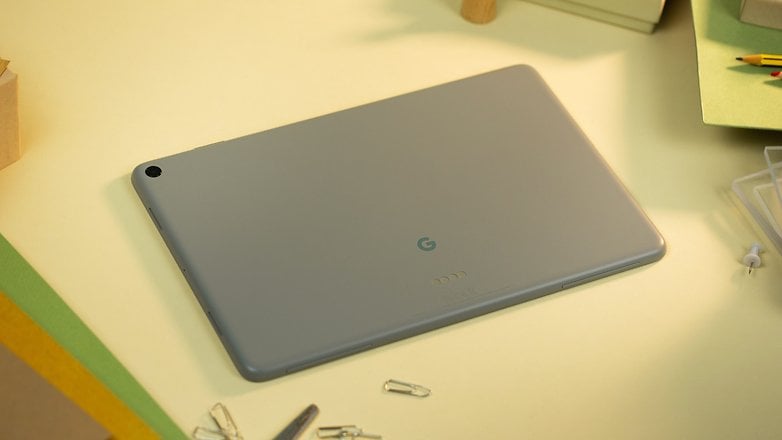 Even though the Pixel Tablet became available on June 20, its initial announcement was made much earlier, on May 11, 2022. It was later released officially by Google at their annual developer conference, Google I/O which was held on May 10, 2023.
Design and display
Sporting a 10.95-inch display, the Google Pixel Tablet is a compact device and it does remind me of the Samsung Galaxy Tab S8 Series, which shares a very similar display aspect ratio. The display is more rectangular than square in a 16:10 format, which is excellent for streaming videos. However, its 493 grams of weight can be felt when carrying the tablet with one hand.
---
Pros:
The 16:10 aspect ratio works pretty well for streaming

.
Good display quality.
Support for USI 2.0 stylus pens.
Cons:
Design and position of the physical buttons.
---
The Pixel Tablet features a glass front and an aluminum frame and back, providing a sleek and sturdy design. Content is displayed on the 11-inch LCD screen, which offers a refresh rate of 60 Hz—something I find acceptable for a non-Pro tablet.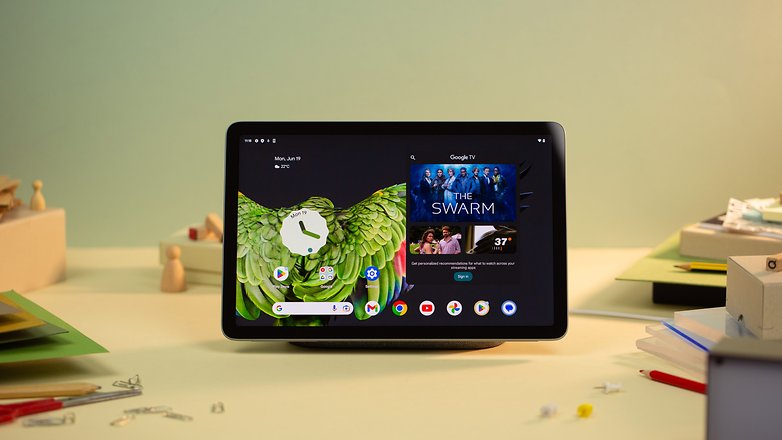 It also boasts a display resolution of 2560 x 1600 and 500 nits brightness, which significantly enhanced my experience of watching Netflix TV shows and YouTube videos. Moreover, reading content on apps such as Kindle and The New York Times was a pleasure on this device.
Another display feature that I found to be a fantastic addition is the support for USI 2.0 stylus pens. Using a stylus can significantly enhance precision on the tablet screen and also opens up a myriad of possibilities when it comes to functionality. However, we didn't have one available in the office to try out at the time of publishing this comprehensive review.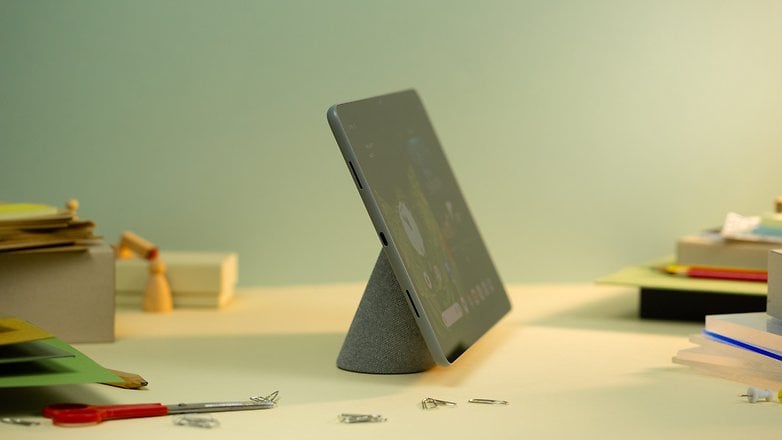 On the rear of the Pixel Tablet, you'll find the docking connectors, also known as the pogo pin connection. We'll delve more into the docking station later. These connectors, which are typically located on the tablet frame, are used to attach a variety of accessories such as keyboards. I'm still pondering how accessory manufacturers will approach this.
Currently, Google offers a few different accessories for the tablet: the Pixel Tablet Case, the Speck Standyshell, and the Speck ShieldView Glass Screen Protector. However, it's important to note that, as of July 2023, Google does not offer a keyboard accessory specifically designed for the tablet.
What piqued my curiosity, however, was the decision to position the power button, which doubles up as the fingerprint sensor, at the same level as the frame. This creates a counterintuitive and user-unfriendly experience. Also, it's uncomfortably close to the volume button, located along the same edge. During my review period, I found this design counterintuitive for a device that is fundamentally designed to be held with two hands.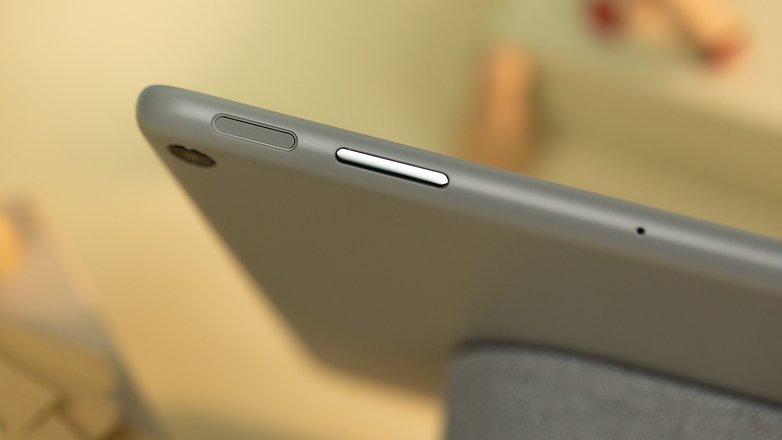 As if that were not enough, there are two rubbery supports on the bottom of the frame that can easily be mistaken for physical buttons. These design decisions frankly baffled me, even though I understood they are meant to serve as a form of protection when used with a tablet support accessory.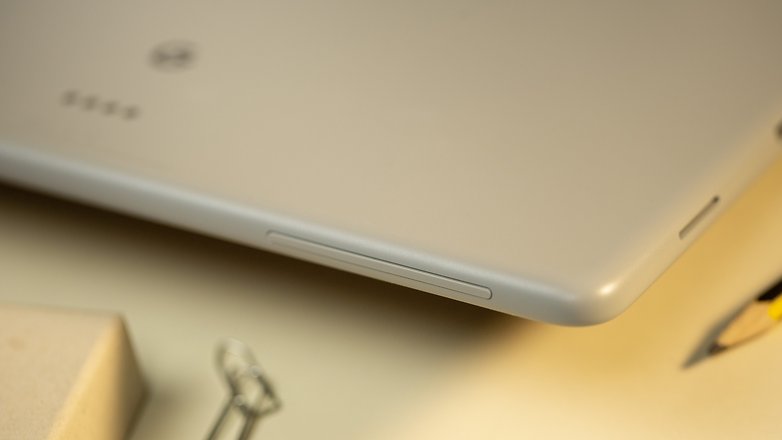 A speaker dock is included
The inclusion of a dock in the box is ingenious indeed. After reviewing the Pixel Tablet I can fully understand the hype around this "feature". This is a tablet that comes with a speaker and a charging dock station. It is intuitive to use, the sound quality is noticeably superior, and it conveniently charges the device while it's docked at a maximum charging rate of 15W.
---
Pros:
The dock packs additional speakers

.
It doubles up as a charging station.
Cons:
It only works when plugged into the socket.
---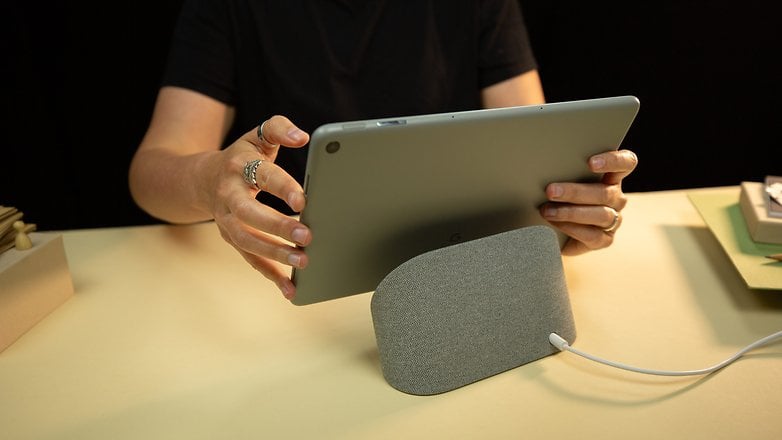 Although the Pixel Tablet comes equipped with four built-in stereo speakers, they're not designed for an exceptional audio experience, which can typically be achieved with a pair of wireless headphones. This is where such a combination makes a significant difference.
The docking station delivers exceptional sound quality through its 43.5 mm full-range speaker, resulting in a 78 dB loudness and 71dB bass. This notably enhances the overall audio experience of the tablet.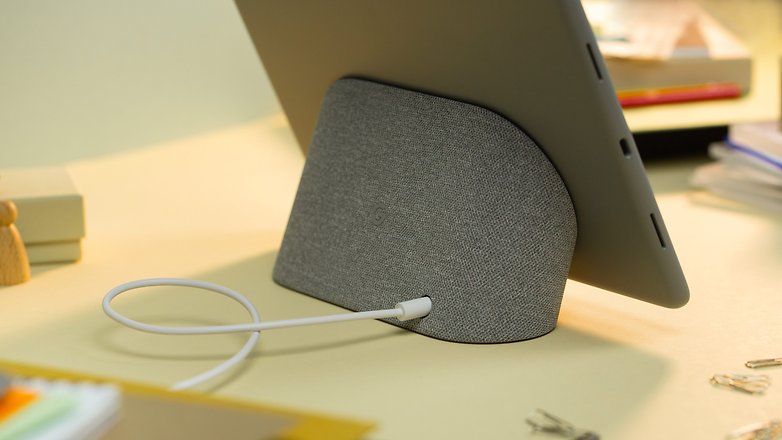 While this reminded me of Meta's unsuccessful Portal device concept, such technology is far more practical. It's wonderful to have it sitting on my work desk and to be able to easily dock the tablet at the station. It's intuitive and eliminates the need for fussing with tablet cases or keyboard supports.
The magnetic docking interface worked like a charm—not once did it fail to attach when I tried. Well done, Google!
The drawback of this—and there's always one—is that the speaker dock only functions when it is plugged into a power source. This means you're tied down by a cable no matter how you look at it. So, if you want to maintain this seamless experience across multiple rooms, you'll need to invest in additional docks.
However, for those concerned, the Pixel Tablet can also be charged via USB-C. Unfortunately, Google does not include a cable or USB charger in the box.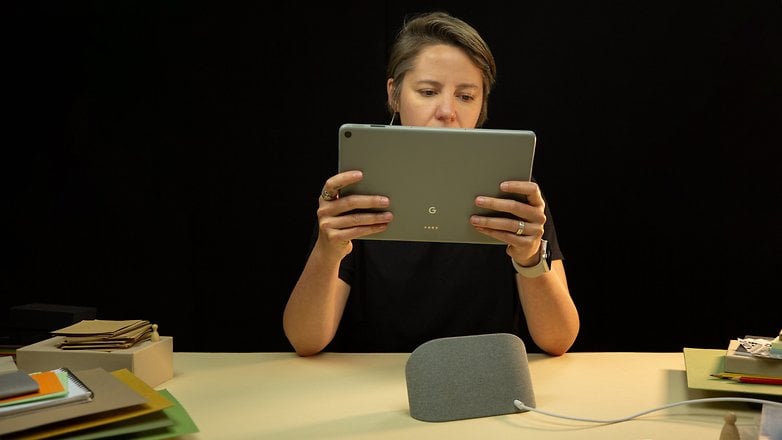 Beyond its great sound quality and charging capability, what sets this docking station apart from the rest? It also enables you to use the tablet in Hub Mode. This means you gain access to the Google Smart Home experience, complete with dedicated screen savers, reminders, and alerts via Google Assistant, casting capabilities, and, of course, the ability to control all your smart devices at home.
Google Pixel Tablet software
Now, let's discuss software. It's been some time since I've used Android tablets, but it's clear to me that Google doesn't distinguish between the Android software that runs on smartphones and the one that operates on Android tablets. It's the same user experience, just on a larger display.
However, it's worth noting that some apps are now better adapted to the larger screen size. I've always used The New York Times app as a benchmark, and I found my experience with it on the Pixel Tablet to be almost identical to that on my iPad 10.
Moreover, the Material You customizations and new features provide a pleasing enhancement for interaction with tablet devices. The Android 13 widgets also add a nice touch to the tablet experience, though the operating system could still use some improvements in terms of tablet UX. According to Google, "more than 50 Google apps" are optimized for the Pixel Tablet, but it still feels akin to an upscaled Pixel phone experience.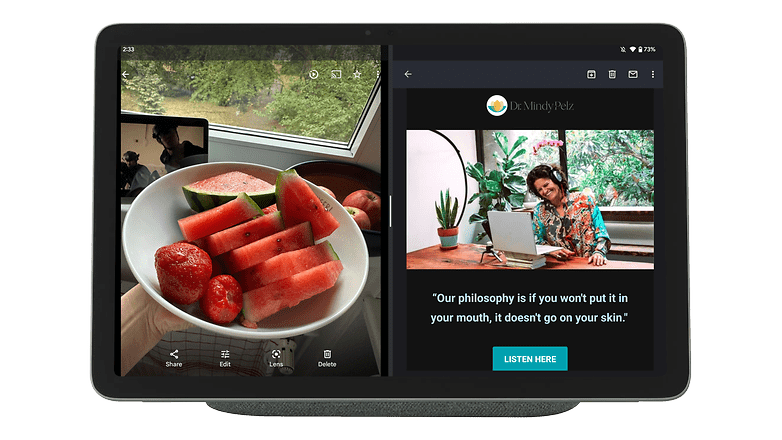 ---
Pros:
Material You offers a substantial amount of customization

.
Long-term software support.
Cons:
Still feels like the Android mobile experience.
Key software features missing.
---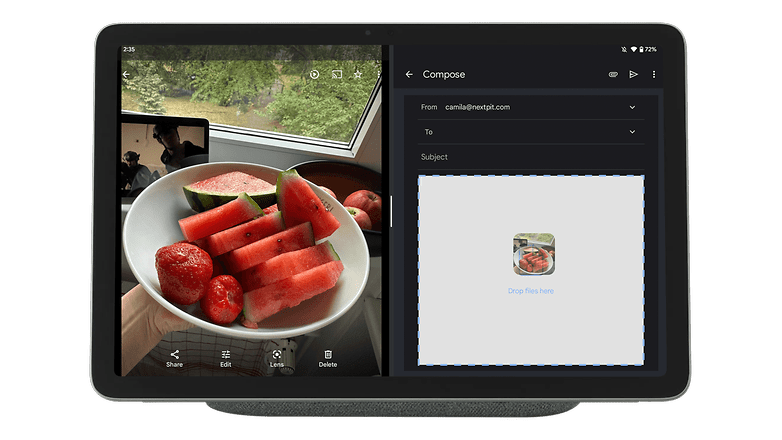 That said, some features truly shine on a tablet. The split screen mode is very useful, and the sharing features have improved. I can now easily share snippets of articles and images on the web from the tablet to my MacBook Pro using the 'Send to your device' option, which operates via the Chrome browser. You can also utilize 'Nearby Sharing' between Pixel devices to share images and text.
However, this isn't comparable to the 'Universal Control' in Apple's or Huawei's ecosystems. For this reason, I believe Android tablets still lack some key features to enhance productivity.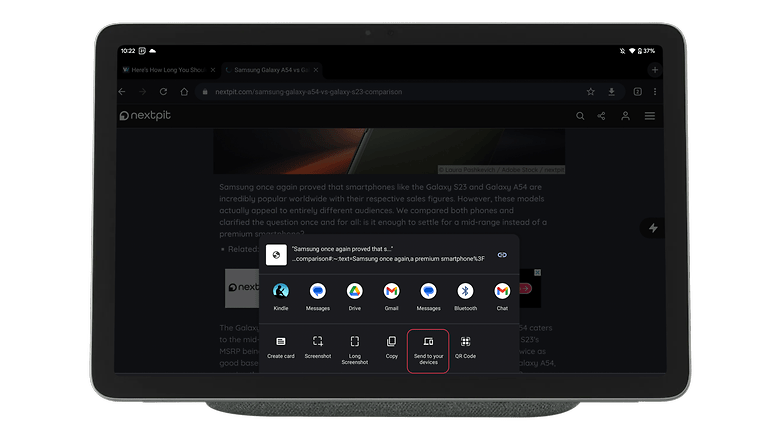 Even the Hub Mode UX alternates between features found on the Google Home app and the Nest Display. In other words, these features don't complement each other but rather replicate similar functionality. For instance, many of the same features and commands can also be accessed via my Apple Watch Series 8 (review).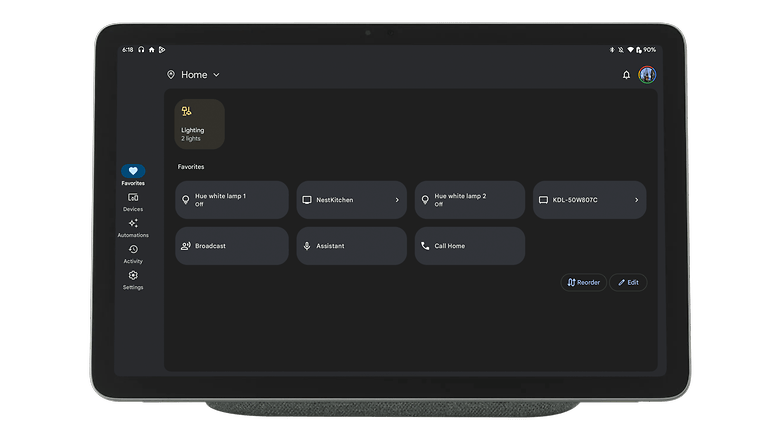 Finally, the new Pixel tablet comes with a commitment to receive up to three years of major Android updates and five years of security updates. As it was launched with Android 13, we can expect it to be updated until Android 16, which is projected to be released in 2025.
Google Pixel Tablet performance
The Pixel Tablet is powered by the same Tensor G2 processor that's found in Google's Pixel 7 smartphones, which is also combined with the Titan M2 security chip. You can anticipate the same level of AI processing for voice recognition, image processing, and features such as background blurring in photos, and more notably, during voice calls utilizing the built-in 8-megapixel selfie camera.
---
Pros:
The Tensor G2 chip's reliability

.
Smooth, fluid experience.
The fingerprint sensor worked flawlessly.
Cons:
---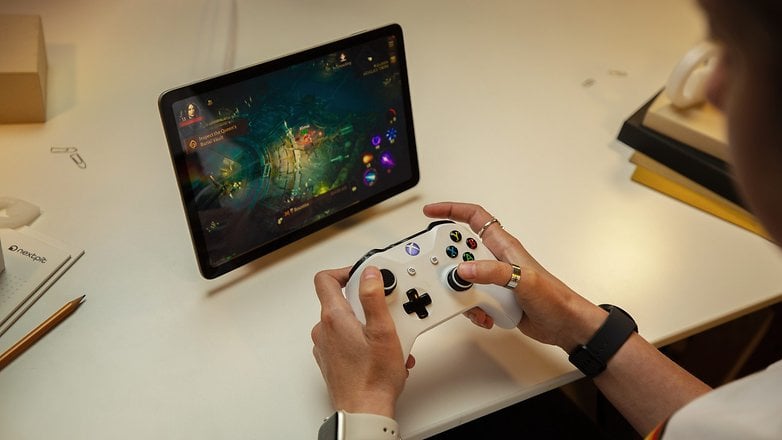 Undoubtedly, the Pixel Tablet provides a smooth and fluid experience. The Tensor G2 chip, paired with 8 GB of LPDDR5 RAM, comes in two different storage configurations: 128 GB or 256 GB of UFS 3.1. However, I did encounter some glitches while using the device, especially when pairing it with different Bluetooth devices. These were nothing major, but annoyances like a momentarily frozen screen were noticeable.
In benchmark testing, however, the Pixel Tablet truly shone: it achieved 98.4% stability on the 3DMark Wild Life Stress Test, and the difference between the first and the last loop was minimal. Both battery usage and temperature remained remarkably steady throughout the test.
Google Pixel Tablet
(Tensor G2)
Google Pixel Fold
(Tensor G2)
Samsung Galaxy Tab S8+
(Snapdragon 8 Gen 1)
3DMark Wild Life
3DMark Wild Life Stress Test

Best loop: 6624
Worst loop: 6516

Best loop: 6650
Worst loop: 3508

Best loop: 8636
Worst loop: 6582

Geekbench

Geekbench 6 Single: 1437
Multi: 3647

Geekbench 6 Single: 1479
Multi: 3784

Geekbench 5
Single: 1235
Multi: 3275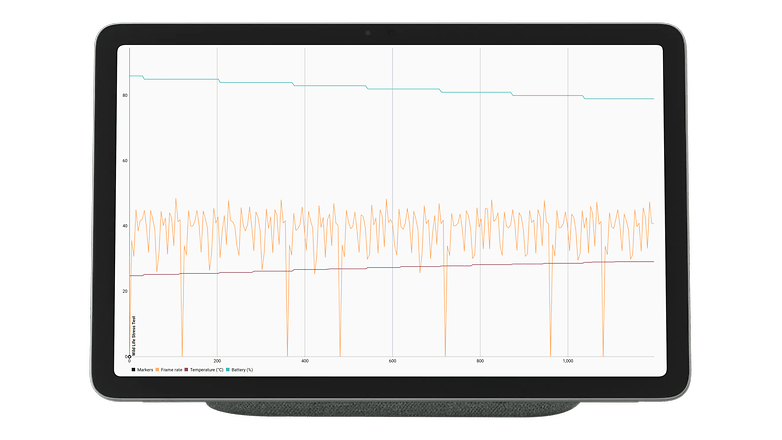 For this review, I tested the game Diablo Immortal to assess the tablet's performance, and the experience couldn't have been better. Aside from an initial glitch when connecting the Xbox game controller, everything ran smoothly. I didn't notice any significant drop in fps, even during sessions that lasted longer than an hour.
Once again, I must give kudos to the speaker dock. It is an excellent addition for audio enhancement and supports lengthy gaming sessions as it charges the device while you play. Yes, the tablet does get a bit warm in this setup, but nothing that detracted from my gaming experience.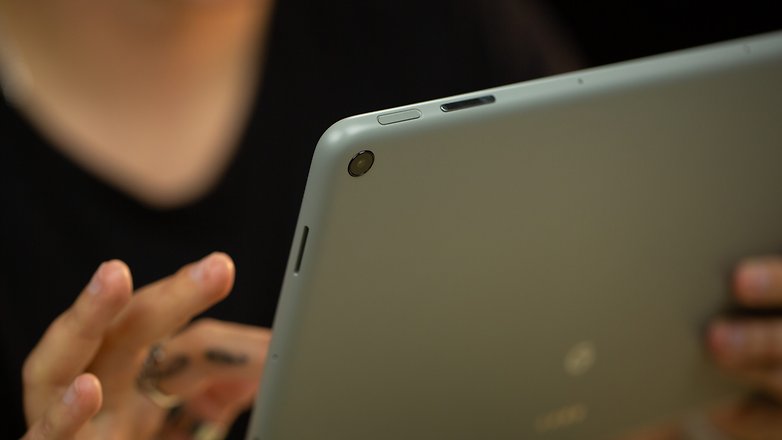 As for security, aside from the multi-layer hardware security, there's also the Private Compute Core. By definition, this manages all data at the device level.
Finally, the fingerprint sensor performed well, and I love the fact that the software directs you towards the sensor location on the Lock screen. It's a small detail that significantly improves the user experience (UX).
Google Pixel Tablet camera
The Pixel Tablet is equipped with two built-in cameras and incorporates Google's computational photography. Features such as background blurring in photos and all Google Photos editing tools are available. Google has chosen to use an 8-megapixel camera both on the front and back of the device, and the results are quite impressive.
---
Pros:
Good photo and video quality

.
The front camera is built into the device in the landscape position.
The exclusive features offered on the Pixel Tablet are quite handy.
Cons:
---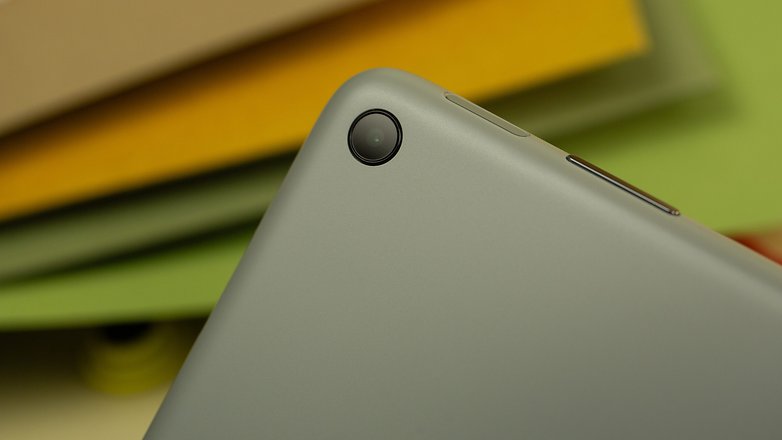 Firstly, I'm not the type of person who typically uses a tablet to take pictures, but just in case you need it, the Pixel Tablet offers very good quality, with vivid colors and great contrast. Most of this is obviously enhanced by the software—which isn't a problem at all.
I also need to mention that Google offers some exclusive features on the Pixel devices, such as Magic Erase (which is improving over time), Unblur, and Color Focus. These options can sometimes be real lifesavers, and with the help of a stylus, you can make precise edits to your pictures, taking advantage of the larger screen.
Last but not least, as I mentioned in the Apple iPad 10 review, having the front camera built into the device in the landscape position provides a laptop-like experience during calls, which is perfect for those using the tablet for work.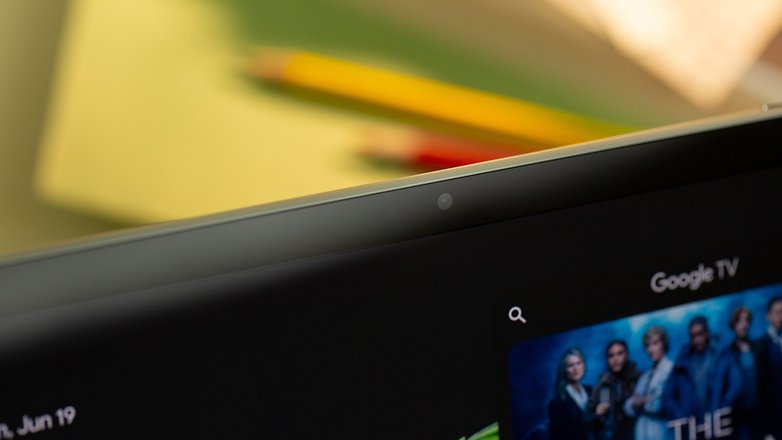 Google Pixel Tablet battery
Google equipped the Pixel Tablet with a built-in 27-watt-hour battery (7,020 mAh), which according to PCMark can handle 20 hours of battery life without being plugged into an energy source. The device can be recharged via the charging speaker dock included in the box, or a USB-C charger, which is sold separately.
---
Pros:
The charging dock station is über useful .
The battery can last for an entire day of active use...
... And even weeks attached to the dock station.
Cons:
Google does not include a cable or USB charger in the box.
---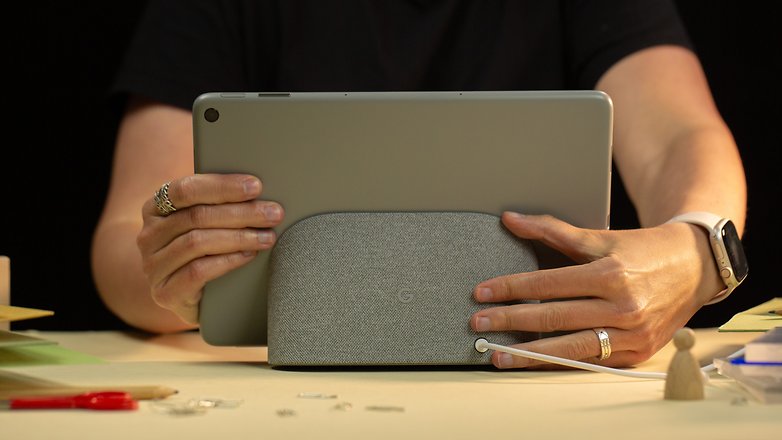 Firstly, I must apologize for forgetting to charge the Pixel Tablet via USB cable, but I suppose that also serves as a compliment to the device. I didn't need to deal with the usual nuances of charging because the only action required is to attach it to the dock station. Yes, the charging dock is incredibly convenient as it wirelessly keeps the device powered.
What's more, Google has configured the tablet to charge up to 90% of the battery capacity by default when in Hub Mode, optimizing battery lifespan. You can, however, modify this in the battery settings.
Google Pixel Tablet technical specifications
Pure Android Tablet
Product
Picture

Screen
10.95-inch LCD
2560 x 1600 pixels
SoC
Google Tensor G2
Titan M2 security coprocessor
RAM
8 GB LPDDR5 RAM
Storage
128 / 256 GB UFS 3.1 ROM
Expandable storage
❌
OS
Android 13
5 years of updates
Camera
8 MP | 1.12 μm pixel width | f/2.0 aperture |
Fixed focus | 84° field of view | 1/4" image sensor size
Selfie
8 MP | 1.12 μm pixel width | f/2.0 aperture |
Fixed focus | 84° field of view | 1/4" image sensor size
Battery
27 watt-hour (7,020 mAh)
15 W charging with the included dock
Connectivity
Wi-Fi 6 / Bluetooth 5.2 / UWB
Audio
Quad speakers
Colors
Porcelain, Hazel
Rose (US only)
Dimensions and weight
10.2 x 6.7 x 0.3 in, 17.4 oz
258 x 169 x 8.1 mm, 493 g
Early Verdict
The Google Pixel Tablet is an impressive device. Personally, I found the speaker dock station to be a valuable addition, even though it didn't provide any extra features apart from improved audio and charging capabilities. For now, I remain unconvinced by the Smart Home functionalities, and here's why: they don't offer anything new or exclusive. It's just an added mode.
So, who would find this a worthy investment? Families and people sharing the same home. Here's something I haven't mentioned before: Android has a very useful feature—well-distinguished profiles. The Pixel Tablet supports up to eight profiles per device, with the possibility to set up five fingerprints per user profile. In other words, your roommates will love it. Your whole family will love it. It even comes with a Child Account.
However, setting convenience aside, Google still needs to enhance the much-coveted "Android tablet experience", and I strongly believe that this is just the beginning of such efforts. In terms of hardware, the Pixel Tablet incorporates some robust components, but it still falls behind Samsung and Apple when it comes to advanced usage.
Overall, I appreciated the tablet; it's compact, offers solid performance, and comes with some cool features in the package.
---
The Google Pixel Tablet review was updated with a final analysis and rating on July 2023.