Amazon Fire HD 10 Kids Pro Review: Reliable Media Consumption Tablet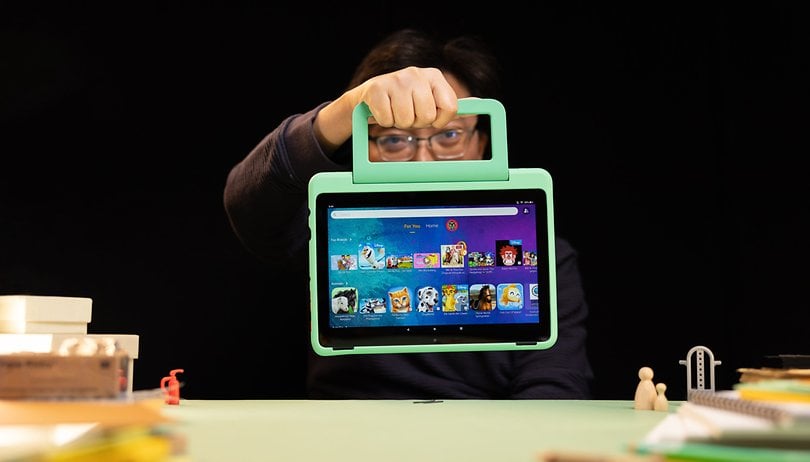 Amazon Fire HD is one of the most popular tablet models in the market, especially due to its cheap prices and tight integration with the Amazon ecosystem. To parents looking for a second (or third) tablet to be used by their children, Amazon offers the Kids version, with an included case and some additional perks. Check how the 10-inch Kids Pro 2023 model performed in our review.
Good
Cheap., especially on sales days.

Included charger, cable, and case.

Good enough everyday performance.

Extensive parental control options.

Additional warranty included.
Bad
No biometric authentication.

Gaming performance is below average.

No Google Play Store (officially).
Amazon Fire HD 10 Kids Pro (2023): All deals
In a nutshell
The Amazon Fire HD 10 Kids Pro (2023)—from now on the "Fire 10 Kids" tablet—is a special version of the standard Fire HD 10 model with a protective case, a 2-year "worry-free" warranty, plus one year of the Amazon Kids+ subscription included. The Kids Pro model is aimed at kids between 6 and 12 years old, and for younger kids, Amazon offers a "non-Pro" version with a sturdier (and bulkier) protective case.
Amazon also touts parental controls for apps, games, web browsing, and screen time, but those features can also be activated on the regular Fire—non-Kids—tablets in the Settings app. Both the HD 10 Kids and HD 10 Kids Pro tablets have a starting price of $189.99 with 32 GB of storage and without lock screen ads.
Amazon Fire HD 10 (2023) prices
Product
Image
Without lock screen ads
With lock screen ads

❌

❌
In the end, the price difference between the Kids and regular models is $35, which is the price of buying only the protective case separately. So if you were going to buy the case anyway, going for the Kids model is a no-brainer.
To recap, the Fire HD 10 tablet has a 10.1-inch Full HD LCD screen, stereo speakers, 32 GB of expandable storage, and 3 GB of RAM for a MediaTek eight-core processor. Camera duties are handled by a pair of 5-megapixel sensors, and both the front and rear cameras are capable of full HD video recording.
Amazon Fire HD 10 Kids Pro (2023) design and build quality
Amazon tablets are a known quantity at this point, with a no-thrills plastic build and a generous bezel around the LCD screen. The Kids Pro model comes with a plastic case that features a kickstand that can also be used as a carrying handle.
---
Pros:
Included case with speaker openings and kickstand.
Noticeably lighter than the 2021 model.
Good viewing angles and colors.
Cons:
Not waterproof.
No fingerprint reader.
Reasonably thick bezels.
---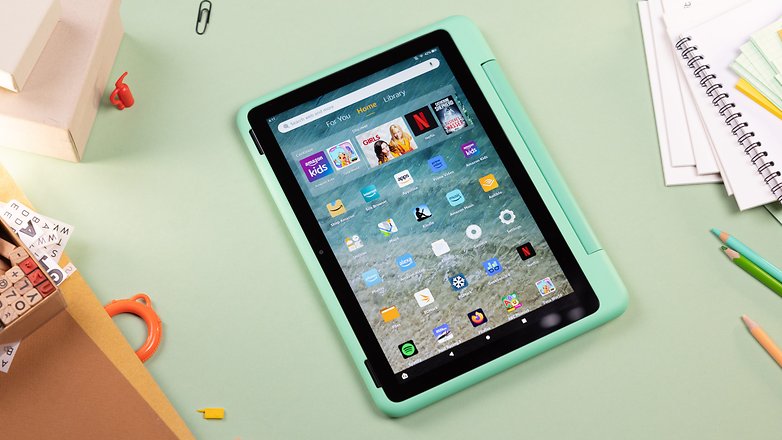 At first glance, the Fire 10 Kids tablet is hard to distinguish from the previous 2021 generation, but a closer look reveals some improvements. For starters, it is slightly, but noticeably lighter, and there is a tiny reduction in dimensions. Amazon also changed the placement of the volume and power buttons, with the latter closer to the tablet's edge on the 2023 model, which we thought made it more comfortable to use.
The included case seems appropriate for its target market of 6 to 12-year-old kids, with the necessary openings for the headphone jack, USB-C charging port, microphone, and stereo speakers. The included kickstand is surprisingly stiff and can be opened 180 degrees to work as a carrying handle. On the other hand, tapping and interacting with the tablet while using the kickstand makes it wobble, so it is more suited for media consumption and video calls than it is for touchscreen games.
Overall, the build quality is perfectly fine for the price range, with no issues with the fit and finish. Similarly, the screen is not the brightest, but is more than good enough for indoor usage, at the same time it features good viewing angles and good color reproduction. People used to more premium tablets will probably notice the thick bezels and the slight gap between the LCD panel and the display surface, but those are expected on a sub-$200 tablet.
Amazon Fire HD 10 Kids Pro (2023) software
The Fire 10 Kids tablet runs on Amazon's custom version of the Android system, in this case, FireOS 8.3.2.0 based on Android 11. First-time FireOS users will need some time to get used to the home screen interface, but it is just like swapping between different Android phone skins.
---
Pros:
Nice range of parental controls.
Cons:
No Google apps.
Limited selection of apps on the Amazon App Store.
---
One strong feature on Fire tablets—not exclusive to the Kids models—is the range of parental controls offered by Amazon on FireOS. Adults can set age filters, white list websites, block in-app purchases, limit sound volume, manage screen time, and even block access to the camera. Unfortunately, as we listed in the design section, there is no biometric option to authenticate users, so a PIN or password must be set to manage child accounts.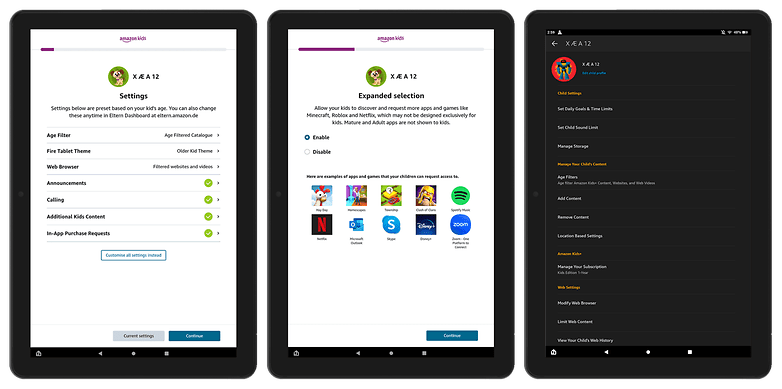 Only approved apps can be listed on the kids interface, but Amazon reminds us that some apps, such as streaming apps, may offer content that is inappropriate for kids. The system appeared to work properly, especially since the Amazon App Store offers a limited selection of apps. When we tried to grant access to PUBG, for example, as the game has an age rating outside of the test profile we created, the kid account could not access the game.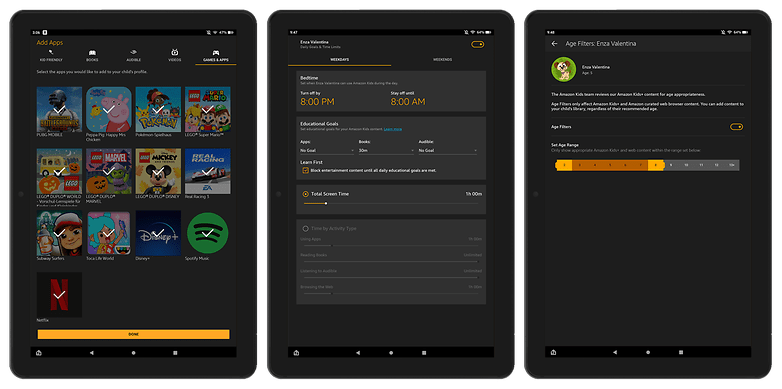 Despite being designed for kids aged between 6 and 12, the Fire 10 Kids tablet also offers a simplified interface tailored for younger kids, with fewer options. The default kids interface, called "Older Kid Theme" is almost identical to the standard FireOS launched, but without access to the device settings, obviously.
Adults will find the traditional FireOS interface, with the standard "For You", "Home", and "Library" tabs. The first one lists suggestions for apps, games, books, movies, music albums, audiobooks, and every other storefront Amazon has an app for. "Home" lists the apps and games installed on the device, while Library displays… apps and games installed on the device, plus additional content from Amazon subscriptions.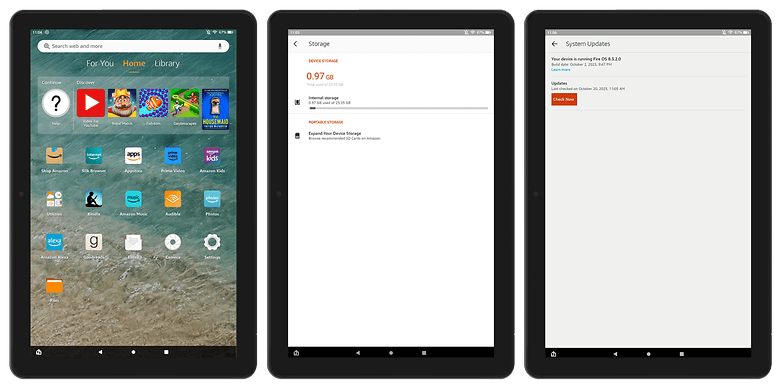 The app selection on the Amazon App Store is OK, with important omissions like Apple TV+, and most obviously, Google apps in general, including YouTube and Google Meet. Google apps can be unofficially installed by sideloading the Google Play Store, but that not only can be blocked by software updates, it may have unpredictable consequences to the parental controls. Still, most popular casual games and apps for streaming and video calls are supported.
Amazon Fire HD 10 Kids Pro (2023) performance
The Fire HD 10 2023 tablets are powered by a competent selection of components, including an eight-core MediaTek processor, paired with 3 GB of RAM, and 32 GB of storage. While it may be far from taking speed records, the performance is competitive in its price range.
---
Pros:
Good enough performance.
microSD slot for expandable storage.
Cons:
Limited gaming performance.
---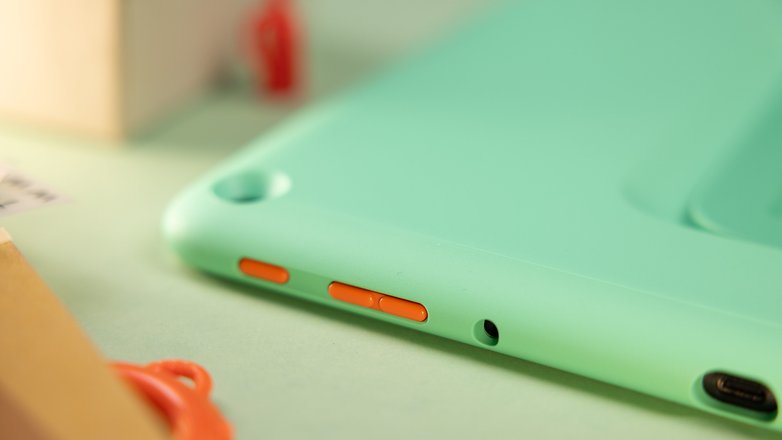 Amazon has traditionally relied on MediaTek processors on its tablets (and streaming sticks) and has benefitted from the Taiwanese company's improvements in chip design. The MT8186 used on the 2023 Fire HD 10 has two 2.05 GHz Cortex-A76 high-performance cores, six 2.0 Ghz Cortex-A55 efficiency cores, and two Mali-G52 GPU cores.
In daily tasks, performance is good for web browsing, video streaming, and interface navigation, without the delays and stutters that can be noticed on the cheaper Fire 7 and Fire HD 8 models. Amazon claims that the 2023 HD 10 tablet is 25% faster than the previous generation, which seems to align with the results we found in benchmark tests.
Fire HD 10 Kids Pro (2023)
MediaTek MT8186
Fire HD 10 (2021)
MediaTek MT8183
Xiaomi Redmi Pad SE
Snapdragon 680
3DMark Wild Life Stress Test

Worst loop: 714
Best loop: 722

Worst loop: 590
Best loop: 592

Geekbench
Gaming, on the other hand, had mixed results on the Fire HD 10 2023. While PUBG Mobile was surprisingly playable with low graphical settings, Real Racing 3 presented some frame drops while playing, and even navigating its interface displayed some stutters. Of course, more casual games should run perfectly fine, such as the popular endless runners titles, or even the blockbuster Minecraft.
Amazon Fire HD 10 Kids Pro (2023) camera
The Amazon Fire HD 10 (2023) has two five-megapixel cameras, one in the back and one in the front. The selfie camera is centrally positioned on the top bezel with the tablet in the landscape orientation, making it suitable for video calls using the case kickstand.
---
Pros:
Selfie camera installed in landscape orientation.
Cons:
Not particularly great images from either camera.
---
Amazon doesn't even list aperture settings for the cameras, which do not feature autofocus. Because of that, we don't need to pretend the Fire 10 Kids tablet can replace a point-and-shoot, or even a mid-range smartphone camera.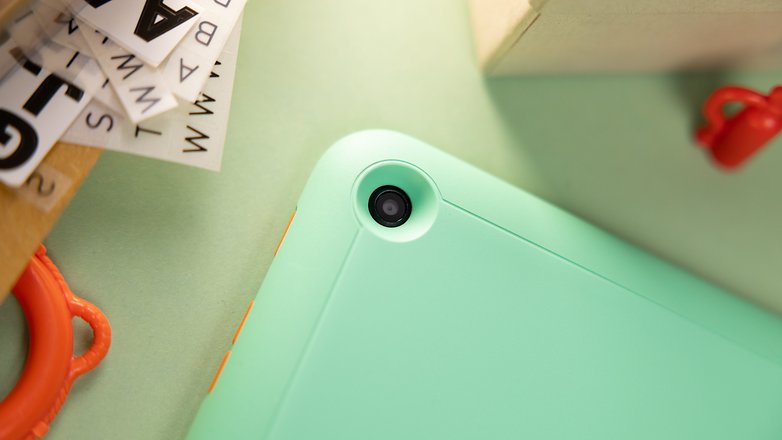 Pictures were not what we call usable, with issues with the level of detail, and we could not get the camera to properly picture the flower in the gallery below. But since the rest of the scene looks fine, landscape shots could work.
By default, the camera saves files in the HEIC format, which is supposedly more efficient than JPEG, but the resulting files were very washed out when opened by computer apps. Because of that, we were forced to download the JPG versions stored in the Amazon Photos cloud service, so there is another layer of compression in the pictures below.
Image quality from the front camera was surprisingly good for a sub-$200 device and even beats most cheap laptops. That makes the Fire 10 Kids tablet good enough for family calls, and can even serve as a backup option for mom or dad's video calls, as long as they don't require Google Meet.
Amazon Fire HD 10 Kids Pro (2023) battery
Similar to Apple, Amazon doesn't list the rated capacity for the battery installed on its tablets. The company lists a 13-hour battery life, which aligns with our experience. Charging is taken care of by the 9 W included charger, which is competitive with models in the price range.
---
Pros:
Cons:
No wireless charging option.
---
Different from the previous generation, the Fire HD 10 2023 doesn't offer the Plus model with extra RAM and wireless charging, but we guess not many people went for that more expensive option.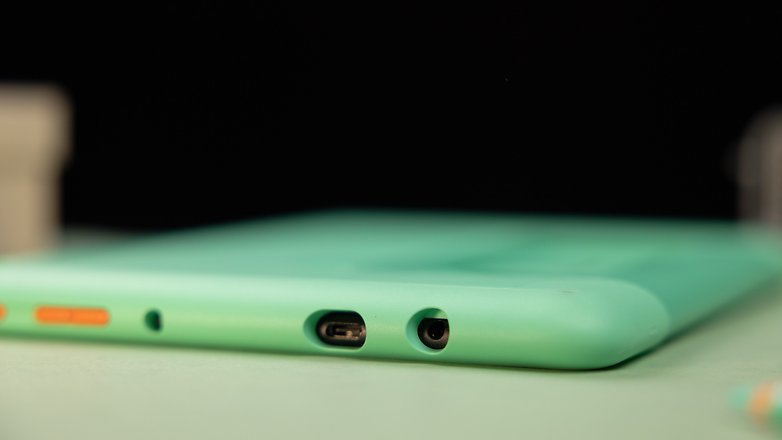 We couldn't run the Fire 10 Kids tablet on our usual PCMark battery test until the end, but two runs failed around the 10 ~ 12 hour range. That result would put it below the previous generation model, which achieved 15h15min on that benchmark.
Amazon Fire HD 10 Kids Pro (2023)
Fire HD 10 (2021)
Xiaomi Redmi Pad SE
Stock 10 W
Stock 9 W
Ugreen 300 W
5 min

10 min

20 min

30 min

1 h

Total time

PC Mark battery test
The 9 W charging input resulted in predictably long charging times, with 16% after 30 min and 31% after one hour, and full charges approaching 4 hours. Using a Ugreen 300 W charger, a full charge took approximately 2h45. Those times are fine for the price range, but the Redmi Pad SE offered noticeably faster charging.
Final verdict
The Amazon Fire HD 10 Kids Pro (2023) tablet is a solid option as a secondary device at home, especially one that will be primarily used by kids. Amazon offers a comprehensive set of parental control features, giving parents better control over how their children browse the web, play games, or watch streaming content.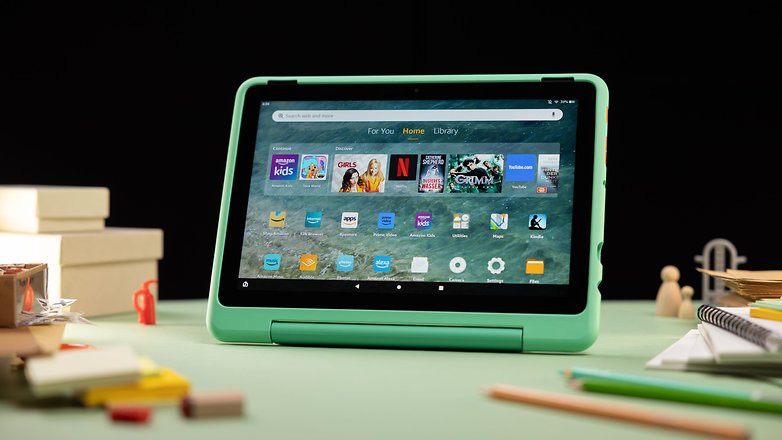 In that sense, even the smaller app selection on the Amazon App Store works in favor of the Kids version, with better curation than the one found on the Google Play Store.
Outside the kids' features, the Fire HD 10 under the protective case is also a fine option for streaming media or casual games, with support for the most popular video streaming services (except for Apple TV+). The cheap Amazon tablet is also a good choice for video calls with friends and family (except for Google Meet).
But what makes the Fire HD tablets popular is definitely the impulse-buy prices on sales days, especially for those already invested in Amazon's ecosystem, with native support for Alexa, and integration with the perks included in the Prime subscription, such as Amazon Prime Video, Amazon Photos, and more. So, even if you think the reviewed model is not for you, Amazon will surely tempt you with another option come Black Friday or Prime Day.