Samsung Galaxy A53 Review: Aged in 2023 Like a Fine Wine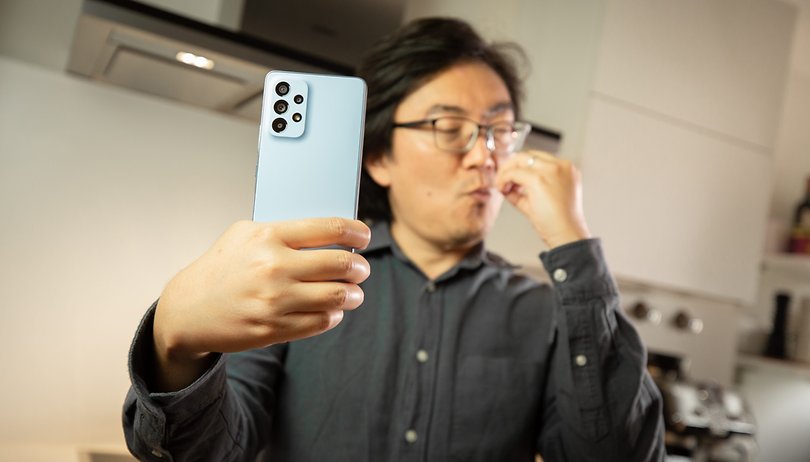 The Galaxy A53 arrived in 2022 without many changes compared to its predecessors and at first tasted a little stale. One year later, we revisited the Samsung mid-ranger for a re-review, and It actually aged pretty well as you can see below.
Good
Good AMOLED display

Good performance

Decent battery life

The best software support in the category
Bad
Slow charging

No headphone jack

Non-competitive price
Samsung Galaxy A53: All deals
Samsung Galaxy A53 in a nutshell
Following in the footsteps of bestsellers like the Galaxy A52 and A52s in 2022, the Galaxy A53 brought similar specs to the 2021 mid-rangers, with a 6.5-inch AMOLED display with 120 Hz refresh rate, 5G support thanks to its octa-core SoC, a quad-camera module with a 64 MP main shooter, 12 MP ultra-wide, and two 5 MP sensors—for macros and depth sensing.
After the Galaxy A54 release, prices of the A53 are getting frequent discounts from its original $449.99 MSRP, and as of May 2023, it can be found pretty easily, both in the Samsung online store and the usual e-commerce stores, like Amazon. So it is worth keeping an eye out for deals.
In general, if both the A54 and A53 are priced the same, we would generally recommend going with the A54 model and its updated specs, including a faster processor, improved Wi-Fi support, and one extra year of software support, as you can see on the link below: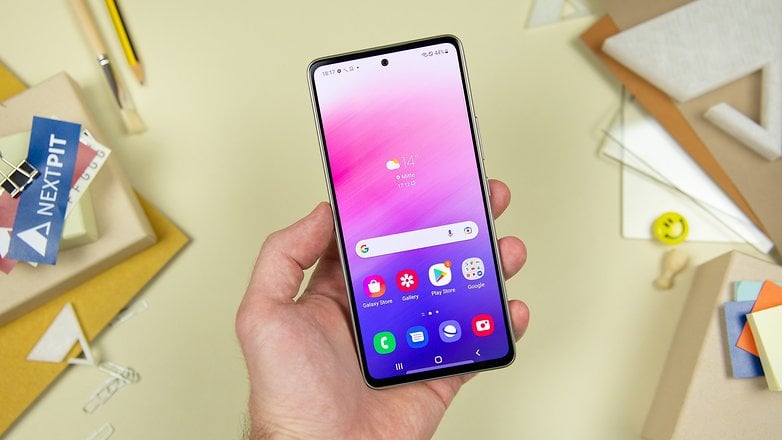 Design and screen: If it ain't broke don't fix it
When viewed side-by-side with its predecessor, it is really difficult to identify the Galaxy A53. Samsung kept the same overall design from the A52 models, with the same centered punch-hole camera in the bright and fluid 6.5-inch AMOLED panel, as well as a very similar camera bump in the back between the generations.
---
Pros:
Bright AMOLED display.
Fast 120 Hz refresh rate.
Nice matte finish in the back.
IP67 rating.
Cons:
Basically unchanged from the A52 series.
---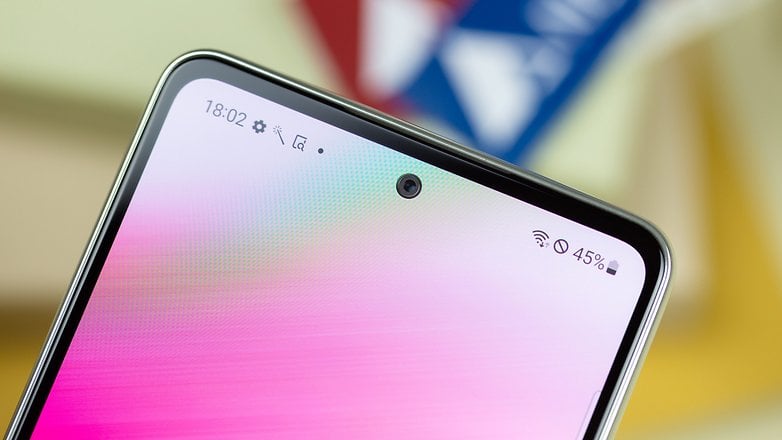 Samsung's AMOLED displays are a known quantity at this point, with excellent contrast ratio, punchy colors, and good brightness even for outdoor use, and the A53 is no different. Animations on the screen are very smooth thanks to the 120 Hz refresh rate, but the same could be said about the panel on the A52 5G.
Build quality is good and on par with its rivals. And Samsung even managed to trim 0.3 mm from each dimension from the A52 to the A53 despite using a bigger battery. And similar to the A52 models, the Galaxy A53 has an IP67 rating for water and dust resistance.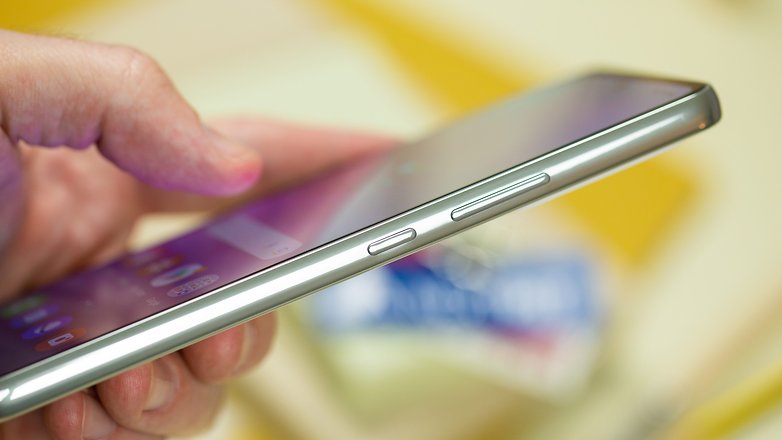 Performance: Good showing from the Exynos 1280
Powered by Samsung's own Exynos 1280 processor, the Galaxy A53 offers a performance level similar to the Snapdragon 778 found in the Galaxy A52s. Snappy in daily use and games, we found that One UI 5 managed to improve performance in 2023.
---
Pros:
More than enough performance in daily tasks.
Competitive performance in games and benchmarks.
Stable without overheating.
Improved performance since its launch.
The best software support in the category.
Cons:
Synthetic multithreaded performance is below its rivals.
Samsung is lagging behind when it comes to a game overlay.
---
It is not a secret that current intermediate SoCs are more than capable of handling regular apps like YouTube, Netflix, Facebook, WhatsApp, and others, and the Exynos 1280 is not different. Apps load fast, interface animations are smooth, and all that without excessive heat.
Samsung Galaxy A53
(Exynos 1280)
Redmi Note 12 Pro+
(Dimensity 1080)
Galaxy A34
(Dimensity 1080)
Galaxy XCover 6 Pro
(Snapdragon 778)
Motorola Edge 40
(Dimensity 8020)
3DMark Wild Life
3DMark Wild Life Stress Test

Best loop: 2324 [2298]
Worst loop: 2312 [2283]

Best loop: 2281
Worst loop: 2268

Best loop: 2279
Worst loop: 2265

Best loop: 2465
Worst loop: 2434

Best loop: 4480
Worst loop: 4411

Geekbench 6

Single: 958 [932]
Multi: 2014 [1913]
Gaming performance was competitive, despite relying on only two high-performance cores against the four found in the Snapdragon 778 (which is why it performs considerably better in Geekbench's multi-core test). Better still, the Galaxy A53 showed a very stable performance in 3DMark's stress test, which simulates a long gaming session and tries to identify overheating or thermal throttling problems, which it didn't with the A53.
Surprisingly, while retesting the Galaxy A53 in 2023, the phone returned slightly better scores in productivity and gaming benchmarks. Although the results were within the margin of error, they were consistent over five test runs.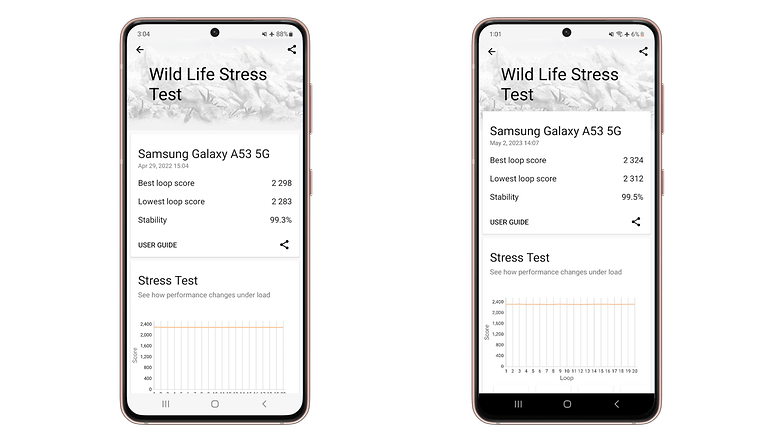 In real-world games like Call of Duty Mobile and Genshin Impact, the Samsung Galaxy A53 performed as expected, with stable performance in medium or low graphical settings—including the option of faster framerates in CoD:M when lowering the visual options. The phone cannot compete with flagship phones in terms of image quality but offers competitive performance for its market segment. The only thing lacking is a better game overlay, on par with what Oppo/OnePlus and Xiaomi are doing.
Software
Samsung's update policy not only is the best in the Android market at the flagship segment, but it is also unrivaled in the mid-range market. The Galaxy A53 is promised the same four Android upgrades as the Galaxy S line, which—if everything goes as planned—means longer support than any other 2023 non-Pixel phone in the same price range.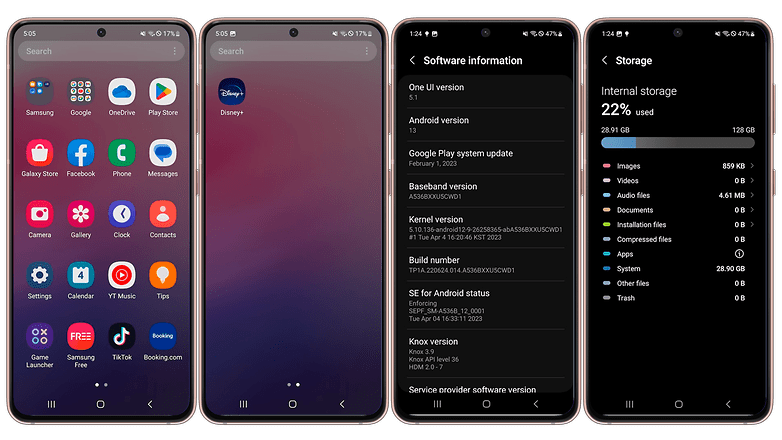 Another advantage is having fewer unnecessary apps installed—just make sure to uncheck some "suggestions" during setup—than its main rivals from the Xiaomi Redmi range.
And as we saw above, One UI 5 brought some (admittedly small) performance improvements in games and daily tasks. Not only that but further updates added features like the image clipping tool inherited from the Galaxy S line.
A familiar camera module
The camera module in the Galaxy A53 has the same exact specifications as the A52 predecessors: a 64 megapixels main sensor with phase-detect autofocus (PDAF) and optical image stabilization (OIS), a 12 megapixels ultra-wide camera with 123˚ field of view, and a pair of 5 MP sensors for macro shots and depth sensing.
---
Pros:
Good image quality in daylight pictures.
Decent nighttime shots.
Optical Image Stabilization (OIS).
Macros can be decent.
Cons:
No telephoto lens.
Basically unchanged from the A52.
---
In general, pictures in the daytime were quite good, with the usual color processing Samsung is known for, with boosted contrast levels. Similar to what my colleague Benjamin Lucks found during his A52 review, I noticed some differences in the colors from the wide and ultra-wide cameras, the latter with slightly washed-out results.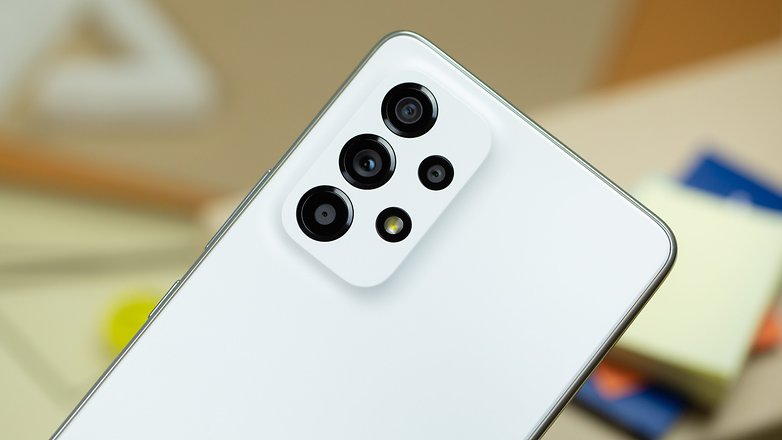 Without a dedicated telephoto lens, the A53 relies on digital zoom for close-ups, with the usual results. Results up to 2x magnification are usually good, but going any further — like the 5x zoom photos in the gallery below — results in images lacking detail.
And after testing some smartphones with 2 MP macro cameras, the 5 MP offered by the Galaxy A53 are very welcomed. The resulting images were far from jaw-dropping, with most shots being overly noisy, but a little bit of patience (and steady hands) can produce pleasing pictures.
As for the nighttime performance, the A53 repeats the qualities of the A52, with a bit more detail in the right situations. Personally, in most cases, I found the results not that much different from the standard mode.
When it comes to selfies, the Galaxy A53 did well with its 32-megapixel camera — again, with the same specs as the A52 — both in the regular and wide-angle modes, with a good level of details and color reproduction. And the Portrait mode worked as it should, with good subject separation.
In short, the camera features of the Galaxy A53 are mostly the same as those from the A52, which is a shame, especially because Samsung opted to not include a telephoto lens in its 2022 Galaxy A line, not even on the A73 offered in only a few markets.
Good battery life, slow charging times
The Samsung Galaxy A53 is powered by a 5,000 mAh battery (500 mAh bigger than the one in the A52), and the capacity increase was achieved despite the reduction in the dimensions. On the other hand, Samsung no longer includes the charger in the box.
---
Pros:
Battery can last two days of regular use.
Battery capacity increased in relation to the A52 while reducing the overall volume.
Cons:
25-watt charging is not fast anymore.
No charger in the box.
No wireless charging.
---
I admit coming rather pessimistic about the Galaxy A53, but the Exynos 1280 not only proved itself capable performance wise, but also regarding battery consumption. The A53 lasted roughly two days on a single charge, with some heavy game downloading (14 GB for Genshin Impact!) light social media and messaging use, and a brief GPS/camera tour.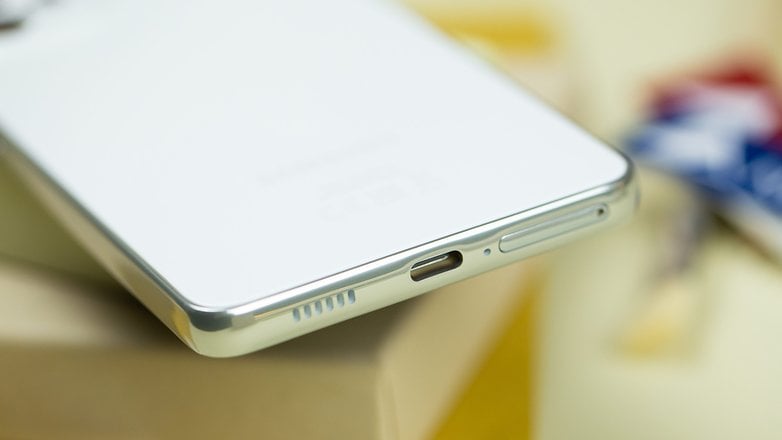 On the other hand, Samsung insisted on not upgrading the mid-ranger's charging capabilities, and still only offers up to 25 W "fast" charging. Coming from the Oppo Find X5 Lite/Reno 7 5G, I could not feel disappointed by speeds almost 4x slower on the Galaxy A53, using either an Anker PowerPort III 65W or a Samsung EP-TA20 (20W) charger.
| | | | | |
| --- | --- | --- | --- | --- |
| Charging | Samsung Galaxy A53 | Oppo Find X5 Lite | Realme 9 Pro+ | Realme 8 Pro |
| 5 minutes | 5% | 20% | | 15% |
| 20 minutes | 19% | 71% | | 50% |
| 1 hour | 57% | - | | 100% |
| Full charge | < 2h | < 35 min | | 1h |
| PC Mark Battery test | 13h19 | crashed at around 12h | 13h44 | n/a |
Samsung Galaxy A53 technical specifications
Samsung Galaxy A53 specifications
Product
Display
6.5-inch, AMOLED
1080 x 2400 pixels
120 Hz refresh rate
SoC
Samsung Exynos 1280
Memory
128/256 GB ROM
6/8 GB RAM
Software
One UI 4.1 with Android 12
Camera
Main: 64 MP | f/1.8 | OIS
Ultra-wide-angle: 12 MP | f/2.2
Macro: 5 MP | f/2.4
Depth: 5 MP | f/2.4
Selfies
32 MP | f/2.2
Battery
5000 mAh
25 W wired charging
Connectivity
5G, Wi-Fi 5 (ac), BT 5.1, NFC, GPS, Galileo, GLONASS
Dimensions and weight
6.28 x 2.94 x 0.32 in | 6.67 oz
159.6 x 74.8 x 8.1 mm | 189 g

Other points that may interest the NextPit community:

The Galaxy A53 includes NFC support and is compatible with Google Pay for contactless payments.
After resetting the updated handset, the operating system indicated 28.81 GB of used space. (29.97 GB with One UI 4).
The review unit packaging included a USB-C to USB-C charging cable and a SIM tray opening tool.
The software version during the test was A536BXXU5CWD1 with the Feb/2023 security patch (A536BXXU1AVCC/April 2022 in the original review).
Samsung promises four major OneUI/Android updates and five years of security patches.
Final verdict
The Galaxy A53 does not repeat the big evolution brought by the A52 generation, so it is hard to recommend it to those using the Galaxy A52, or A52s. But for those loyal to Samsung still using the popular Galaxy A51 or older, the 2022 update is a welcome upgrade.
Somewhat similar to what happened with the iPhone SE 2022, the Galaxy A53 seems like a processor upgrade over the A52 and A52 5G, with better performance and similar battery life, while not quite offering the same performance found with the Snapdragon 778 used in the Galaxy A52s.
It is a shame that Samsung doesn't seem to care about the fierce competition between the Chinese brands when it comes to fast charging, but even that can be forgiven considering the differences in update policies, depending on how long you plan to keep using the device. Besides that, the lack of a charger in the box and a headphone jack, unfortunately, seem like an irreversible trend.
Even so, the level of software support provided by the South Korean brand to its mid-ranger—which was updated to Android 13 before most other flagships—and the slight improvements in performance and features with One UI 5 make the Galaxy A53 still a viable contender in the segment in 2023.
With prices fluctuating frequently for the A53, it is worth keeping an eye out for deals, sometimes with close to $100 discounts. For the $449 MSRP, however, consider getting one of the Pixel phones or even the Galaxy A54, the latter only after reading NextPit's review, of course.