Asus Teasing Dual Booting Android/Windows Tablet Again On Video?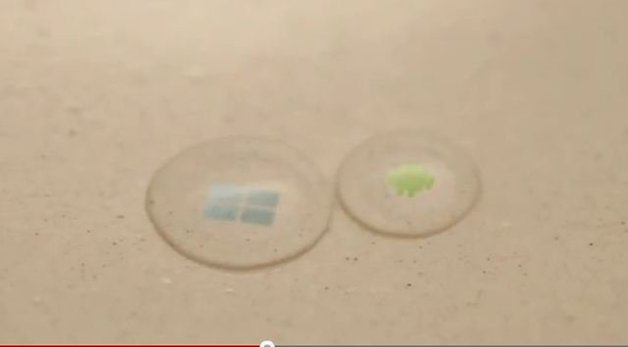 At AndroidPIT, we report on a lot of phones, tablets, news, rumors, new projects, and new products, and there are certainly lots of things that get us excited. But every now and then, something comes along that gets me INSANELY excited, and that is exactly what just happened when I saw this 16 second video clip from the Asus Youtube channel. Just to be clear, we have NO official confirmation that this video represents what I believe is about to happen, but what it hints at is something pretty big. What am I on about? Well, see for yourself.
UPDATE: More videos have emerged, and they seem to support the dual boot device theory even more. Have a look at the 2 new videos at the bottom of the page to see what I mean.
Back in February, I wrote an article about Android Jelly Bean and Windows 8, and touched on the rumor of a tablet coming that could dual boot both Android Jelly Bean and Windows 8. If a tablet like that ever existed, it would have the potential to take Android tablets to a completely different level, as the combination of Windows 8 on tablets (VERY impressive) with an option to boot Android Jelly Bean would be insanely awesome.
Fast Forward to today. A few hours ago we reported on the release of the Asus Infinity Prime tablet, and that Asus would be giving pricing details on the tablet next week at Computex 2012 in Taiwan. The title of this mysterious video just happens to be "ASUS COMPUTEX 2012 Teaser II] All-in-One is No Longer In One". I am now going to shut up, and kindly ask that you quickly watch this 16 second video clip from Asus:
Video below (Youtube link here):
Those 16 seconds are deceiving. They give away nothing, but they hint on everything. Could this really be what I think it is? Is Asus working on a tablet that will seriously boot Windows 8 AND Android Jellybean? Surely they aren't being so secretive to announce an Android device and a separate Windows device, as having the 2 drops/logos together wouldn't make much sense if that were the case. I'm sure Windows wouldn't want the Android logo next to Andy if Asus were announcing a new Windows device. The good news is, Computex is taking place next week, so we shouldn't have to wait long to find out.
What do you guys think? Is that what you make of this video as well? Is a dual booting Android Jellybean/Windows 8 tablet on the way?
!!UPDATE!!:
Asus have released 2 more videos, and while also cryptic, they give us a bit more information. From the first video, you can see that the device in question very much looks like a new Transformer tablet with a dock. The second video entitled "When Two Sides Unite" doesn't give away much, but still leads us to believe that dual booting Android / Windows 8 tablet could be unveiled next week.
Here is the tablet teaser video (Youtube link here):
And here is the "When Two Sides Unite" video (Youtube link here):
"When Two Sides Unite" and the Android and Windows logo side by side? What else COULD it be but the dual booting tablet? If they do unveil this device next week, I'll sell my Prime, save some bank, and buy 3 of the freakin things.
Pretty exciting stuff!