Is Apple Preparing Another Wave Of Lawsuits In The US?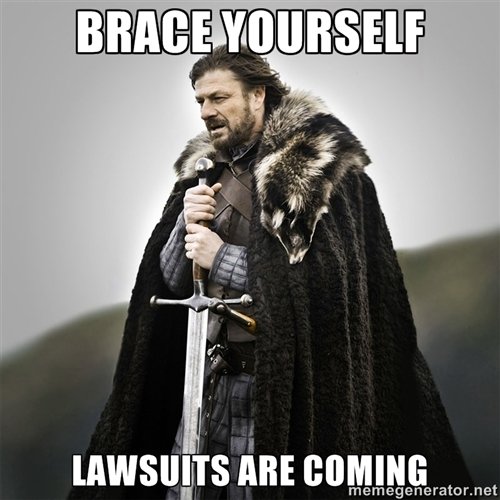 It's only been a few days since the German legal system handed Apple a big ban hammer in the form of a sales stop on it's older iPhone and iPad models and it seems that Apple is getting ready to hit back in a big way. I recently got the chance to sit down with a legal aid at an American-based law firm directly involved with Apple's legal initiative and they assured me that the Empire *ahem* I mean Apple is getting ready to strike back in a big way.
Strangers in a Starbucks
But before I get into the nitty gritty of it, let me set the scene: I recently headed back to the US to help settle a family dispute and I was forced to spend the better part of three days in a law firm in Washington DC. Since I was basically tethered to the law firm, I started taking coffee breaks at a near-by Starbucks and on the third day of my legal ordeal I spotted a group of three collage-aged guys sitting at my usual table, all engrossed in their shinny new iPhones. Being the tech geek I am, I decided to strike up a conversation about the iPhone 4s' and soon enough we were killing time and giving our phones a good run-through.
My current phone de jure is an older Xperia Play and after taking a good look at the phone one of the guys made a comment that intrigued me.
"Yeah, it's an okay phone, which is probably why we haven't gotten to it yet."
Now, I'm not the kind of guy to let a statement like that just go, so I set out to find out what, exactly, he was getting at. It turns out that two of the iPhone fans I was sharing my table with were legal assistants at one of the law firms involved in Apple's legal assault on HTC.
As an Android blogger, the only thing I could think was "pay dirt".
While our lattes started to cool off, I tried to find out what they thought of the most recent court decision in Germany. It turns out that they hadn't just heard about it. According to one, word had come down to "start working as long as the guys that build iPads" to get the next wave of legal bombs ready for delivery to HTC. If you remember, Apple won an injunction against the import of certain HTC phones back in December. But given the sheer volume of HTC products, banning two phones apparently isn't enough for Apple.

When I asked them what they thought of the whole patent debacle, one of them snorted "Even the lawyers think it's bullshit but as long as they're getting paid they don't care." And what was their opinion I asked again…"Well, we get our share too" one of them responded and continued chatting with someone on his iPhone.
The conversation had been going on for all of 10 minutes but I decided that it was time to tip my cards and ask if they could give put me in touch with someone who could give me more information about the legal proceedings. As you can imagine, the revaluation that I work for an Android blog suddenly reminded them that they had an important meeting that they had completely forgotten about. With a perfunctory "Good bye" they left me with their half-drunken lattes to ponder what I had just heard.
While it was obvious to everyone who follows tech news that the Great Patent War wasn't going to end with the new year, it seems like 2011 only brought the opening salvo in Apple's continuing assault on consumer freedom.