Apple Is Desperate With iOS Maps. Recruiting Ex-Googlers To Fix It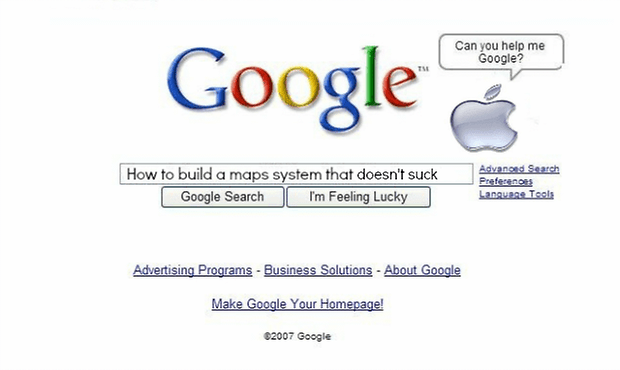 The disaster that is IOS maps has certainly made its way around the internet lately, and with all the issues Apple is currently having, it's pretty fair to say that they are getting desperate to repair the damage. Apple is so desperate in fact, that according to TechCrunch, they are aggressively recruiting ex-Google Maps engineers to help them get their maps off the ground.
A contractor who previously worked on Google Maps Street View integration was in contact with TechCruch, and as he explains here, many of the engineers who developed Google Maps left the company once the project was completed:
"Many of my coworkers at Google Maps eventually left when their contracts ended or on their own accord. One guy looked around for other GIS work and ended up at Apple when a recruiter contacted him. He had heard rumors for a while that Apple was going to develop its own in-house mapping platform, and given his experience at Google, he was an easy hire. Apple went out of their way to bring him down to Cupertino and he's now paid handsomely as a GIS Analyst.

Another coworker that was a project lead at Google Maps, left for the East Coast after his contract ended, and was recently contacted by an Apple recruiter. The position sounds like a product development manager position, and will pay him $85k+ and all the moving expenses from the East Coast. He's gone through 2 rounds of interview and seems like a frontrunner to land that position".
While many of you (ok..myself included) might be pointing a finger and laughing at Apple for needing the help of ex-Googlers to sort out this mess, it actually makes a lot of sense. Apple is very far behind Google when it comes to maps, and who better to recruit than the men and women behind Google's extremely popular maps service?
What's also fair to remember is that while IOS maps is a disaster right now, they WILL get these issues sorted out, and having ex-Googlers on their side is certainly a step in the right direction. I have no doubt in my mind that IOS maps could have the potential to be just as good (one day maybe..oh seconde though..I doubt it) as Google Maps. This won't happen anytime soon though, and while Apple desperately plays catch up with Google Maps, I'm sure Google will continue to evolve and add more great functions into everyone's favorite mapping platform.
Picture credits: waddlingkidcp.files.wordpress.com (edited by myself)