Android Update Madness: The Techie In The Hamster Wheel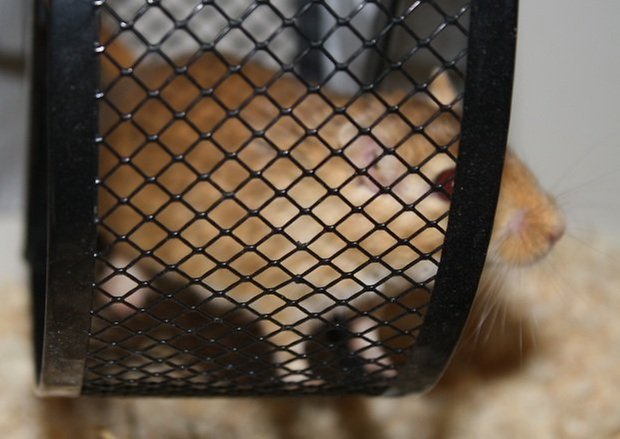 The fear of the techie is spreading. Every day they wake up next to an "outdated" smartphone that still hasn't received an Android update, which leads many to believe that the mighty OEMs producing these devices have united together to force us into buying newer smartphones that run the newest software. But is that actually what they're doing?
New = better....or does it?
Google recently updated their percentage statistics to show which version of Android was being run on most devices, and the result ranged from praise to scrutiny: "Jelly Bean is only running on 1.8% of devices! Will my phone ever get it? Why don't I have it yet?? Fragmentation is messing everything up!!! Can Android ever be saved???".
Some of the reactions and statements to Android fragmentation are certainly valid, but the overall picture of why this situation exists is a complex one. For example, it really blew the minds of many consumers and tech journalists to hear that HTC released the One X+ as their new flagship device.
So you mean to tell me that HTC brings out a NEW model with top of the line hardware and features to consumers, and then get slapped in the face for it!? For the most part, many of the people that are criticizing this action are the same consumers that are already upset about the fact that their device has yet to receive an update to the NEWEST version of Android.
At this point, it seems that there aren't many hard facts behind the "update problem". But is there actually a real problem, or does it only exist in our minds? Before going into the answer to that question, let's have a look at a few facts.
Android has an exemplary update cycle
When you really like at mobile operating systems, Android is one of the best maintained systems in existence (an overview can be found here), which can only be compared with Apple or Microsoft.
Fragmentation is a systemic side effect of generally positive development
Let's have a brief look at Apple and IOS. Apple only sells one current phone model with the newest version of their OS out of the box, yet the previous generation iPhone and iPod is then no longer actively marketed after its release. Apple simultaneously controls the hardware and the software base in the entire ecosystem, yet despite that control, still remains fragmented (even though they have so few devices). My friend Nico told me how craptastic IOS 4 was on his "old" iPod Touch. It was slow as a snail and barely useable. Fortunately for him, IOS 5 and 6 weren't available for his device, or it might have been even worse.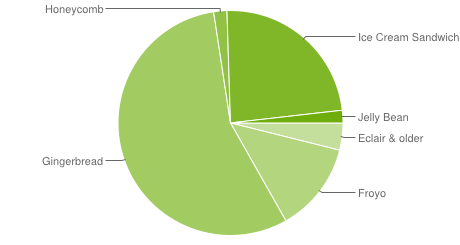 Gingerbread currently dominates as the most used Android OS. Jelly Bean is currently only installed on 1.8% of devices. (c) Google
This example shows that fragmentation is inevitable when it comes to software development. The faster a system is developed, the more fragmented it will become. There isn't a true alternative, and for this reason, accepting it as a natural part of positive software development makes a lot more sense than degrading and bashing it. WDS concluded the following after a 1 year study on this subject:
"Our investigation has found no inherent fault of the Android platform, and its openness has helped the ecosystem to grow at a phenomenal rate. The real challenge now, is its success".
New software arrives quicker than you think on smartphones
To illustrate my point, I have randomly chosen a few flagship devices that have come out over the past few years, and how quickly they received updates. The results speak for themselves:
HTC Dream / T-Mobile G1
October market launch in 2008, with Android 1.0
February 2009 update to Android 1.1 - Interval: 4 months
May 2009 Update to Android 1.5 - Interval: 3 months
October 2009 Update to Android 1.6 - Interval: 5 months
Final version: Android 1.6 - Support Period: 12 months
Motorola Milestone
November 2009 launch with Android 2.0
March 2010 update to Android 2.1 - Interval: 4 months
March 2011 Update on Android 2.2 - interval: 12 months
Final version: Android 2.2 - Support Period: 16 months
HTC Desire
March 2010 launch with Android 2.1
August 2010 Update to Android 2.2 - Interval: 6 months
August 2011 Update to Android 2.3 - interval: 12 months
Final version: Android 2.3 - Support Period: 18 months
Samsung Galaxy S
Market opening in July 2010 with Android 2.1
November 2010 update to Android 2.2 - Interval: 4 months
March 2011 Update to Android 2.2.1 - Interval: 4 months
June 2011 Update to Android 2.3.3 - Interval: 4 months
September 2012 update to Android 2.3.6 - interval: 14 months
Final version: Android 2.3.6 - Support Period: 26 months
March 2011 launch with Android 2.2
November 2011 Update to Android 2.3 - Interval: 8 months
Final version: Android 2.3.6 - Support Period: 8 months
Samsung Galaxy S2
Highest market starting 2011 with Android 2.3
Update February 2012 on Android 2.3.6 - Interval: 9 months
April 2012 Update on Android 4.0 - Interval: 2 months
Update on Jelly Bean almost certain - Support period: <17 months
Sony Ericsson Xperia Arc S
October market starting 2011 with Android 2.3
April 2012 Update on Android 4.0 - Interval: 6 months
Final version: Android 4.0
This information naturally only represents a small amount of devices, and there are naturally exceptions and "bad apples" like the Motorola Razr (which is just receiving an update that was promised 8 months ago). But when you look at this data, one thing is certain: OEMs are doing a better job with updates than generally believed. Most of the models shown here received 2 or 3 different versions of Android, with the first one arriving generally 5 to 6 months after launch. That seems to be the amount of time that most OEMs need to make the needed changes to their hardware in order to prepare for Google's new software (and then to roll it out).
I didn't include devices sold through carriers, as that's another story altogether.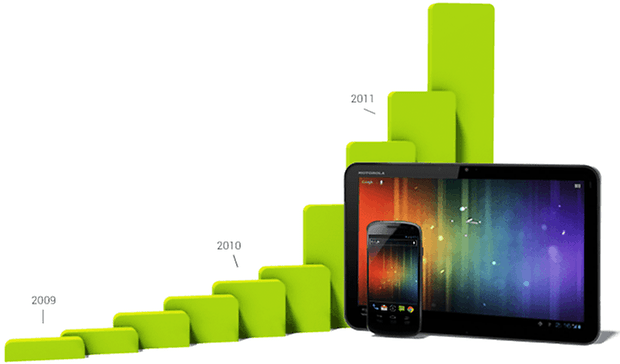 Android development over the past 3 years: phenomenal growth / (c) Google
Claims Vs Realiy
What wasn't included there were midrange and entry level devices, as I have deliberately focused on flagships due to how much pressure they receive in regards to updates. This is where we come to why I feel the update "problem" actually exists: the attitude of certain consumers. When it comes to smartphone "techies", their expectations of OEMs are so high that they can only disappoint.
With techies, I mean bloggers, commenters on social networks and forums, internet tech leaders, ect ect. That group of people is relatively small when you look at the big picture, but is very powerful due to the influence they have and because of their "more than the average consumer" knowledge of this topic. Their influence is manifested digitally and rapidly, and has lots of influence over the thousands of people who read their articles. The techie is often guilty of creating realizations where ignorance generally prevails.
Many techies are of the opinion that if they've bought a smartphone, they bought a lifetime of updates and guarantees with it, regardless of price range. If you read tech articles often, you probably know exactly what I mean.
Example: The Samsung Galaxy S (announced March 2010) recently released an update to Android 2.3.6 with a so called "value pack", which is basically some Android 4.0 features. Instead of being happy about that, what did techies do? They bitched about not receiving the entire Android 4.0 update on a phone that's over 2 years old.
Another example: Sony announced that the Xperia Arc S (200 flagship) would not receive Jelly Bean, but "only" Ice Cream Sandwich. What happened? Comments such as ""OMG, no JB update for Xperia 2011 line up? Remember the financial problems? Now you lost half of our customers. Thanks and goodbye, NEVER AGAIN SONY!" quickly showed up on their Facebook page.
The half full/half empty glass
Google has now given an update guarantee at Google I/O in May of last year, and almost all OEMs stood by them when they made it. This agreement stated that current Android smartphones will receive updates for the next 18 months. That's a pretty bold (and unclear) promise that unfortunately hasn't been met.
Besides the fact that the criteria for this guarantee was never made clear( all models? on which devices? on devices that were made in 2011, or on devices to be presented over the next 18 months?), it unsurprisingly made very little of an impact on updates in general. When you think about the 500 million (and growing) Android smartphones being used worldwide (along with their various chipsets, carriers, hardware, ect), Google and these OEMs pretty much set themselves up to fail the moment they made the guarantee. If Google and OEMs were to have any chance of actually living up to it, there would be no room or time to make new devices at all with so much software development going on.
I was really happy at one point about this guarantee, as it showed me that companies are taking updates very seriously. And even though this promise hasn't been met in many cases, I think it's great that newer versions of Android can be designed for older smartphones, regardless of whether its new or THE NEWEST version of Android. Contrary to the opinion conveyed with many techies out there, this is not a guarantee that comes with purchasing a smartphone. It's basically just handing out free washing powder when buying a new t shirt, if you get my drift.
If I buy a smartphone, I have the right to a functional product without bugs or security holes. Fact. Everything else is up to the manufacturer of the device. The balancing act of managing the opinion of the powerful minority of techies that need everything new right now, and the much lower expectations/requirements of general consumers who simply want to be able to check mails and surf the net on their device isn't an easy one to manage. In all honesty, the most people I know who own Android devices could care less about updates, simply due to the fact that they already like their phone the way that it is.
If they get unlucky, they might stumble across an article titled "Android smartphones rapidly aging: Software updates delayed for months and months..if ever". Or they see an infographic showing how "bad and slow" Android updates are, with them moving "at the speed of a glacier". After reading that, THEN is when they might start looking at that phone in their hand that worked great before, but now suddenly starts looking rather outdated.
Why don't others see it the other way around? They could be writing about how Android was developed in a stunning way that moves and grows at an alarmingly fast pace instead of getting so pissed off about updates coming so slowly. If you compare how things were 5 years ago, most will agree that smartphones have never received such good support as they currently do.
The hamster wheel
I can tell you from personal experience that us techies are easily trapped by the "higher, faster, better, more powerful" mentality that stems from the quickly evolving mobile market. The irony is that we like to criticize the speed development without taking into account just how far things have actually come. We sometimes forget that we ourselves are somewhat trapped in that hamster wheel.
Which is why I try to give the following advice whenever I can: Stay cool, and run with the pace. We don't always need to try to outrun it.
What do you guys think? Are Android updates that big of a problem, or do we make it more of an issue than it actually is? Are techies partly to blame?
Let me know what you think in the comments below!
Picture credits: www.zeichnen-forum.de / pixelio.de