Would You Pay For Android Updates If It Would End Fragmentation?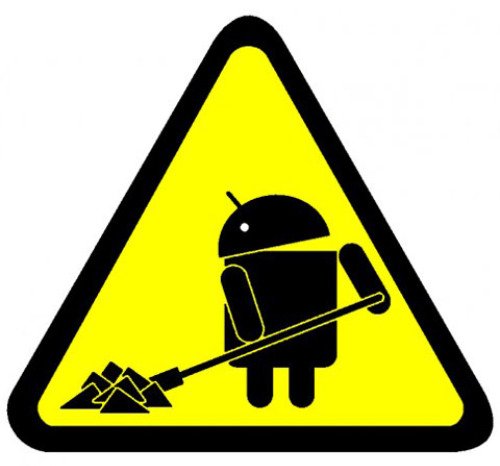 Whoa! Wait! Stop right there and put that stone down! Before I go any further with this article, I just want to say right off the bat that I am NOT a supporter of the idea of paying for Android updates in no way shape or form. I'n not saying I am for it, and am simply introducing the idea to hear what you guys think about it. I read an interesting article on Extreme Tech (credits and link at the bottom) that had a really interesting concept behind it: Paying for Android updates. Now I know what you're thinking: "Why in the name of all that is holy should I HAVE to pay for Android updates?!", and that's a fair question. But as fragmented as Android is, and with so many multiple devices still waiting on updates to Gingerbread let alone Ice Cream Sandwich, would you consider paying for Android updates if it would completely put an end to fragmentation?
It's no secret that Android fragmentation is a problem, and it's not one that seems to be getting any better. Ice Cream Sandwich was released back in November 2011, and to date there are less devices running it than I can count on my fingers. And that's actually a shame, as ICS is THE Android update. Not only does it bring an overhauled UI and tons of cool and useful new features, it also bridges the gapp between phones and tablet's, and delivers the speediest Android experience I have ever had. Lets be honest though...the update to Android ICS to all compatible devices is a VERY complex and difficult task, and even at Google I/O 2011, no concrete solutions were found during brainstorms on how to solve this issue. Now I'm lucky enough to be running ICS on my HTC Sensation and Samsung Galaxy Tab 10.1 because I'm rooted, and I'm so glad I am. But that's besides the point. As it become more and more evident that Google can't find a solution to this problem, there are only 2 options at present: 1. Wait longer for Google, Android manufacturers, and carriers to find a way to solve the issue, or 2. EVERY Android user needs to root their device to receive updates. Neither of those options are actually realistic, which is why I present to you a 3rd option: What if we started paying for them?
Why the problem exists
Back in the day, companies like Samsung, HTC, and Motorola didn't really have to focus on developing software updates for phones. You simply went into a store, bought a phone, and walked out with it running the software that it had. You never expected updates. The phone was simply sold as is. Things have changed now, as smartphones have went from phones, to multifunctional mini computers, and require regular updates to address security issues, bug fixes, and more. But a major system update? OEMS never planned on having to deliver these, especially not in a timely fashion, and as we can all see, they are struggling to do so. And that's also somewhat understandable considering how quickly Google is throwing out bigger and better versions of Android. After Google provides the actual source code from its Nexus device, it's all on the OEM's from there, which requires lots of time,manpower, engineering, testing, bug hunting, and bug fixing. But now think of this...what if that very time consuming and complex process came with a financial benefit for OEM's? I mean after all, money talks and BS walks, especially in the tech world. If OEM's were to have more of a financial motivation for the process of delivering updates, would you as the consumer pay for them?
In a way, I must admit it makes sense. I mean look at it this way...when Microsoft or Apple release new version of their PC operating system, people pay for them don't they? I don't mean service packs or bug fixes, but I mean actual OS updates. I gladly paid to buy Windows 7..why shouldn't I do the same for Android? After all, isn't the work they have to do to push out updates way more difficult than what Microsoft has to do?
How would it work?
Paying for updates makes sense in this concept, as not only does it get updates to consumers faster, but it introduces a way for them to capitalize off of the work they do for implementing updates. Up until now, the only benefit for OEM's to perform updates were in the hope that customers would by more devices if the newest version was installed. This system of paying for the update process would make that process realistic and at the same time, profitable.
Now for the bad...if Android did this, and Apple, Microsoft, and other competitors DIDN'T ,it could really push them away from Android. But in all honesty, if this system would have been implemented from the BEGINNING, would we really have a problem with it? Imagine if Samsung had charged all 20 million Samsung Galaxy S2 users 10 bucks for the ICS update. That's 150 million dollars. Would that have been enough incentive to speed up those updates? What if they would have even made the paid update system optional? Paid users get it on X date, and free users have to wait. At least then you would KNOW you have to wait. I have to admit, it's a hell of a concept.
Of course, this could create pirating issues, bootloader issues (a bootloader unlock solution could easily solve that), as well as other problems. But in the end, I think I have to actually retract my original statement. If I was an Android user that didn't root, I think I wouldn't have a problem with paying an optional 10 bucks to get my update. But as I AM a big fan of rooting, I can tell you now that I personally wouldn't do it (the process of paying would actually benefit ROM makers and modders as well, as they would receive device specific source code and drivers earlier from OEM's which would allow quick creation of custom ROMS. In a way, this idea is full of win..don't you agree?).
What do you guys think? Would it work? Is it fair? Is it too late to implement? Or is there a better solution out there?
Picture credits: intomobile.com