Android In 2012: Eric's Predictions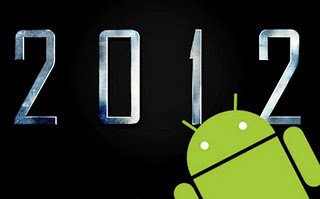 (picture from Android blogspot)
So I'm sitting at home sick as a dog with Bronchitis (it's horrible, but I'm slowly recovering) and I saw that my talented colleagues wrote a great article where they all predicted what they saw happening for Android in 2012. I really enjoyed reading the article, and I NATURALLY had to put in my 2 cents :-D I know I'm the new guy around here still building up my "Android-cred" (LOL), but I have a few predictions for Android in 2012 that I also wanted to voice. So, my predictions for Android in 2012...
1. Android's mobile market share will hit 60-65%, with RIM choosing Android as an OS.
Androids growth in 2012 will skyrocket in the next 4 to 6 months, and I'm gonna go out on a limb and say that RIM (Blackberry) won't have an option but to use Android or Windows Mobile as an OS in order to save their ailing company. A pretty bold prediction, but they are in the same boat as Motorola and Nokia once were, and their suvival depends on them making a huge change. I believe that change will be a partnership with Android. Sounds crazy? Believe me when I say that I have my reasons for coming to that conclusion. I'll get more into that VERY soon.
2. The patent wars against Android will slow down dramatically.
While Apple may have won a few battles, the courts will slowly start throwing these cases out. Microsoft will stop all together with the "hey that's mine!" patent finger pointing, considering how much money they are now making from Android. Why would they want to see that stop and risk losing millions in licensing fees? The patents that Google now owns due to the Motorola purchase will play a role, even if a small one, in slowing Apples accusations.
3. Android and IOS sales will finally peak, with usability playing a bigger role for both operating systems.
Android activations will hit 800,000 per day, and Apple will continue to do what they do. But these numbers won't have any more huge year on year increases, and both companies will focus more on tweaking their OS to bring more ease of use and features to both platforms. Google made a huge move with Ice Cream Sandwich, and Apples IOS5 wasn't the overhaul that IOS users had hoped for. When sales numbers become consistent, attention will direct more on updates that matter, in terms of both UI and new features.
4. The rumored Android facebook phone will finally come out, and it will be successful.
This has been rumored before, but there are more and more whispers going on in the tech world that this thing is actually real. If Facebook does bring out a device with Android with their own branding, you can better bet that the Facebook branding will be a massive selling point for making this phone attractive to a wide variety of users.
5. Android tablet sales will triple or quadruple in 2012.
This is where Android has a great chance to poke at Apple. iPad sales are consistent, and will also peak in 2012/2013. But Android tablets running Ice Cream Sandwich and JellyBean running dual core and quad core processors at VERY competitive prices will finally get Android's tablet sales growing. CES showed us that big brand manufacturers are now getting the hint that the combination of great hardware+Ice Cream Sandwich+under 350 dollars might be exactly what's needed to get consumers thinking twice on their next tablet purchase.
6. Google + Motorola = A WHOLE NEW LEVEL OF AWESOME
People still don't quite have it in their head why this acquisition is so huge, but to me, it has the potential to bring Android to the next level. With Google FINALLY being able to develop software for THEIR OWN HARDWARE (ala Apple), Google and Motorola together will bring out a series of tablets and phones that are competitively priced and running software that will really have the potential to take some more of the iPhones market. Believe me when I say that these devices will be the most insane Android devices we have ever seen. How Samsung, HTC, Sony, and LG will feel about these devices will be interesting to see.
7. In 2012/2013, Google will buy Twitter to add a huge jolt of users and social integration opportunities for Google+ and Android.
Fight me on this all you want, but Google WILL buy Twitter. I can't count how many times I have heard Eric Schmidt say "our friends at Twitter" in 2011 (I even heard him personally say it when he came to Berlin last year). Not only will that integrate well into Android's social capabilites, but will add tens of millions of users to an already growing Google+.
So there you have it. My personal predictions for 2012. Some might hit right on, some might not..but what I CAN predict with 100% accuracy is that 2012 will be Android's biggest year yet.