How Android Successfully Battled The iPhone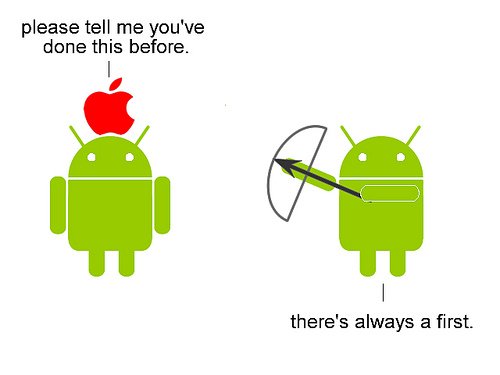 Before I go any further, I would like to make one thing very clear: This isn't an Apple/iPhone bashing article. This isn't a rant or a "the fall of the iPhone" piece, nor is it me trying to say that Apple is finished. Instead, this article is based on a very clear observation: The iPhone has peaked in terms of popularity, and while Android has played a big part in this, Apple also played a role with the release of the iPhone 5. But how did Android successfully put a dent in the the success of the most popular smartphone in the world?
What was missing this time around?
Back in 2007, Apple released something revolutionary. They released a smartphone concept that literally took the tech industry, and consumers alike, by storm. The touch screen, the apps, the software, the usability, and the sleek design of the first iPhone caught like wildfire, and started a trend that would for remain unrivaled for years to come. While the original concept for such a device wasn't originally created by Apple, it was something that they undoubtedly perfected, and with the amount of marketing they threw behind it, it's no wonder that the device has achieved such massive success.
The newest version of the iPhone was recently released, and even though it's already selling like crazy, something was missing this year during the unveiling event. Something was absent this time around, and although many people watching the event may have felt that, it's very hard to directly put your finger on what exactly that "something" was. But after watching it a few times now, I have finally figured out a way to describe what that "something" is, and I can describe in 4 words what I found to be missing: the magical Apple moment.
Now for some, perhaps that magical moment was when Apple announced a slightly bigger screen, or the introduction of LTE. But when you really think about it, those aren't magical moments, but rather features that Apple had no choice but to add. Those 2 "features" are simply nothing rare anymore, and more and more consumers are expecting their smartphones to come with bigger screens and faster data connectivity. So where was the magicial moment?
Apple's previous magicial moments
As an Android user (and a previous iPhone 4 and iPad owner), there was always a feature that I witnessed at every iPhone unveiling that literally made me say "now that is freakin cool". Whether a hardware or software based feature, there was always something that I noticed about it that I could truly praise.
With the original iPhone it was the entire product as a whole that grabbed my immediate attention. With the iPhone 3G it was multiple software features and the App Store improvements. With the iPhone 3GS it was the camera and some of the voice control features. With the iPhone 4 it was the speed, the overall performance, the new design, the fingerprint resistant coating on the display and the back, and the amazing camera. With the 4S (which is where I began to felt the iPhone slowly aging), it was Siri, the improved hardware and performance, and the once again amazing camera. With the iPhone 5 "it" was...well...kind of absent. But why?
Android's role
Android had a big role to play here. Android phones with multiple display sizes became quite the norm in 2011, and LTE is slowly no longer being viewed as a feature, but as a requirement for many smartphone users. Samsung and HTC were quick to serve up bigger screen sizes along with LTE, and with the success of the Galaxy S2, S3, and Galaxy Note (I'm confident the Note 2 will do just as well), some iPhone users started to long for a bigger screen and some serious processing power. At the Apple event this year, they were actually showing game demos as if they were features, and talking about a new row of icons as if it was truly a big deal. While that and the other new features of the iPhone 5 will be more than enough for many, it's certainly not the innovative product that Apple brought back in 2007.
That being said, the only thing Android needed to do is what it's already continually done: evolve quickly. Apple, until now, has never been forced to evolve quickly. With Android moving so quickly, it seems that they may no longer have a choice.
Lets be honest: Steve Jobs did it better
For me, the absence of Steve Jobs played a major role in how I personally felt about this event. In the past, watching Steve on stage was always half the fun, and witnessing him "sell" the product to the public was always a sight to behold. I don't know what the iPhone 5 might have brought to the table if Steve would still be with us, but I have a feeling that he might have pushed harder for a magical feature, and that his hatred of Android would have fueled that.
When Steve Jobs hit the stage, I felt as if I was looking directly at Apple and a man who was deeply involved with the product he was unveiling. At Apple's unveiling of the iPhone 5, I felt I was watching Apple representatives trying desperately to recreate something that Steve Jobs had naturally. I have never agreed and saw eye to eye with Steve Jobs on a number of things, but for me personally, Apple without Steve Jobs is like comparing the Chicago Bulls without Michael Jordan: it simply isn't the same.
Why Android particuarly needed the iPhone 5
To put it simply, the "changes" brought to the iPhone 5 couldn't have came at a worse time. This iPhone needed to be truly magical and different. It needed that "WOW" factor more than ever. It needed NFC to compete with Beam. It needed a new feature(s) that the public didn't expect. It needed to show us why it's the most popular smartphone in the world. It needed to make Android fans (like myselrf) say "WOW" as it's done in the past. But instead of all this, the iPhone 5 did exactly what Android needed it to do at a critical time: be a lot more of mostly the same old thing.
Android now has a hell of an opportunity here. It is evolving at such a fast pace that I honestly believe it's caught Apple off guard. Android is showing there are markets for devices with 5.5 inch screens (which is something Steve Jobs most likely would have never agreed with). With the release of ICS and Jelly Bean, it's demonstrating that Android devices can very reliably perform, and that features like Google Now can actually function just as well or better than anything ever showcased on the iPhone.
Conclusion
Make no mistake...the iPhone will sell, and it will sell WELL. It always has and it always will. But in terms of dominance, the iPhone has reached its peak. Android however, is already dominating it in terms of marketshare, and is making big dents in Apple sales, but in something Apple has always relied on with every iPhone release: populartiy. Apple isn't a sinking ship, or a failing company that will ever need to worry about money, but simply a company that created such an amazing product at a time where little to no competition existed, all while failing to grasp how quickly its creation would accelerate the evolution of smartphones.
I truly hope that Apple will blow me out of the water with the next iPhone release, and I'm already sure the iPhone 5S/iPhone 6 will be a sure fire hit. But if they want to keep the reputation they have held in the smartphone market for almost 6 years, they will certainly need to bring a lot more than a slightly bigger screen, new row of icons, and improved voice functionality in the next iPhone. While I'm quite sure that fans of Apple products will remain loyal to the company, I'm also quite sure that their loyality won't remain forever if Apple brings so little to the table again in 2013.
Picture credits: farm3.staticflickr.com