If Steve Jobs Would Have Taken The Job As Google's CEO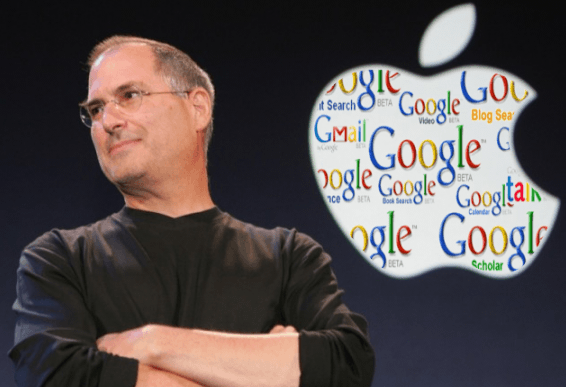 (picture from AllNewsMac)
Here at Androidpit it's fair to say that we have all taken a few shots at Apple. It's no secret that an ongoing debates and discussions, and it's a rivalry that won't disappear anytime soon, if ever. But we also won't ever deny that Steve Jobs was truly a genius and one of the greatest innovators of our time, and his passing hit us and the entire tech world pretty hard. It really makes me wonder sometimes..what if Steve Jobs would have accepted Googles offer to be CEO of the company?
It's no secret that Google founders Sergy Brin and Larry Page had originally wanted Steve Jobs to be Googles CEO back in 2000, but it's still a fact that a lot of people don't know about. In fact, Sergy and Larry wanted him so bad that he was the only person they had initially considered for the job. Steve Jobs did a hell of a job with Apple, but what if he would have accepted Googles offer, and what would it have meant for Android?
Lets just imagine, and I stress the word IMAGINE, that Steve Jobs would have said yes and became Googles active CEO. And again, lets IMAGINE that in 2005 Google would have still purchased Android under his leadership in 2005. What would it have meant for our favorite operating system? Google is known for having more of an open source mentality, but Steve Jobs was known for being the person who took more of a role in doing what he felt was best for the average consumer. Would heading Google have changed his mentality to more of an open source mindframe? Do you think he would have done with Android what he did with Apple and keep it "closed"? Or do you think that Steve would have laughed at Andy Rubin when he first had a first look at Android?
Who knows how things would have developed had this had happened. Maybe Android would look a lot more like IOS. Maybe IOS would look a lot more like Android. Or who knows, maybe Android would be something entirely different, or might not exist at all.
What do you guys think? Would Steve had formed IOS based on Android, or would he have adopted to Googles open source mentality? Would he even have wanted Android at all? Would he even have thought about a mobile OS? Would he have focused Googles efforts into putting all its muscle into one phone? Of course, it's all speculation and we'll unfortunately never know what would have happened.
But I still can't help but wonder...what if...