Android 7.1 Nougat and iOS 10: new features in comparison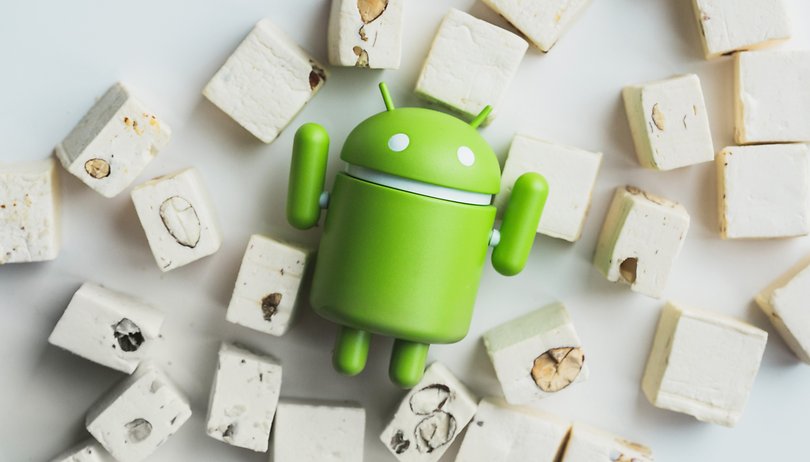 With iOS 10, Apple has introduced features which are already familiar to Android users. In turn, Android 7.1 Nougat has adopted some features that iOS users already know. Find out here how the two most important smartphone operating systems are starting to move toward each other.
Jump to:
iOS 10 features that we already know from Android
Reply directly to notifications
At least on the iPhone 6s and the future 3D touch enabled iPhones, notifications will provide a new dimension of interaction. With iOS 10, you can also interact with notifications directly on the lock screen.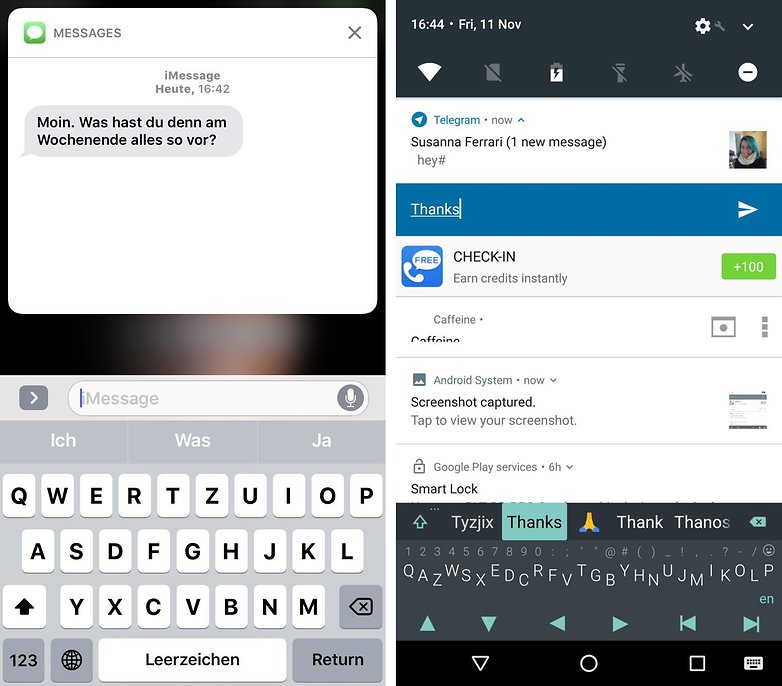 Android 7.0 Nougat also refines the notifications. On the one hand, they are bundled for apps; on the other hand, they have extended interaction possibilities. Finally, you can answer instant messages or emails directly in the notification area without opening the app.
Send short messages with voice control
Apple's voice assistant, Siri, can finally control apps. Say "Write a message with Telegram," and Siri asks who it should go to. This function is especially practical when you are in the car, when wearing the headset, or if you want to verbally make a quick check of the time.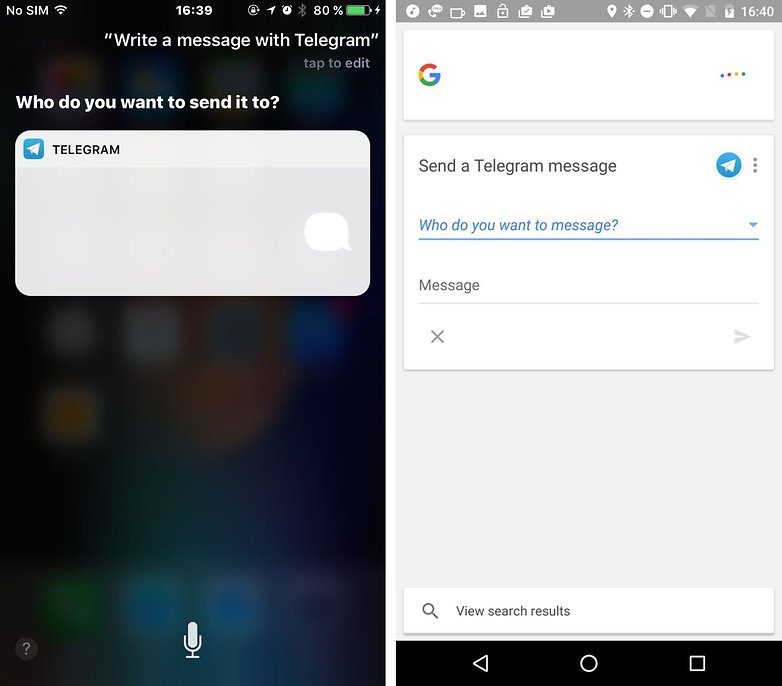 Apple has already convinced us with its Siri-interface for WeChat, Slack, WhatsApp, Ridebooking, Uber, Lyft and Didi. Best of all, this feature will be able to be used in all Siri languages when it is finished.
Google's Speech Assistant can do this, as well. We've already prepared a list of Google speech commands for you.
iMessage news shout
Just like Google's messenger app, Allo, iMessage will be totally crazy. You can write messages with text with different sizes or with invisible ink. Send the news with an animation – even in full screen. It can also send handwritten notes. It sets links and videos in preview and plays music instantly in the chat window. It finds GIF animations to match your conversation. Even money can be sent using iMessage.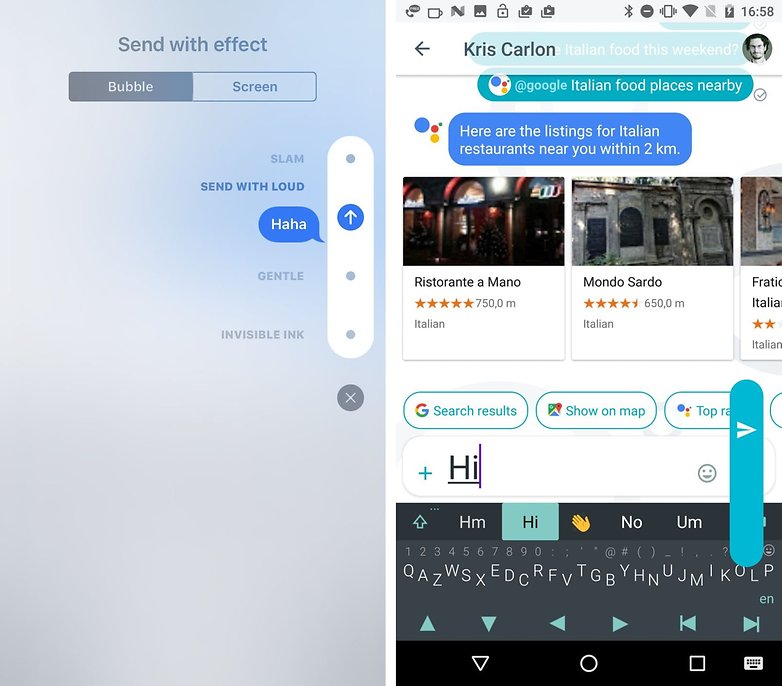 iMessage features work when both conversation partners are using iOS 10. Allo, on the other hand, is available for both platforms and in a variety of versions.
Browse photos by keywords
If you want to tag your photos automatically in Google Photos, it can only be done via the cloud. If you use Google Photos offline, the images are not automatically put in order. Google only uses its own AI, which is programmed by them.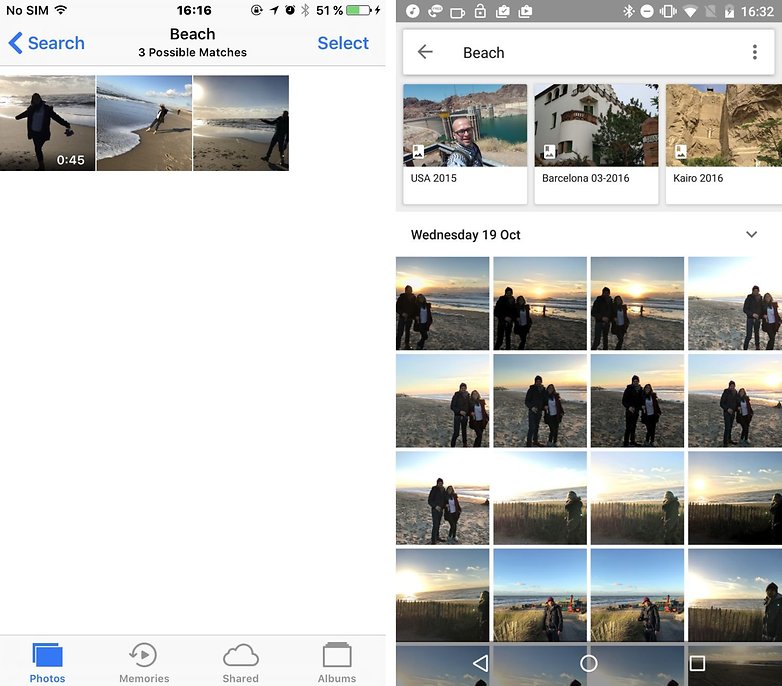 Taxi integration in Google Maps
For quite some time, you've been able to order a driver in Google Maps using the Uber and Lyft integrations. In Apple Maps, you can follow the Lyft or Uber taxi live on the map. You can also pay the fare in Apple Maps.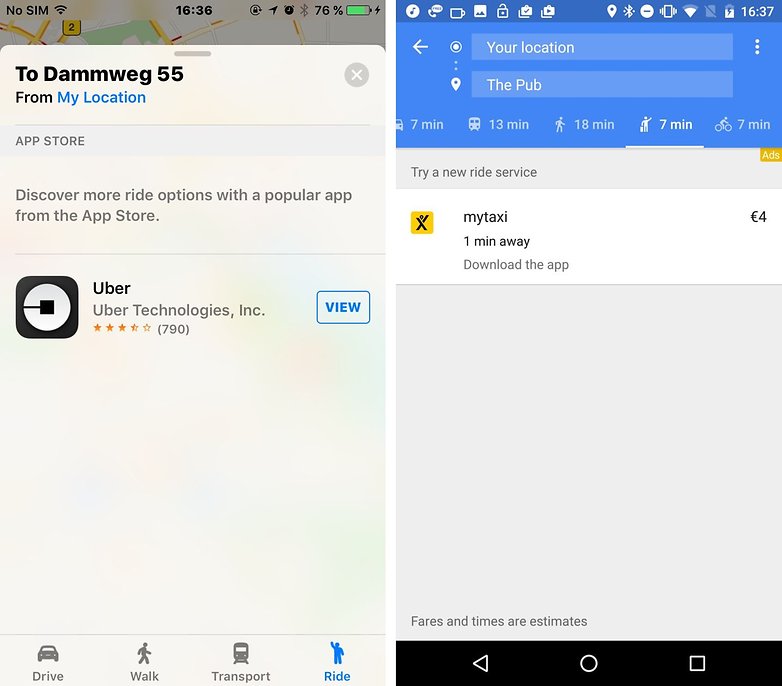 Apple Home vs. Google Home
With its Home app, Apple delivers a uniform interface for home automation. Up to now, hardware manufacturers for IP doorbell ringing, remote control curtains, and networked lighting were unable to agree on standards for the control system. A mixed operation combining devices from different manufacturers could thus be quickly complicated. The result being that potential customers were reluctant to purchase it.
A few weeks after the introduction of Apple Home, Google is countering and has renamed the Chromecast app as Google Home. This should also integrate smart home devices from different manufacturers. We will have to wait and see whether this brings order to the chaos.
Android 7.1 features that iOS users already know
Launcher shortcuts
This feature was introduced as ForceTouch with the iPhone 6s in autumn 2015. The Launcher Shortcuts from Android 7.1 builds on this feature. Hold down an icon and get quick start options that initiate a specific action with the app.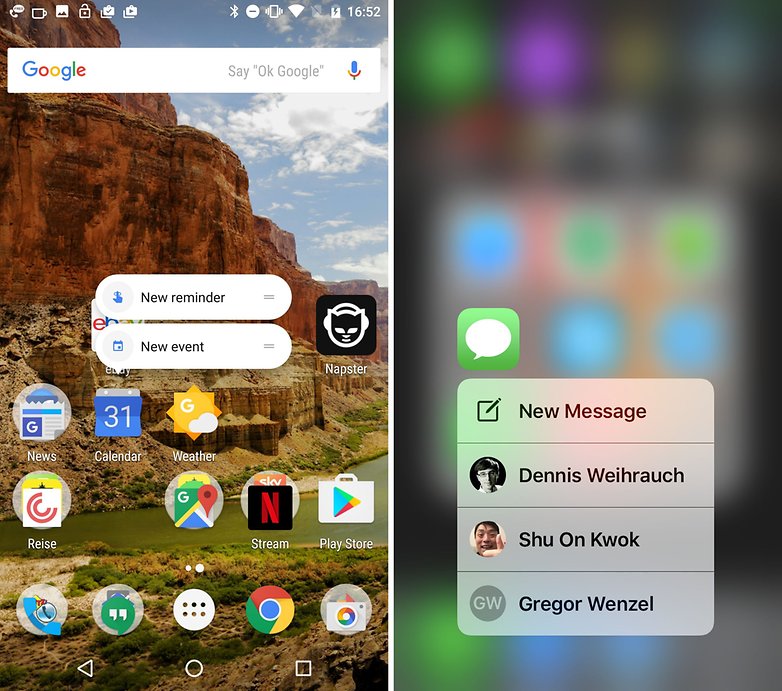 With Android, you can customize the actions and place them as individual quick start icons on the start screen.
Night reading mode
This mode filters blue from the display. The night mode was installed on iPhones with the release of iOS 9.3. Android 7.1 has it under specific conditions. It was announced in an update that it will be a standard Android feature. Let's hope that Google can finally settle on it.
Multi window and multitasking
Running two apps at the same time is no fun on the small iPhone screen. But, Android smartphones are often much larger, so the added value becomes clear. Android 7.0 already has this feature and has put it on smartphones, so as long as the manufacturers unlock it, it should be on the phones.
iOS has it, too, but it is only activated on some iPads. Smartphones, however, multitask differently. If they have ForceTouch, users just pull with some pressure from the left edge to the right. That opens the previously opened app. Android 7 users, on the other hand, tap twice on the button for an overview of opened apps, in order to quickly switch between two apps.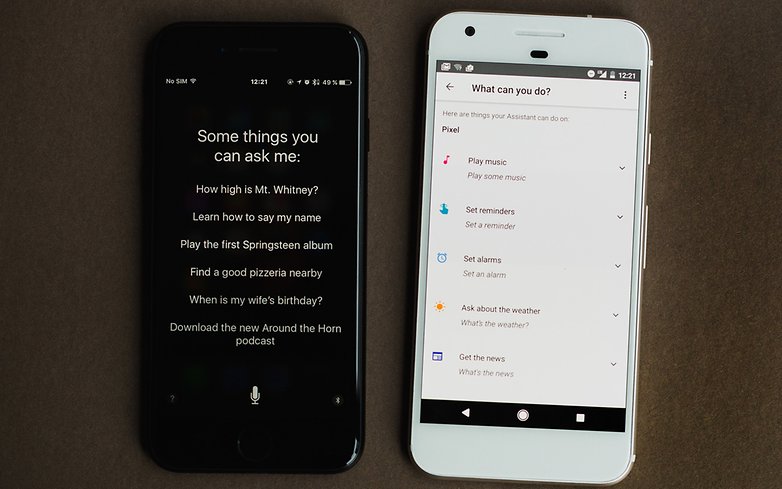 Conclusion
If you look at the development of the two systems, you will feel like you're watching a tennis match. The ideas are shot like a ball over the net, and each player hopes that the other will make a mistake. This is the only way Google or Apple can score points with their customers who evaluate devices by their features.
Which iOS feature would you most like to see on Android, or which Android feature would you like to see on iOS? Is there a new feature that you love that we did not cover here?
---
This article has been revised based on our experience with iOS 10 and Android 7.1. We have retained the existing discussion under the article, even if parts of it refer to content that no longer exists.