[Video] Wafer-Thin OLED Screens Show Off Their Yoga-Like Flexibility and Sledgehammer-Proof Indestructibility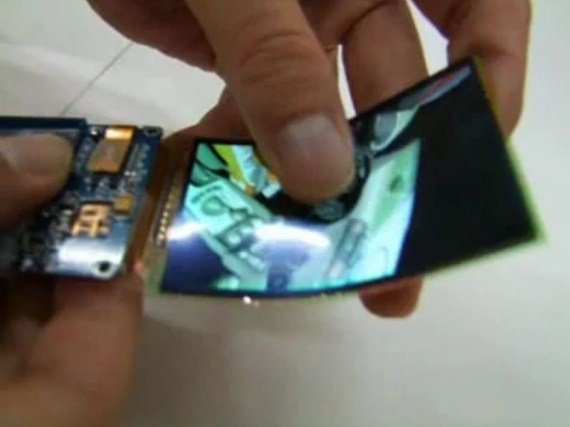 How is it possible? How can a cell phone screen be twirled up like a Fruit Roll Up and then folded in the middle to become a vieo conferencing stand?
According to Samsung, OLED displays contain pixels that emit their own light, thus eliminitaing the need for a backlight and freeing the display from the confines of the slab phone design.
To bettter understand, let's take a look at these displays in action, shall we?
This first video shows the Samsung OLED's yoga-like flexibility, and how these displays could be placed into workable phones. As you can see, Sony and LG have both been betting on OLED displays with their own flexible prototypes. One of the most incredible moments in this footage shows a Sony flexible screen being rolled up by a machine. Amazingly, it continues to play a high-resolution clip even as it's being spun by the machine. Apparantly, Samsung's displays still beat Sony's in the pixel department but I've yet to see a Samsung display with this much flexibility.
Another nice feature of the flexibile OLED display is their near indestructability. In this video, a maniac takes a sledgehammer and starts smashing modern glass-protected cellphone screens as Japanese pop music plays in the background. When the sledgehammer begins pounding the Samsung Flexible AMOLED screen, though, the hammer can't make a dent. We just wonder whether Gorilla Glass was tested – just to be fair.
Sony and Samsung are on the verge of creating phones that will completely change the smartphone scene forever. The phone in this post is not nearly as futuristic as you might think. In fact, it seems as if the technology to create a flexible phone has already arrived; now we just need some engineers to think about how best to use it.