Samsung to Apple: "Well, Technically Stanley Kubrick Invented the Tablet"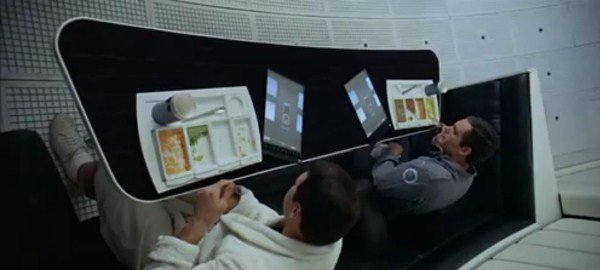 Sci Fi fans rejoice! The Samsung- Apple court battle just got a whole lot more interesting.
First Apple doctored photos to make the Galaxy Tab 10.1 appear more similar to the iPad and now Samsung is finally fighting back, alleging that if you want to copyright all flat rectangular devices with display screens that look vaguely like the iPad, you're going to have to go a bit farther back than the launch of the Galaxy Tab 10.1. Specifically, you're going to have to sue Stanley Kubrick.
In the following clip from "2001: A Space Odyssey," you can clearly see that Apple wasn't the first to think up the idea of a tablet. In fact, the "tablets" Kubrick used (which I'm sure were actually TV screens built into the table) look a whole lot like the iPad. Take a look, below!
Here's the exact wording Samsung uses to defend this particular piece of evidence:
Attached hereto as Exhibit D is a true and correct copy of a still image taken from Stanley Kubrick's 1968 film "2001: A Space Odyssey." In a clip from that film lasting about one minute, two astronauts are eating and at the same time using personal tablet computers. The clip can be downloaded online at http://www.youtube.com/watch?v=JQ8pQVDyaLo. As with the design claimed by the D'889 Patent, the tablet disclosed in the clip has an overall rectangular shape with a dominant display screen, narrow borders, a predominately flat front surface, a flat back surface (which is evident because the tablets are lying flat on the table's surface), and a thin form factor.
The piece of evidence is being used to prove that there was art prior to the launch of the iPad which could have inspired Jobs and company. Whether or not the judge actually agrees with Samsung remains to be seen, but it's nonetheless exciting to see Samsung reach into the world of pop culture to prove their point.
And here I was thinking I was sick of these patent suits...