[Rumor] US Mobile Carriers Won't Like this: Google To Install WhatsApp On All Androids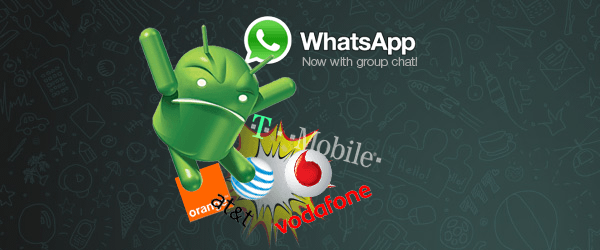 The big four– AT&T, Verison, T-mobile and Sprint– might not be so friendly with the Android OS soon. Word has reached AndroidPIT from reliable sources that Google is planing to install WhatsApp, a free text messaging service, on every phone shipping with the popular Android mobile OS.
Text Messages– The holy telecom cash-cow
For telecos, this isn't good news. Text messaging is big business for all major providers and accounts for a sizable portion of their profits. Among the Big Four national players, texting brings in an average of $8 per month per customer in revenue and generates about 25% of raw operating profit (excluding equipment subsidies). With a carrier cost of one-third of a penny, when a customer pays 15 cents to send a message, 98% of that 15 cents is pure profit.
Growth in message traffic slowed for the first time to single digits — 8.7% — in the last half of last year compared with the previous six months, according to U.S. wireless trade group CTIA, but it is still important to these carriers' bottom lines. And the days of such heady profits might be gone entirely if the current crop of rumors pan out.
WhatsApp– More than free text messaging
WhatsApp is currently available for all mobile operating systems and users of the free system can exchange text messages quickly and most importantly without any additional costs as long as their messages go to other Whatsapp users. The service is functionally identical to text messaging services as all sent texts arrive in real time, when users have a web connection. If a user is logged out for any reason then messages are saved and delivered when he or she signs back in.
But the service offered by WhatsApp goes beyond traditional text messaging as there is no character limit and multimedia content can also be incorporated into the message–free of charge of course.
With millions of users, WhatApp's model could threaten traditional text messaging
Whatsapp is used by millions of people world wide, but the major hindrance to a real telecommunication revolution has simply been its availability; users couldn't be sure that their friends and family were using the service, forcing them to use the trusty text messaging service that we know and love.
But when Google automatically installs the app with all of their mobile Android distributions WhatsApp will suddenly be presented with a 40% market share among mobile users. And that's just in the US. And – oh yeah– did we forget to mention that international messaging is also free? Coupled with half a million new users a day, the probability that my conversations partner is also a Whatsapp users is growing daily.
If and when the new service really takes off, it would mean a major revenue loss for traditional mobile providers. According to AndrodPIT's source, the traditional telecos know of Google's plans and are "hopping mad". And who would blame them? This would mean removing one of the central planks in their business model. Texts are cheap to process and expensive to send meaning they are a gold mine for the telecos. And Google is eyeing to take that goldmine away from them.
Is Google looking to buy WhatsApp?
If Google is really aiming to preinstall Whatsapp, it appears the first move is an attempt to buy the company if they haven't already done so. Otherwise there is no clear motivating factor in preinstalling the app.
What are Google's plans?
This latest rumor also seems to hint that Google is planing to make their debut as an independent telecommunications provider. There have already been sightings of Google branded SIM cards in Spain bolstering the claims. A free communications service likes WhatsApp would make sense if Google is actually planing a move like this. Connecting all the points, it seems logical to claim that Google is attempting to position itself as a mobile phone provider in the middle term. It was, after all, only two years ago that Google boss Eric Schmidt declared the "Mobile first." strategy, which has become Google's guiding rule.
That Google is giving it their all is easy to see; Just take a look at their Android phones and Chrome notebooks. All of their most recent products are dependent upon mobile internet access. And don't forget Google has bid on mobile spectrum in the past.
This is all adding up to a dish that I don't think traditional mobile providers will much care for. After the world was introduced to Google-rola a few short weeks ago, do we have to get ready for the International States of Google?
What do you think?