Patent Wars: A Beautiful Infographic About Our Ugly Patent System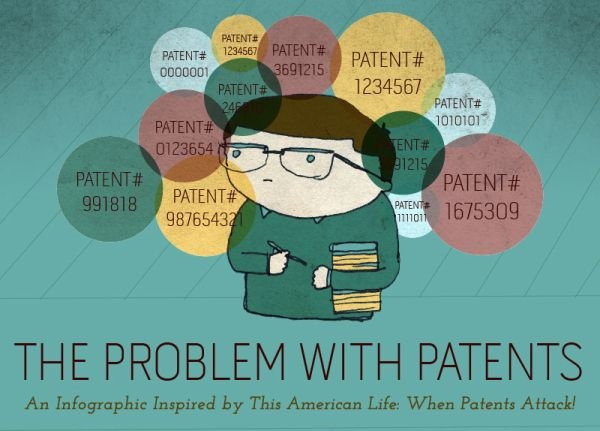 Our patent system is A big problem. A problem so big it's in need of an equally big infographic.
The infographic below offers a glimpse at the vastness of this patent madness. It's quite beautifully done, despite it's ugly subject matter. The graphic is based on an episode of This American Life called "When Patents Attack," and it explores the most important aspects you need to know about the patent industry. Here are some of the numbers I found most interesting (and disturbing):
30% of the 8 billion patents out there are used for things that already exist. So, around 2.4 million patents are for replicated content.
$700 is the cost for filing a single patent – that's at least $1.7 billion spent patenting things that already exist. For that amount, you could launch the space shuttle Endeavor.
98% of the patents owned by Intellectual Ventures came from the brains of other people. Using those patents, Intellectual Ventures has collected more than $1 billion in licensing fees.
$500 billion has been lost in profit due to patent lawsuits over the past 20 years.
80% of software engineers say the patent system hinders innovation.
$0 is the amount the creator of the World Wide Web made from his invention, which he refused to patent.

(Click the graphic for an even larger view)