Apple's Snobby VP Phil Schiller Ditches Instagram for Going Android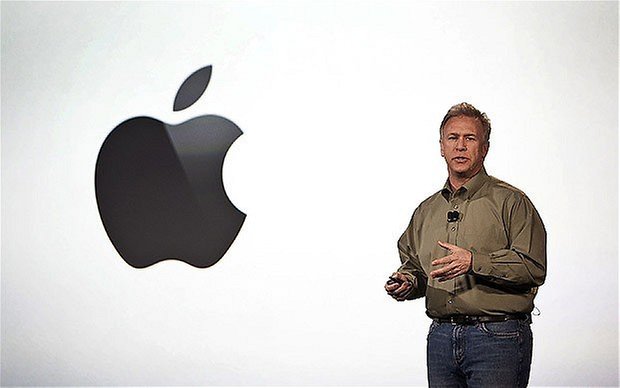 A while back we brought you a story about how iOS users were upset over the fact that their beloved Instagram app had migrated to Android. Hundreds of Apple fans Tweeted things like "Ewwwww, Android now has Instagram, GROSSSS." I'm paraphrasing, but that was the gist. Android users = gross. There also might have been a socioeconomic factor in the Android shaming as well, since Android owners tend to be from a lower socioeconomic bracket than iPhone owners. Whatever the case, the blatant disgust was difficult to ignore and made a lot of Android owners upset.
Now it turns out even the VP of Apple can't deal with the fact that Android owners now have access to the super cool and ultra exclusive (till now) Instagram app. Senior VP Phil Schiller recently quit Instagram. When asked by a user via Twitter why he did so, Schiller wrote it was because the app "jumped the shark" when it launched on the Android platform.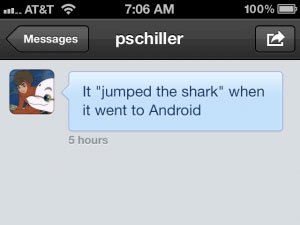 Oh, I'm sorry Schiller that you had to see Instagram running on a different OS, I'm sure it must have absolutely terrified you! Because, ewwwwwwwww, Android owners are just so gross, right? And Apple owners are so shiny and special and magical.
When the same user reached out to Schiller about why he wrote that he was dropping Instagram, Schiller than backed away from his initial remark that Instagram had "jumped the shark" and wrote, instead, that he just didn't feel like Instagram was cool anymore:
Instagram is a great app and community. That hasn't changed.
But one of the things I really liked about Instagram was that it was a small community of early adopters sharing their photographs.
Now that it has grow(n) much larger the signal to noise ratio is different.
That isn't necessarily good or bad, it's just not what I originally had fun with.
See, it's not about Android, it's just that Schiller likes to feel as if he's part of a super cool and exclusive group of first adopters! Because that's what Apple is: a highly-devoted, elitist group of folks who only want to associate with each other. Lovely! And even the managament agrees! It has nothing to do with Android, it's just too big now. God, I didn't realize Apple employed hipsters for VPs. Can I apply?
Oh I wish I was as cool as Phil Schiller! I just wish he was still gracing the world with his artfully designed, vintage filtered photos of trees and books, or whatever it is Apple owners take pictures of (surely us slovenly Android owners couldn't even imagine). Oh wait, no, I don't.
Anyway, even if Schiller really just left Instagram because it got too big, is this really how Apple feels about Instagram now? Um, Apple PROMOTED Instagram by naming it App of the Year, so maaaybe that's why it got big in the first place. Now they're blaming it for its own success? I don't get it.
And if Schiller really dropped Instagram just because it migrated to Android, well, that is just the pettiest thing I've ever heard. There's being competitive, and then there's being a jerk. I guess I shouldn't have expected anything less from an Apple VP.
If you need me, I'll be playing with my gross Android like the slobby, poor, unwashed Android owner that I am.