How Android saved Motorola I was browsing around and stumbled upon this poll on Droid-Life and was throughly surprized. Now, we all know Motorola's latest phone arsenal is quite impressive, but people have forgotten the trouble they had gotten themselves into a few years ago. Back in the day, Motorola was one of the most hyped and sold manufacturers of dumbphones. They never really had anything on Nokia, but second place wasn't bad. In 2007, Samsung outgrew them - they had a bigger product palette and knew how to market themselves better. Motorola had some success with the Windows Mobile equipped Q9 series, but it wasn't until 2009 that they saw profits again. What changed you ask ? They jumped on the Android wagon and never looked back - the original Droid/Milestone is still one of the best sold Android phones out there.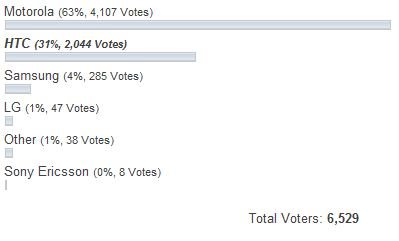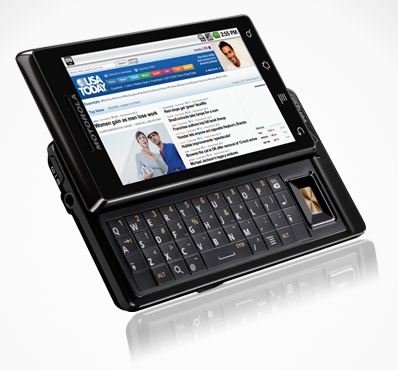 Motorola's global Android portfolio counts around 25 phones (including models rebranded for different regions; about 13 unique designs if you exclude those) ranging from free on a contract to top of the line models like the Droid X and Droid 2. While mostly everyone will agree that their first iteration of BLUR, their skin for Android, wasn't the most pleasant thing to use, I've grown quite fond of some of its elements on my Droid X. The new BLUR is certainly easier and less in-your-face, though not quite as popular as HTCs Sense UI. That's one of the top reasons I was so surprized to see Motorola dominate HTC in the poll.
Now, there's also the issue of Droid-Life being Droid-, and thus, Motorola-centric by design, but I doubt their users aren't as diverse in preference as any other blogs'. So what do you guys think ? Is Motorola your favourite too, or are you drooling over the upcoming HTC Desire HD, the LG Star or the Nexus S more than anything Motorola could offer ?
On that note, now that we've established people are interested in Motorola again, how about some specs on that juicy tablet. Or how about HTC counter Motorola by dropping some blurrycam shots of their tablet (I mean, they must be working on one). Personally, I can't wait for CES.