Google CEO Eric Schmidt's Keynote At IFA Berlin Eric Schmidt started off his speech by acknowledging the 50 years of IFA. Mr. Schmidt talked of a new age of augmented humanity, where computers work for us, centered on people and happiness. He stresses that if a device does not have a connection to the internet, it can only access the information that is stored on the device.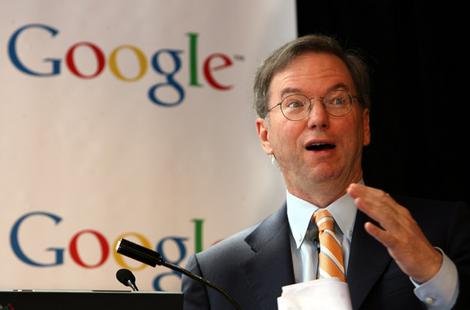 He explained the concept of mobile-first/smartphone first:
The best usages/implementation of technology are in smartphones.
Mobile-web use growth/usage 8x faster than the equivalent desktop web from 10 years ago.
LTE technology, what many tout as the future of mobile networks, will generate 50Mbits per second, with the ability for video with real time streaming. He said that one study has "35 billion devices connected in one form or another", giving an opportunity to build these large networks that Mr. Schmidt envisions for the future of smartphones.
Caffiene was revealed as a new way project to index searching using Google's search engine. Chrome OS, Google TV, and Android will be topics of this keynote speech.
Mr. Schmidt also noted that there is a growing interest regarding where a user is, and what is around them.
He said Android phones are up to 200,000 activations per day now. Current Android devices are at 60 devices, 21 OEMs, 59 carriers, and 49 countries. Mobile search traffic tripled 1st half of 2010.
Hugo Barra, a Google employee, made a demo of mobile supercomputing, where a device accesses the cloud computing powers of Google using a data connection. Speech recognition/voice search was shown off just now, with cloud computing analyzing the speech input. They demonstrated voice texting, and a voice search for a hotel in Berlin, as well as voice search directions, even when the name of the destination is not known.
Voice activations will be available today, starting in English first. Google translation was also revealed. They unveiled a new technology called Conversation Note in Google Translate, which allows real-time translation on a phone, which will be available in Google Translate in a few months. They demonstrated it by having two individuals communicate (one in English and the other in German) with each other by talking into the phone, and having the phone take the voice input from one language, and be translated quickly on the cloud, and then presented in the other language to the other user.
They also unveiled a new UI for Google Street View, which highly improves the way individuals interact with Google Street View. They also seem to have developed software which can detect the facades of buildings, enriching the Street View experience.
Google TV was also introduced, and they stressed the importance of the inclusion of an internet browser. Google TV launches this Fall, with plans only for the US as of now. The transition between regular television and web browsing. Youtube Leanback is a new service developed with large size video playback automatically enabled, as well as an easy to use UI designed for large screens, and presentations. Android devices should be able to control the television like a remote control.
The Google TV search includes both TV programming, and content from the web in the same search window. Android Market support is destined to be available in early 2011.
Fabien got the first question in to Eric Schmidt, regarding being a content provider. Google will be working with content providers to get the content to end-users/consumers.