Developers Bite Back: Reddit Users vs. App Thieves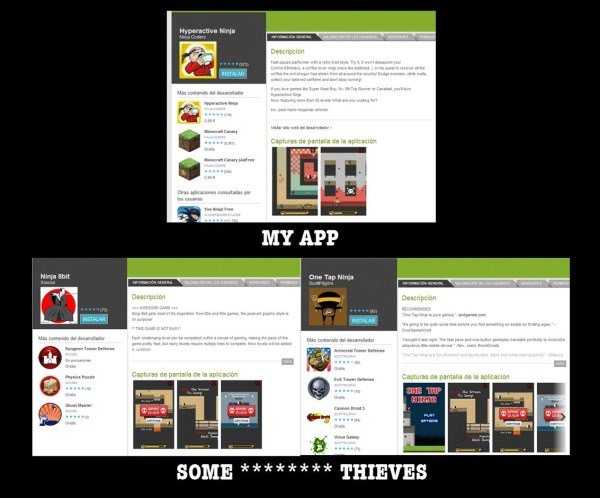 What would you do if you found out that someone had plagiarized your app on Android Market? Reddit user Kuothe felt "sick" over the fact that his game had been copied not by one but by two "developers" who had placed hacked versions of his Hyperactive Ninja game on Android Market filled with malware and pop-up advertisements. But instead of contacting Google through the official channels (which can take a while), Kouthe contacted Reddit.
The response has been pretty strong so far, as a number of Reddit users have taken to the Android Market site to write bad reviews of the offending apps. They've also provided Kuothe with a wealth of device on how to "obfuscate" his code, thererfore subverting the process by which someone could steal it.
Both of the rip-offs – Ninja 8bit and One Tap Ninja – now have a series of negative reviews on their first page. But many Reddit users are wary of the fact that it appears you have to download the app in order to review it. This isn't true. If you have an old phone you don't use anymore, you can specify the app to download to that phone you don't use anymore and then write a negative review.
Obviously it really stinks that so many apps on Android Market are plagerized and we really wish Google had a more streamlined way of dealing with things like this. If you'd like to help out Kouthe, write a negative review and let the whole Android Market community know that these apps were stolen!
Related:
"Android is a Malware Cesspool - and Users Don't Care"
[Breaking] Skype For Android Leaves Your Data Open to Assault
Malicious Android App Goes Rogue, Spewing Humiliating Texts to Everyone in Phonebook