Android 3.0 Honeycomb hidden gems I've been playing around with the preview version of Honeycomb 3.0 on my new Nook Color (review coming once I get Froyo on it) for two days now and I have to give props to Google for bringing it home. I think it's one of the best first version OSes I've seen, being really well thought-through and polished. There's a good deal of things you saw in my earlier post here but there's also a lot of eye candy and additional features that were build in that propel Honeycomb to the top of its class. Read past the break for more info.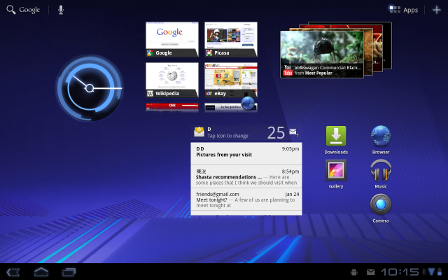 First off, the aforementioned eye candy is everywhere. When you first move the small circle towards the right on the new unlocking mechanism there are blue ripples emanating from it; it's really pretty nice. I tried making a video, but after 45 minutes of trying to balance the lighting to get glare ouf of the way and adjust settings to get the image focused properly I gave up; screenshots were also not an option because the SDK fails on my machine for some reason and rooting is not an option yet.
Everywhere you go menus light up, glow or swarm in seemingly out of nowhere, all while working quite quickly. Do keep in mind that the basis of this review is a super hacked version of Honeycomb built from the preview version that was nowhere near finalized (a thousand thanks to deeper-blue from xda-developers for taking the time to work on this) and the Nook color isn't the fastest hardware with its single core 800 MHz processor running the OS off the micro SD card slot. Still, movement is fluid, for the most part, transitions work, and the functionality is unhindered by the 7 inch display. I can't wait for a proper tablet that's designed to actually run this.
Onto functional changes that weren't broadly mentioned yet. On the bottom bar, right side, you have the clock, network quality indicator and battery indicator. Tapping that brings up a little popup with the same features, but including the day and date, network name and percentage indicator for the battery. Tapping the corner of this new 'window' brings up quick settings. You can toggle airplane more, lockscreen orientation lock and notifications, change the brightness, go into full Wifi settings and go to the overall settings menu.
The browser also has some unexplored gems. It now syncs with your desktop or laptop install of Chrome – the option is nested inside the Browser, though so far pressing it doesn't do anything. There's also an Autofill option that'll let you fill in your personal details such as name, company info, address, phone number and email, separated in fields much like those you'll find on websites when you're filling in your info to sign up or have stuff shipped to you. Also, there's a Quick Controls function (inside the Labs submenu, so I assume it's experimental or something) that'll bring up a half-circle packed with quick access to back, forward, reload, the address bar, bookmarks, new tab and options. When enabled, however, the top portion of the browser disappears and you get a full screen page view without any apparent way of getting access to the normal tab switching and the like.
You might have already seen the tabbed, iPad-esque email client and the scrollable widget, but there's an interesting feature about the latter. Tapping the top left icon toggles between your accounts and the top folders inside them – Inbox, Sent and the like. The app drawer is sort of similar, in that it has a tab for all apps and one just for downloaded ones. It would be kind of cool if you could create your own labels and drag and drop apps, but someone will cook that up, I would assume.
Another interesting thing is the fact that Google seems to have learned some lessons from popular Launcher replacements such as Launcher Pro and ADW. Inside the app drawer you can not only drag an icon onto the homescreen, bypassing the long-press routine of adding apps to the homescreen, but also drag them into the top right corner to uninstall quickly without the nagging questions you encounter in the market. App installs have been streamlined too. When you download an apk from the internet, you can find it in a centralized download 'app', tap it and just hit install. It shows all permissions in a mini popup dialog with the install and cancel button and there's nothing else to it. I haven't bothered doing all the work to install the market application onto the hacked 3.0, but rumor has it we're getting a new market anyway – entirely plausible, if not just for the fact that the Honeycomb color of choice is blue, not green.
That's all I found for now, but once the full SDK hits the Google channels and devs like deeper-blue take more time to make this happen on other devices, I'll take a closer look. It's promising that a pre-release hack version running on sub-par hardware manages to impress this much and it gives me hope that Honeycomb will be all the rave this year. With what I've already seen, I can safely say that unless Apple reinvents the wheel with the new iPad software-wise, Honeycomb is taking this one home.
Update: I noticed one more thing that I hadn't thought of. If you were wondering about the lack of a menu key on the bottom bar and how it influences apps, know now that it doesn't. I got Pulse and the Market installed, both apps that have hidden functions only accessible by pressing the menu key and what happens when you open them is that you get a fourth key with a different icon, but same functionality as the meny key gives now. The options menu that pops up inside both apps I mentioned also doesn't stretch across the width or lenght of the device, depending on orientation, but retains it's original pixel width, only covering part of the bottom of the screen.
Image: Android developer site