Nothing Phone (2) vs Galaxy S23: Which Offers the Best Premium Bang-for-the-Buck?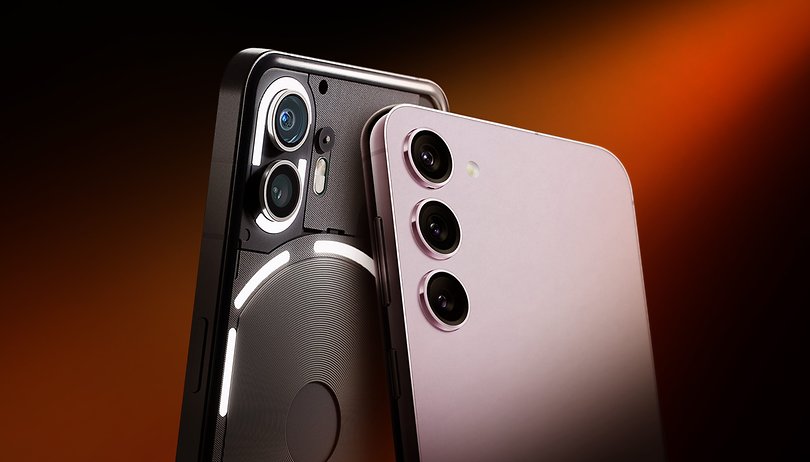 The Nothing Phone (2) brings a breath of fresh air to the Android smartphone market, not only with its interesting design but also with a good balance between specifications and price. After testing the phone, we thought it was time to put it head-to-head against one of the most popular Android flagships, the Galaxy S23. Let's find out how they fare in performance, battery, camera, and other purchase factors.
With the Phone (2), Nothing stepped right into the tough Android flagship market, following the steps of OnePlus before it—both companies were co-founded by Carl Pei, so no surprises there. So before delving into the Nothing Phone (2)'s value proposition, we will take a look at the main specifications for both phones:
The New Challenger
Traditional Flagship
Product
Picture

Launch MSRP
$599.00
$799.00
Display
6.7" LTPO OLED
6.1" OLED
2,412 x 1,080 pixels (394 PPI)
2,340 x 1,080 pixels (425 PPI)
1 ~ 120 Hz variable refresh rate
120 Hz refresh rate
SoC
Qualcomm Snapdragon 8+ Gen 1
1x Cortex-X2 @ 3.0 GHz
3x Cortex-A710 @ 2.5 GHz
4x Cortex-A510 @ 1.8 GHz

Adreno 730 GPU
Qualcomm Snapdragon 8 Gen 2
1x Cortex-X3 @ 3.36 GHz
2x Cortex-A715 @ 2.8 GHz
2x Cortex-A710 @ 2.8 GHz
3x Cortex-A510 @ 2.0 GHz
Adreno 740 GPU
RAM
8 / 12 GB
8 GB LPDDR5X
Storage
128 / 256 / 512 GB UFS 3.1
128 GB UFS 3.1 / 256 GB UFS 4.0
Expandable memory
❌
❌
OS
Nothing OS 2 based on Android 13
Three years of Android updates
Four years of security updates
One UI 5.1 based on Android 13
Four years of Android updates
Five years of security updates
Camera
Main: 50 MP, 1/1.56'', f/1.88, OIS
Ultra-wide angle: 50 MP, 1/2.76'', f/2.2, 114° FoV

Main: 50 MP, 1/1.56'', f/1.8, OIS
Ultra-wide angle: 12 MP, 1/2.55'', f/2.2, 120° FoV
3x telephoto: 10 MP, 1/3.94'', f/2.4
Selfie camera
32 MP, 1/2.74'', f/2.45
12 MP, f/2.2
Battery
4,700 mAh
Wired charging: 45 W
Wireless charging 15 W
Reverse charging: 5 W
3,900 mAh
Wired charging: 25 W
Wireless charging 15 W
Reverse charging: 4.5 W
Connectivity
5G / LTE / Wi-Fi 6 / Wi-Fi Direct / Bluetooth 5.3 / NFC
5G / LTE / eSIM / Wi-Fi 6E / Wi-Fi Direct / Bluetooth 5.3 / NFC
eSIM
❌
✔️
IP Certification
IP54
IP68
Colors
Dark gray, white
Phantom Black, Cream, Green, and Lavender
Graphite and Lime (Samsung store exclusives)
Dimensions and weight
162.1 x 76.4 x 8.6 mm | 201.2 g
6.38 x 3.0 x 0.34 in | 7.09 oz
146.3 x 70.9 x 7.6 mm | 168 g
5.76 x 2.79 x 0.30 in | 5.93 oz
Good

Beautiful OLED LTPO 120 Hz screen
Almost unchanged but still very cool design
Glyph interface a little less gimmicky
Three Android updates + four years of security updates
Excellent autonomy
Wireless and reverse wireless charging

Compact and good haptic feedback
Outstanding display
Very good performance
Excellent picture quality
Larger battery (compared to its predecessor)
More earth-friendly inclusions

Bad

Average photo quality
IP54 certified only
Aggressive thermal throttling
No charger included

No LTPO display
Charging speed is archaic
No UWB
No microSD support
No 3.5mm audio port

Rating

Read the Nothing Phone (2) review

Read the Samsung Galaxy S23 review
Offers*
After all that raw data, let's see if the numbers above correlate with our experience reviewing the phones.
Table of Contents:
Display and design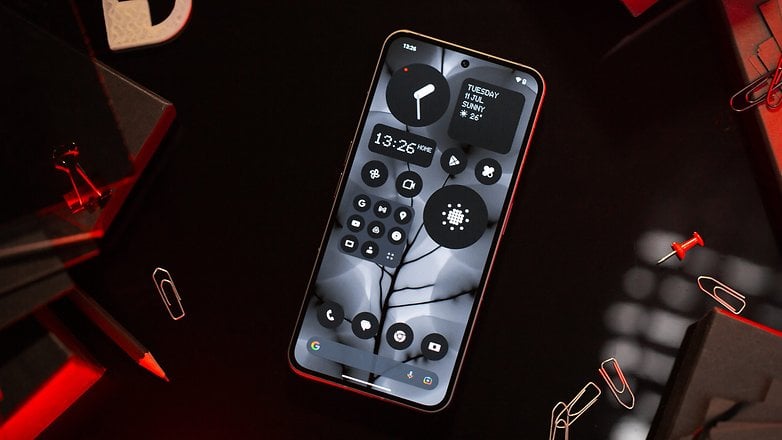 Despite Samsung's fame when it comes to displays, particularly OLED ones, it is actually the Nothing Phone (2) that wins the display category. Not only that, the design brought by the startup is fresh and bold, to the point of even inspiring cases for other phones based on Nothing's style.
Although both phones use shiny and fast OLED panels, the Nothing Phone (2) uses an LTPO-equipped one. The result is that the phone can switch its refresh rate between 1 and 120 Hz, offering smooth animations when scrolling a page or playing games, or simply saving battery when displaying a static page or image, for example.
The display size is a matter of preference, but the Galaxy S23 is much more pocketable due to its 6.1'' display, versus the big 6.7'' screen on the Nothing Phone (2). If you are looking for a big-screened flagship phone, Samsung will gladly sell you the S23+, which usually costs $100 over the vanilla S23 price.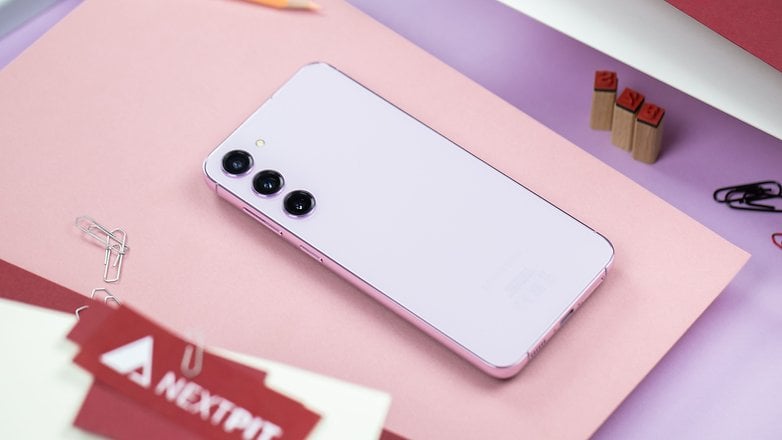 On the design front, the companies followed different directions: Samsung went for a sober style, while Nothing doubled-down on transparency—to the point that it takes a keen eye to differentiate between the Phone (1) and (2). Both phones feature an aluminum frame and have Gorilla Glass on both the front and the back, but only the Galaxy S23 is IP68 rated for dust and water resistance, the Nothing Phone (2) is only splash resistant with its IP54 rating.
Performance and connectivity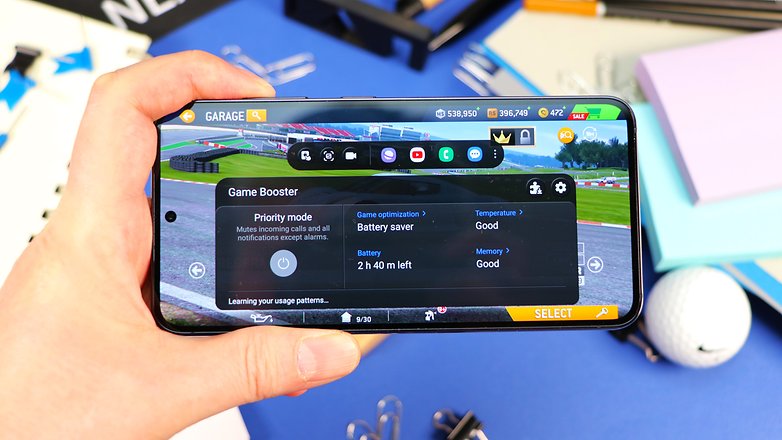 Performance-wise, the Galaxy S23 on paper would win easily against the Nothing Phone (2) but that is not the case. Despite featuring an overclocked version of Qualcomm's latest high-end processor—the Snapdragon 8 Gen 2—the Galaxy S23 doesn't really perform noticeably faster than 2022's Snapdragon 8+ Gen 1, both made with TSMC's N4 (4 nm-class) process.
Nothing Phone (2)
(Snapdragon 8+ Gen 1)
Samsung Galaxy S23
(Snapdragon 8 Gen 2 Galaxy)
3DMark Wild Life
3DMark Wild Life Stress Test

Best loop: 10436
Worst loop: 6316

Best loop: 11049
Worst loop: 6169

Geekbench

Geekbench 6
Single: 1712
Multi: 4521

Geekbench 5
Single: 1537
Multi: 4807
3DMark testing showed that both phones have more than enough horsepower for the latest games. The stress test benchmark that simulates a longer gaming session, however, gives us a hint that the overclocked Snapdragon on the S23 is hitting a thermal limit faster, resulting in lower "worst" scores. That may be a combination of the higher clocks on the S23 with its smaller body, with less surface area to dissipate heat.
GeekBench numbers are not comparable between the phones as we upgraded the app version right after the S23 review. Regardless, both phones offer more than enough performance for a couple of years of regular use, including multimedia streaming, video calls with live effects, social media browsing, and even heavier tasks like video editing on the go.
Cameras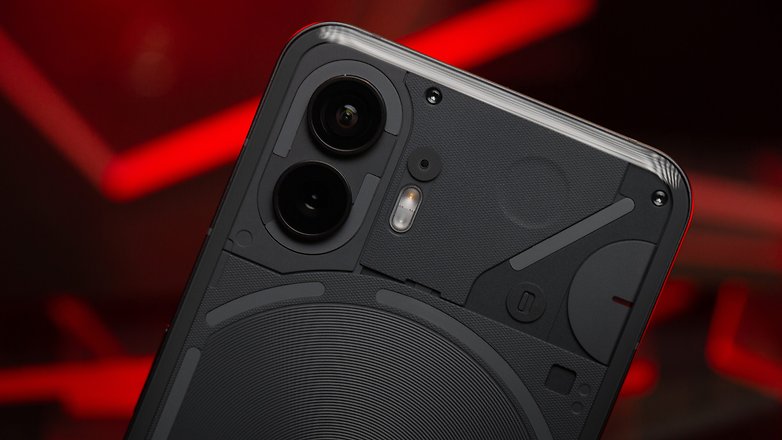 On paper, the camera module is one of the Nothing Phone (2)'s weak points, and nextpit's editor Antoine Engels confirmed our fears in his review. The newcomer packs a wide and ultra-wide combo that offers decent results but lacks the versatility offered by the S23's 3x zoom telephoto lens. So zoom shots need to be done through digital effects or, better yet, walking.
Nothing Phone (2) sample photos
Galaxy S23 sample photos
Both main cameras feature a 50-megapixel resolution on a similarly sized 1/1.56'' sensor. The colors on the Galaxy S23 had the usual saturated look, even on the gloomy February days the pictures above were taken. One noticeable thing was the difference in dynamic range (how the camera deals with scenes with both dark and bright spots, roughly speaking), in which the S23 performed better.
As for the always important night photos, another win for the Galaxy S23, at least according to my colleagues, with a slight loss of detail and blurriness on the Nothing Phone (2), while the Samsung flagship impressed Matt Zellmer with the colors he couldn't find on the (February) day shots.
Software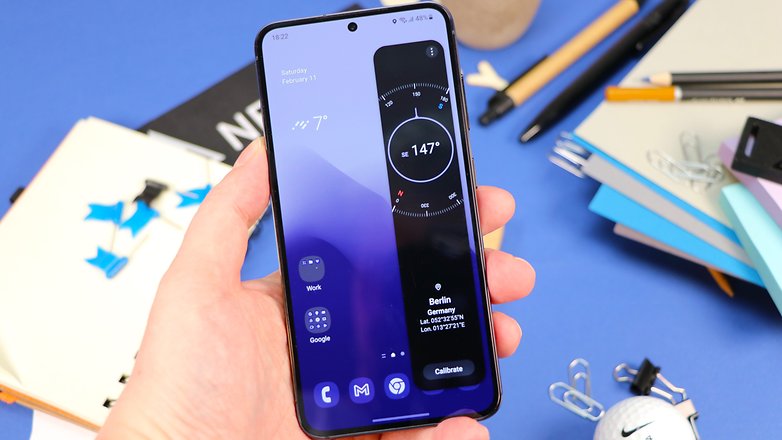 Both phones run the latest Android 13 operating system (OS) but that is where the similarities end. Samsung uses its now traditional One UI skin that heavily transforms the stock interface, while Nothing applied small but futuristic touches all over its Nothing OS, which was greatly appreciated by my colleague Antoine.
Fans of the stock Android experience will feel at home with the Phone (2) interface and behavior, which will pose no challenge for someone migrating from a Pixel phone or other Android skins. Samsung, on the other hand, has its big head start and market share as an advantage, so the S23 will feel familiar to anyone who used a recent Galaxy phone in the past five years. Overall, it is still a matter of taste.
Samsung also has the advantage of its bigger device ecosystem, which integrates better with its own Galaxy phones. Nothing, however, is slowly growing its market presence but is already praised for how mature its Nothing OS feels in daily use. Besides that, the system offers truly exclusive features such as the customization options made available by its Glyph interface.
One definite advantage for the Galaxy S23 over the Nothing Phone (2) on the software side is the fact that Samsung promises four Android upgrades and five years of security updates for its flagship phone, while Nothing is committed to one version/year less.
It should be noted, however, that Samsung usually slows down the frequency of security patches in the later years of the policy and also that the Nothing Phone (2) was released almost 6 months after the S23, so the Galaxy will receive security updates for roughly 6 months more than the Nothing smartphone.
Battery and Charging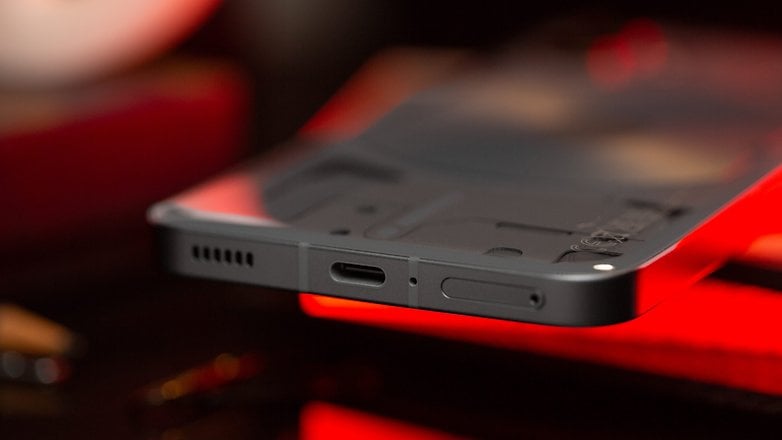 Nothing put the Phone (2)'s bigger frame to good use when it came to battery capacity, with a 4700 mAh component on its 2023 model, 20% bigger than the 3900 mAh battery used on the Galaxy S23. In practice, our reviews found that you can expect a day and a half of regular usage from the Nothing Phone (2), while the S23 will probably require charging every night.
Speaking of charging, none of the contenders include an adapter in the box and both are compatible with wireless charging at up to 15 W and reverse wireless charging (to top up earbuds or a friend's phone, for example). When using a cable, however, the Nothing Phone (2) easily beats the Samsung Galaxy S23 with up to 45 W of input versus a humble 25 W.
So, if you have a charger compatible with the full input power available to the phones, expect to see charging times of next to one and two hours, respectively, for the Nothing Phone (2) and Samsung Galaxy S23.
Price and availability
In this dual category, we have a tie. While the Nothing Phone (2) wins when it comes to price—$599 vs $799 for the S23—, the newcomer still can't be found as an option to buy with a carrier contract, something that Samsung is only bested by Apple in most countries.
Additionally, due to its 5-month head start, the Galaxy S23 is already offered with some discounts on online stores, but not enough to make it as cheap as the Nothing Phone (2). In the table below we list the available memory capacities and the manufacturer-suggested retail price (MSRP), with the S23+ prices as a reference.
| | | | |
| --- | --- | --- | --- |
| | Nothing Phone (2) | Samsung Galaxy S23 | Samsung Galaxy S23+ |
| 8+128 GB | | | |
| 8+256 GB | | | |
| 8+512 GB | | | |
| 12+256 GB | | | |
| 12+512 GB | | | |
Conclusion
With traditional flagship phones getting more expensive in the past years, the arrival of the Nothing Phone (2) feels like a much-needed change of pace, with a good balance between features, specifications, user experience, and price. Just as a reminder, the base-spec S23 has the same MSRP as the highest-spec Nothing Phone (2).
The Galaxy S23's advantages lie in the already strong integrations with other Galaxy devices, a more versatile camera with optical zoom, and the longer update policy. Also, those who prefer a more compact phone will probably opt for the Samsung offering. Besides that, as of the publishing time, no US carrier listed the Nothing Phone (2) for sale with a phone plan contract.
Nothing is following many of the same strategies that made OnePlus popular in its early years, with a value proposition offering a flagship experience. With the Chinese company slowly folding back to its Oppo mothership, all signs point to a natural new home for those who #neversettle.
Samsung, on the other hand, played it safe with the Galaxy S23 at the same time increasing its price in many countries, setting the stage for a forceful buying argument in favor of the cheaper newcomer. So if you are looking for the ultimate bang for the buck, the clear answer is the Nothing Phone (2), unless you favor the categories above in which the S23 fared better...
What about you? Are you ready to give the startup a chance? Or would you rather stay in (or jump into) an already-established ecosystem? Do you think the Nothing Phone (2) has what it takes to challenge the status quo, or will it simply follow OnePlus' steps? Share your views in the comments below.