Nothing Phone (2) Review: You Can't Change a Winning Team Too Much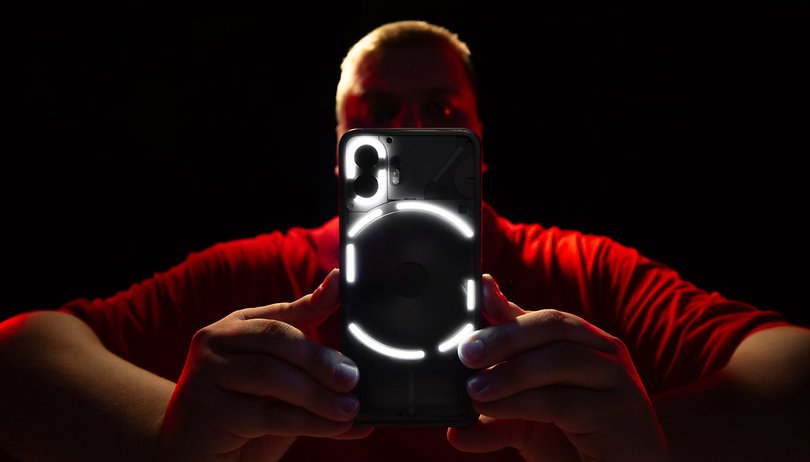 I tested the Nothing Phone (2) for nextpit. The new smartphone from Carl Pei's brand is much more upmarket than last year's Nothing Phone (1). Do the new Snapdragon 8+ Gen 1 SoC, reworked Glyph interface and Nothing OS 2.0 justify the Nothing Phone (2)'s price increase? I give you my honest opinion in this full review.
Good
Beautiful OLED LTPO 120 Hz screen

Almost unchanged but still very cool design

Glyph interface a little less gimmicky

Three Android updates + four years of security updates

Excellent autonomy

Wireless and reverse wireless charging
Bad
Average photo quality

IP54 certified only

Aggressive thermal clamping

No charger included
Nothing Phone (2): All deals
The Nothing Phone (2) in a nutshell
The Nothing Phone (2) has been officially unveiled on July 11, 2023, with it going on sale officially starting on July 17. The smartphone will arrive in the US in two colors: black and white, just like before. It also comes in three configurations:
8/128 GB: $599
12/256 GB: $699
12/512 GB: $799
The Nothing Phone (2) has every intent of occupying a more premium space than its predecessor, the Nothing Phone (1) (review). The manufacturer included a more powerful SoC in the form of the Snapdragon 8+ Gen 1. However, many of the components listed in the technical specifications remained the same, at least in terms of how they look.
Is the Nothing Phone (2) a genuine Android flagship? How does it stack up against rivals like the Samsung Galaxy S23, Google Pixel 7, and iPhone 14?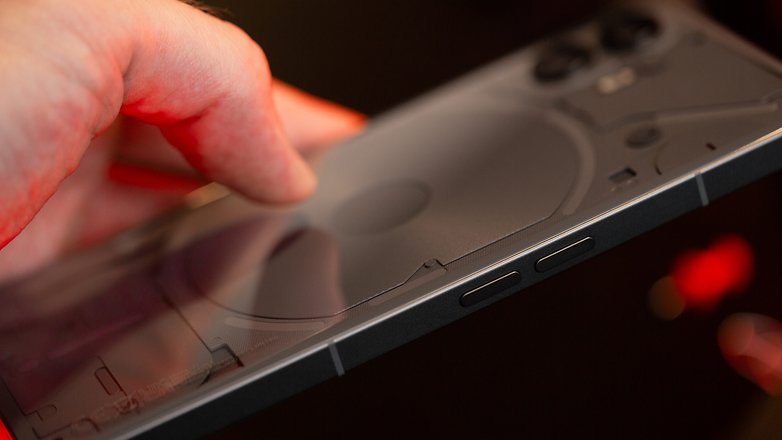 Nothing Phone (2) design and build quality
The design of the Nothing Phone (2) has not evolved much from that of the Nothing Phone (1).
---
Pros:
Corning Gorilla Glass 5 in front and at the back rear.
Aluminum chassis.
Flat display.
Stereo speakers.
Cons:
IP54 certification only.
No design improvement.
---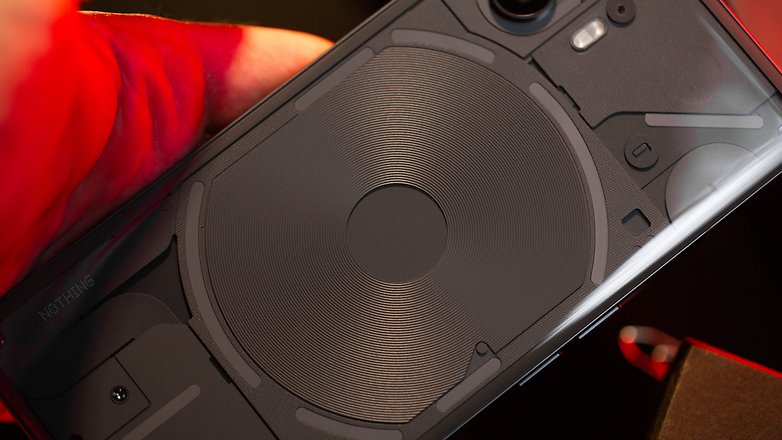 The Nothing Phone (2) essentially carries the same design as the Nothing Phone (1). I guess you can safely say that Nothing did not try too hard to change it, but one cannot help but wonder just how else the manufacturer could have tweaked the design.
I still love the transparent look. The smartphone is protected by Corning Gorilla Glass 5 in front and at the back. The Nothing Phone (2)'s chassis is made of recycled aluminum for that added elegance.
The smartphone is slightly thinner than its predecessor with a slightly more rounded back accompanied by a hint of curved edges. This design evoked the impression of having a transparent shell. I preferred the flat side of the Nothing Phone (1) because it felt like a showcase of sorts when viewed from behind, letting you see the different components used within.
This slightly more rounded back also carries a more premium and mature look. Nothing claimed to have increased the detail resolution of each visible component while reducing the "empty" spaces between each of them. Honestly, no one will actually notice these details unless they hold up a magnifying glass.
In passing, I regret that the smartphone is only certified IP54 for water and dust resistance. A true flagship should be IP67 or even IP68 certified.
Nothing Phone (2) display
The Nothing Phone (2) screen is a 6.7-inch Oled panel with 2412 x 1080p resolution. It incorporates LTPO technology and can vary the refresh rate between 1 and 120 Hz, depending on the scenario.
---
Pros:
120 Hz LTPO refresh rate
No curved edges
Reworked lock screen and AOD
Good brightness
Cons:
Colorimetry a little dull in Standard mode
---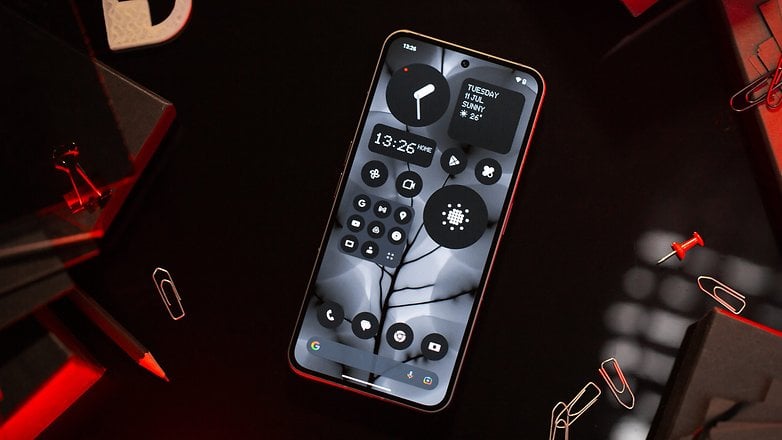 According to the manufacturer, maximum brightness is 1600 nits. In real use, it's probably less than that, but I don't (yet) have the tools to measure it precisely.
Overall, I had no problems with visibility in bright sunlight, even with the Nothing theme of Nothing OS 2.0, which is really very dark with the dark mode activated. The Nothing Phone (2) screen is also quite responsive, with a touch sampling rate of 240 Hz. Colorimetry is fairly accurate in Active mode.
And many of you will appreciate the fact that the screen is flat and therefore has no curved edges. Nothing has also improved the customization of the screen saver and Always on Display.
The Nothing Phone (2) can now display widgets and shortcuts on the lock screen. This is very practical, and makes more use of the screen.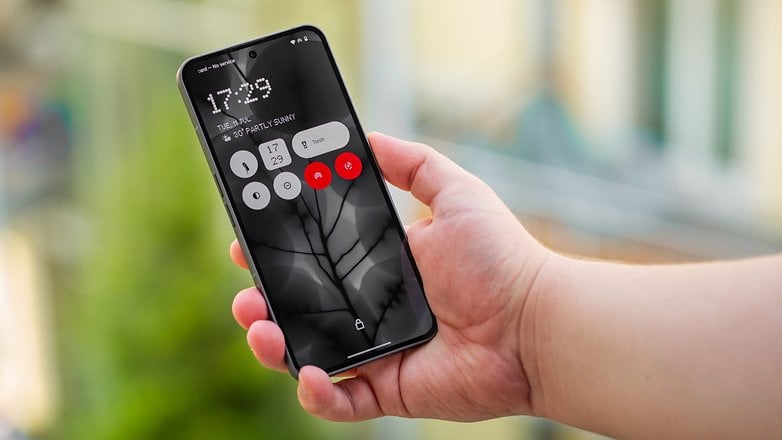 The Glyph interface
The Nothing Phone (2) still features the famous Glyph interface, sporting LEDs at the back that create different visual notifications. The manufacturer reduced the number of components for this interface this round, offering more combinations of sounds and animations instead.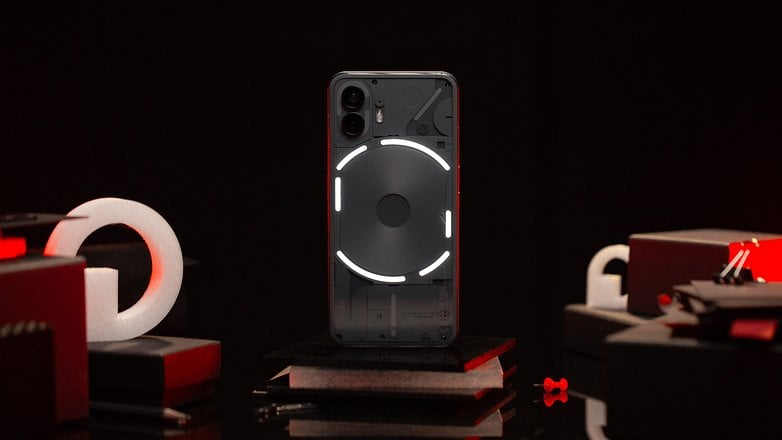 However, the primary new feature is the ability to create your own Glyphs. It makes you wonder why Nothing didn't offer this from the beginning on the Nothing Phone (1).
With the Glyph Composer function, you can create your own patterns. You can choose from five types of sound, with each offering five types of rhythm and key variations.
You then have ten seconds to record your composition live. Furthermore, you can combine this composition with a corresponding light animation associated with said Glyph, connecting it to a contact or application.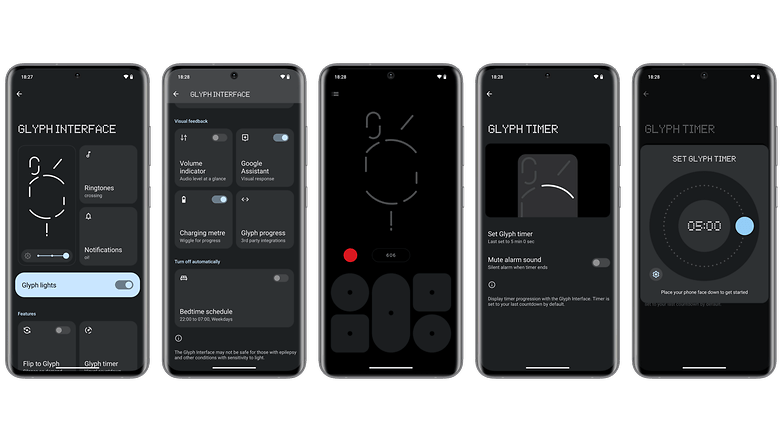 It is silly but brilliant at the same time. I spent an hour during my review trying to reproduce the opening notes of Mario's theme song. You need to understand the different variations of each type of sound to combine them effectively.
Personally, I love the concept of gamifying a simple setting in the parameters. It all sounds very silly, but it added an enormous amount of depth to the user experience. Apart from that, it is just plain fun. My only regret is that I cannot combine different types of sound at the moment.
Another interesting new feature is how Nothing will be offering a new pack of ringtones and animations every quarter in collaboration with artists. The first pack was produced by Swedish House Mafia. Every three months, a new pack will be launched. I think that is an excellent idea on paper, especially when these packs will be added to the Glyph Composer, allowing you to bring more variation to your creations.
Finally, Nothing offers a feature called Glyph Timer. It's a simple timer, but it allows you to visually display the countdown via an LED on the back of the smartphone. Once the timer is set, you can lay the Nothing Phone (2) flat, with the screen face down, and you can see a light bar emptying as the timer's allotted time runs out.
Handy for cooking pasta or eggs. Personally, I'm thinking it could also be useful in terms of productivity, like a Pomodoro timer.
Interface/OS
The Nothing Phone (2) is powered by Nothing OS 2.0, which is a skin based on Android 13. Nothing guarantees up to three major Android updates and four years of security updates.
---
Pros:
3 major Android upgrades and 4 years of security updates.
New, more comprehensive widgets.
More extensive Nothing theme than ever before.
No bloatware included.
Cons:
---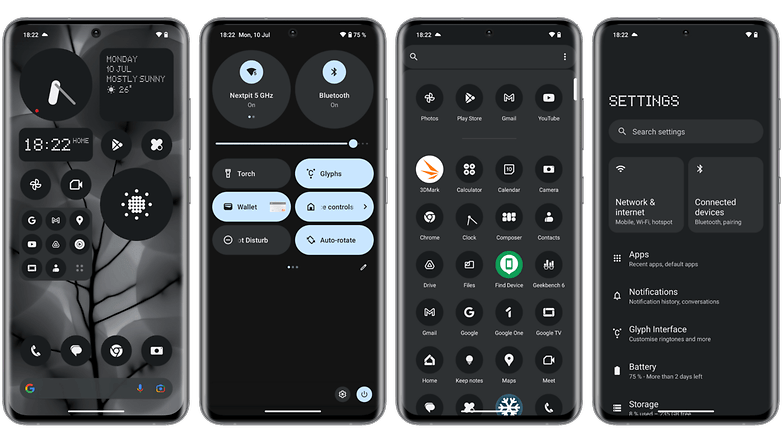 Nothing has gone to a little more trouble this year to offer a more themed-centric interface that is in line with the brand's design language. The Nothing theme is applied to the entire interface and to application icons (with the exception of a few third-party applications).
Nothing also included the full range of Android 13 customization options, with dynamic themes that apply the dominant background color to the entire interface.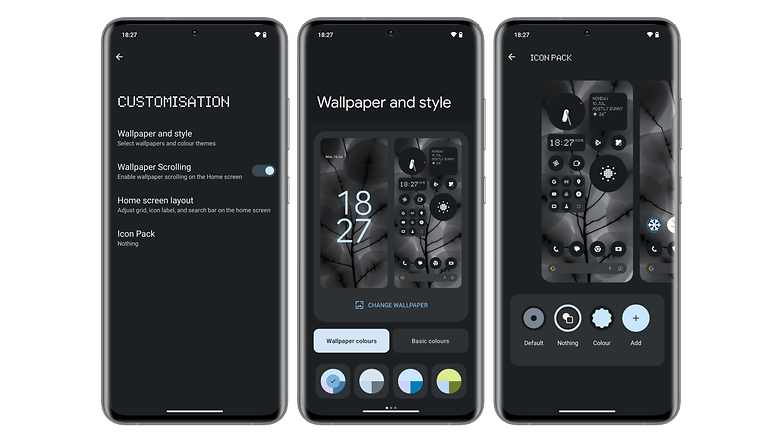 But there are also additional widgets that can be added to the lock screen. You can add weather and other widgets, but it's the ability to add system shortcuts that I find particularly interesting. No need to scroll down to display the quick access menu. Just tap the screen to wake it up, and all your favorite shortcuts are at your fingertips.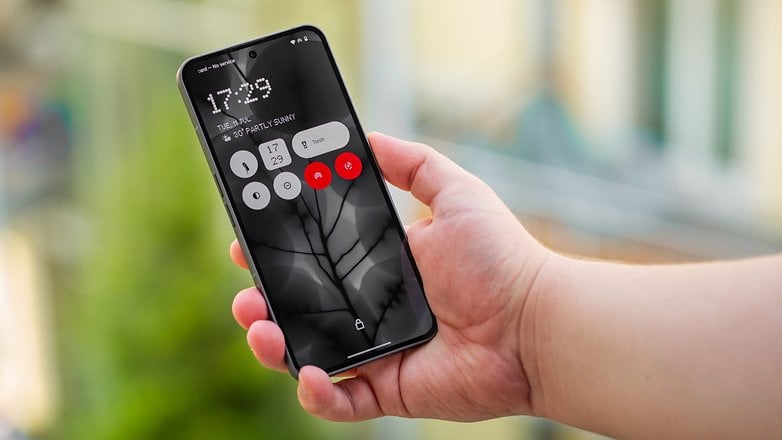 Visually, I think it looks great. Some widgets even feature new animations to display more information.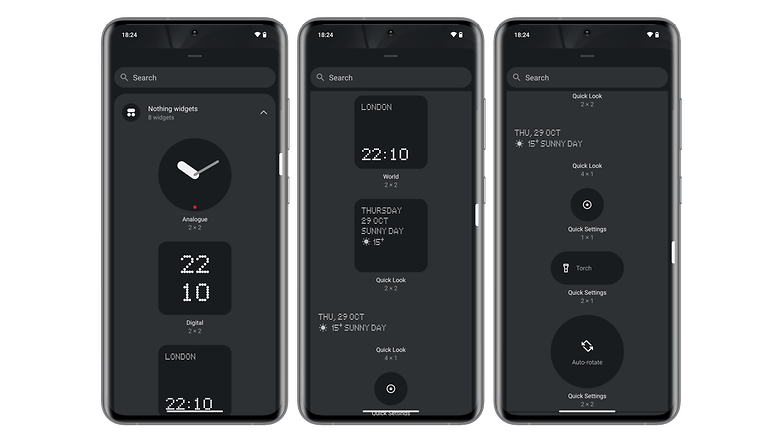 With the weather application, you can swipe the widget to display the current temperature and the max/min forecast for the day, for instance. Of course, you can adjust the widget size, with the giant application icons being there still.
I had no stability issues during my test, and my model has the June security patch at the time of writing. I'll be bringing you a full review of Nothing OS 2.0 shortly.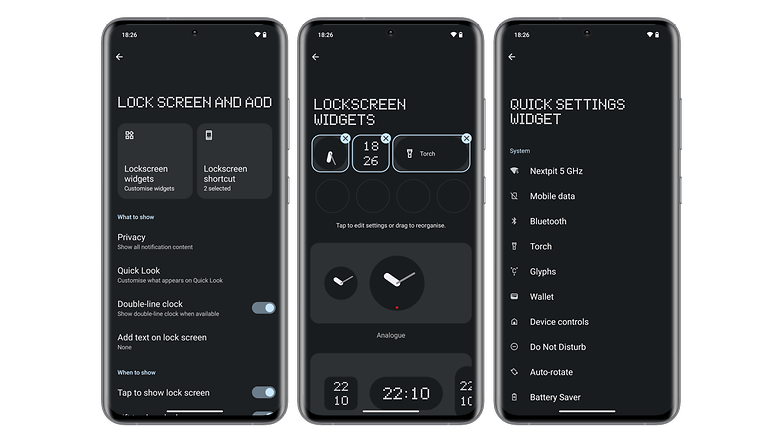 Performance
The Nothing Phone (2) features Qualcomm's Snapdragon 8+ Gen 1 SoC underneath the hood. This is a far more powerful chip than the Nothing Phone (1)'s Snapdragon 778G+.
---
Pros:
Consistent performance for its SoC.
Significantly higher performance than the Nothing Phone (1).
Cons:
Aggressive thermal bridging on benchmarks.
---
In terms of raw performance, the Nothing Phone (2) achieves fairly consistent scores on our benchmarks compared with other Snapdragon 8+ Gen 1-equipped smartphones.
Most notably, the gap between the best and worst loops on the 3DMark Wild Life Stress Test benchmark is significantly greater on Nothing than on the OnePlus 10T. Thermal bridging must therefore be more aggressive on the Nothing Phone (2).
Nothing Phone (2)
Snapdragon 8+ Gen 1
Poco F5 Pro
Snapdragon 8+ Gen 1
OnePlus 10T
Snapdragon 8+ Gen 1
Samsung Galaxy Z Flip 4
Snapdragon 8+ Gen 1
3DMark Wild Life
Too powerful
Blocked
Too powerful
Too powerful
3DMark Wild Life Extreme
2789
Untested
1540
2717
3DMark Wild Life Stress Test

Best loop: 10.436
Worst loop: 6316

Best loop: 10.250
Worst loop: 6101

Best loop: 10.476
Worst loop: 9583

Best loop: 10.356
Worst loop: 4948

3DMark Wild Life Stress Test Extreme

Best loop: 2793
Worst loop: 1687

Not tested

Best loop: 1559
Worst loop: 1105

Best loop: 2184
Worst loop: 1347

Geekbench 5/6
Let's take a look at the detailed results of the 3DMark Wild Life Stress Test benchmark, which simulates 20 minutes of intense use. We can see that after 400 seconds, i.e. 6.67 minutes, the frame rate drops off considerably, with large punctual drops at 600 and 1000 seconds.
It's the thermal clamping that does its job to prevent the smartphone from overheating. During the test, the Nothing Phone (2) did not exceed 40 °C. I didn't feel any overheating in my hands.
And in actual use, I had no trouble playing at 60 FPS on most of my mobile games. Nor did I notice any major FPS drops during my gaming sessions.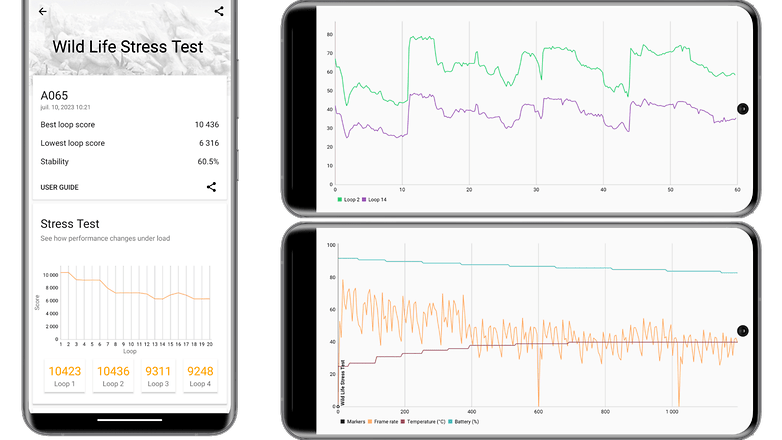 Nothing Phone (2) camera
The Nothing Phone (2) continues to feature a dual photo module, but without a telephoto lens. There's a 50 MP main lens and a 50 MP ultra-wide-angle lens. The selfie camera offers 32 MP resolution.
---
Pros:
Correct level of detail.
Efficient selfie lens.
Clean outlining in portrait mode.
4K video at 60 FPS.
Cons:
Unbalanced dynamic range.
Limited digital zoom.
1080p selfie video only.
---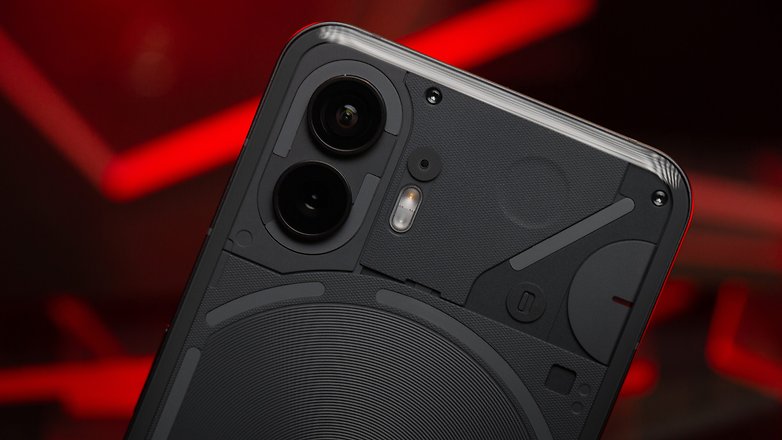 I think Nothing should have integrated a dedicated telephoto lens into its photo module. The Nothing Phone (2) is supposed to be a flagship. It is more expensive than its predecessor. Its photo module should illustrate this move upmarket.
The main 50 MP lens is based on a Sony IMX890 sensor with optical stabilization (OIS) and features an f/1.88 aperture. The ultra-wide-angle lens incorporates a Samsung JN1 sensor and offers an f/2.2 aperture and a 114° field of view.
During the day, wide-angle and ultra-wide-angle photos are fairly average for this price range. Detail levels are decent, but the smartphone struggles to manage dynamic range.
Mixed-contrast photos are either overexposed or drowned out by shadows. Strangely enough, I found the exposure much better with the x2 zoom of the main lens. I also noted some colorimetric inconsistencies between the wide-angle and ultra-wide-angle shots.
The purely digital zoom of the Nothing Phone (2) is unsurprisingly unimpressive. It's a real shame not to have a dedicated telephoto lens on a 700-euro smartphone. Beyond x2 magnification, the loss of detail is noticeable. And fortunately, the maximum zoom is limited to x10.
At night, the shots are quite natural. Sometimes even a little too much, with a fairly noticeable loss of detail, which makes night photos a little blurry.
Behind the 32 MP selfie lens is a Sony IMX615 sensor with an f/2.45 aperture. I found the quality of the selfies to be good. You can take ultra-wide-angle selfies, and the portrait mode is also pretty decent. In fact, portrait photos offer clean cropping, but there are the same exposure problems as in normal mode.
A word about the macro mode of the ultra-wide-angle lens. I was surprised by the quality and level of detail of my photos. It's pretty cool considering it's a simple mode and not a dedicated macro sensor.
Finally, the Nothing Phone (2) can film in 4K at 60 FPS with the two lenses on the back. The selfie camera is locked at 1080p at 60 FPS.
Video clip with the main lens in 4K at 60 FPS
Video clip with selfie lens in 1080p at 60 FPS
Nothing Phone (2) battery
The Nothing Phone (2) boasts a 4,700 mAh battery, which is 200 mAh more than the Nothing Phone (1). It still accepts 45W wired charging, 15W wireless charging, and 5W reverse wireless charging.
---
Pros:
Excellent autonomy.
Wireless and reverse wireless charging.
Cons:
Charger unit not included.
45 W charging could be faster.
---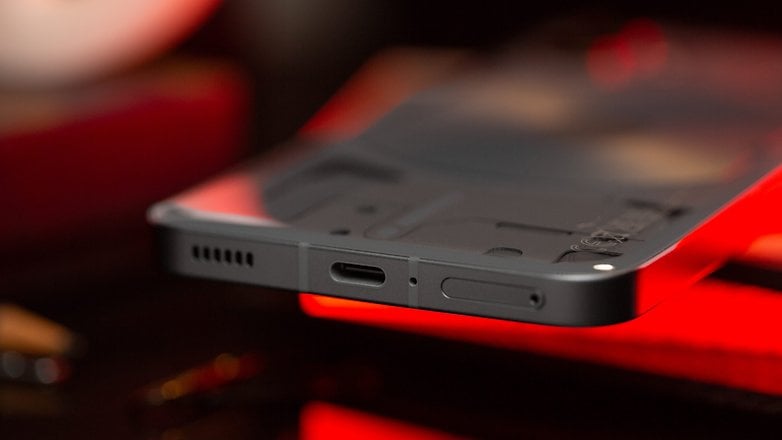 I applaud the fact that Nothing has increased its battery charge capacity compared with the previous model. I've been using the Nothing Phone (1) as a daily for almost a year. And I've always found the autonomy very solid.
And with the Nothing Phone (2), I still have the same positive impression. I submitted it to PC Mark's autonomy benchmark. It lasted 16 hours and 35 minutes before dropping below 20% battery life.
This is an excellent score which puts it at the top end of the range in this price bracket. In practical use, you can easily last a day and a half on a single charge with conventional use.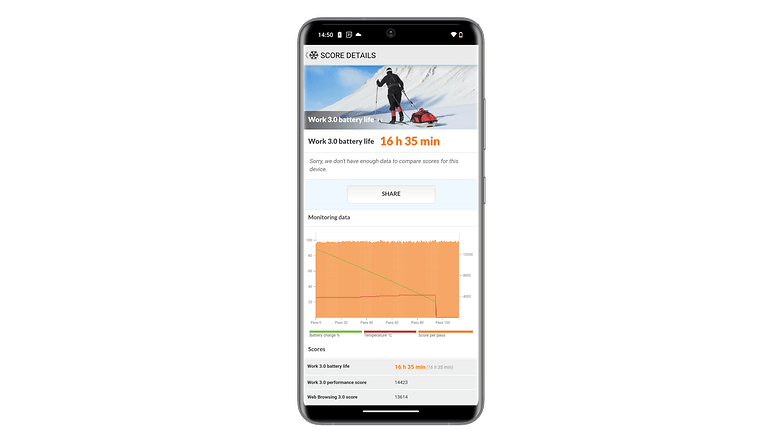 I find that Nothing could have offered a slightly faster charging system. But I'm happy to be able to use the reverse wireless charging system to charge my Nothing Ear (2) (test) on the back of the phone. For a full charge, expect to spend just under an hour.
Nothing Phone (2) technical specifications
Nothing Phone (2)—Technical specifications
Photo
Screen
OLED 6.7 " | LTPO | 2412 x 1080 p | 120 Hz | 1600 nits
Dimensions & weight
162.1 × 76.4 × 8.6 mm | 201.2 g
Colors
White, black
SoC
Qualcomm Snapdragon 8+ Gen 1
Memory
12 GB RAM
128/256 GB storage
OS
Nothing OS 2.0 based on Android 13
microSD
❌
Dual SIM
✔️
eSIM
✔️
Photo module
Main lens: 50 MP | f/1.88 | OIS
Ultra-wide angle: 50 MP | f/2.2 | FOV 114
Selfie lens
32 MP | f/2.45
Audio
2 stereo speakers
No 3.5 mm jack
Battery
4700 mAh
Charging
Wired: 45 W | Wireless: 15 W | Reverse wireless: 5 W
IP certification
IP54
Connectivity
Wi-Fi 6 | Wi-Fi Direct | Bluetooth 5.3 | NFC
Final verdict
Is the Nothing Phone (2) a true Android flagship? Almost, but not quite, in my opinion. I find it still a notch below a Samsung Galaxy S23, an iPhone 14 or a Xiaomi 13.
Admittedly, these models were more expensive than the Nothing Phone (2) at launch. But they have since come down in price, and are indeed direct competitors to the almost-flagship Nothing.
Nevertheless, it's impossible to deny that the Nothing Phone (1) of last year has clearly moved upmarket. Nothing has only been around for four years.
The design is more mature, the screen is very clean, the Glyphe interface is a little less gimmicky, performance is totally consistent and Nothing OS 2.0 is well on the way to becoming my favorite Android overlay.
Nothing still has some work to do on photo quality, however. You need a telephoto lens on a high-end smartphone in 2023.
In any case, in absolute terms, I can totally recommend the Nothing Phone (2). And I intend to use it on a daily basis for a long time to come, just like the Nothing Phone (1) before it. Yes, I'm a fanboy, but so what? Your smartphone has really cool LEDs, doesn't it? I don't think it does.