Whoops! Samsung Accidentally Reveals the Galaxy Note 10.1 Tablet?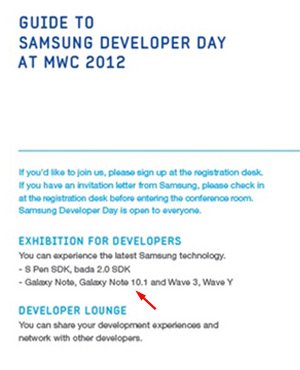 (Picture from TheVerge)
My oh my what have we here? This might be a bit bad for Samsung and the unlucky person who accidentally leaked this invitation (if it was indeed an accident), but it's sure as hell great news for myself and all the other Samsung Galaxy Tab owners :-D! It would SEEM that Samsung has revealed on their website the name of a previously undiscussed product: The Samsung Galaxy Note 10.1. I have heard NO mention of this device before today, which is why this really seems like an accidental leak from Samsung's side. If it is, somebody is probably packing their desk right now, but man oh man is this good news for anyone looking to get their hands on an Android tablet!
The name of the device appears on the Samsung company invitation to Samsung Developer Day at MWC, and it's sitting right next to the original Galaxy Note (see picture above). The Verge reported that after doing some digging they found a casting call from Samsung for a commercial inviting a teenage student to audition for the role of using the device. This information has been removed from Samsung's website, which really makes me think that it was indeed an accidental leak, and even better, that it contained accurate information.
I can certainly understand how fans of the original Note could see the value of having the 10.1 screen. I LOVE my Galaxy Tab 10.1, and if the new Note 10.1 will have a quad core processor, Ice Cream Sandwich, and a bit more RAM, I might have just found my next tablet.
More details as they come!