Get a free Moto E (2015) when you buy a Moto X (2014) from Motorola In the mother of all free bonuses, Motorola is currently offering a free 2nd generation Moto E with the purchase of any Moto X (2014) via the Moto Maker program. Simply hit up the Moto Maker site, customize your new Moto X (2014) however you like and be rewarded with a free Moto E (2015) at the checkout.
Just so you know, the Moto E (2015) on offer is the 3G version worth 119.99 USD, not the recently released 4G/LTE model. You can either opt to buy your Moto X 2nd generation unlocked or on a two-year contract with Verizon or AT&T. Before you ask, this is a US-only offer and you've only got until March 24 to take advantage of this deal.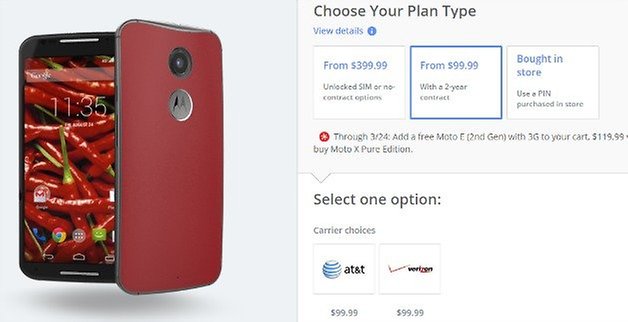 If you've been thinking about picking up a new Moto handset now could be the perfect time, with a Moto X (2014) for you and a Moto E for your friend, mom, little brother or just as a backup phone. When the price is free, why not take one?
Have you scored a free Moto E? What would you do with it?