LG launches the G2 flagship with lots of new old features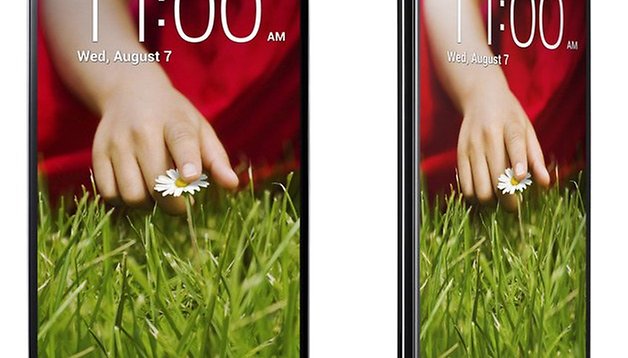 The new several leaks over the past little while, but now we can confirm everything we've been speculating about the Optimus G's successor in blurry pictures, leaked videos and rumored specs. We can also share some of the funnier moments of the product launch. NEXTPITTV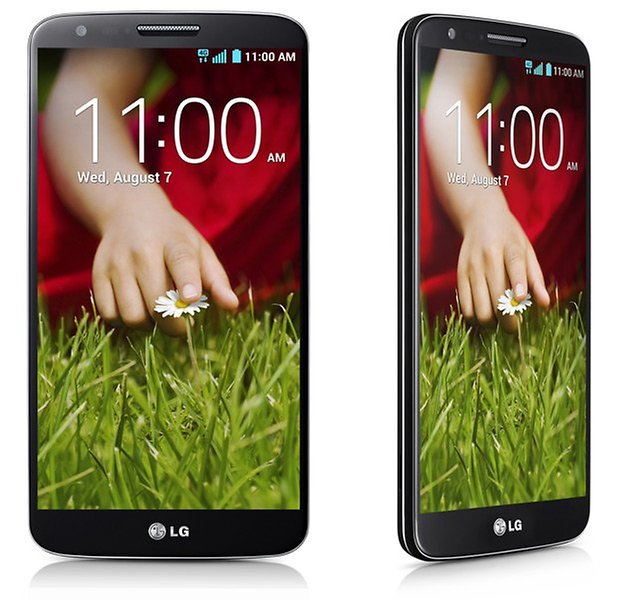 Learning From You
At a gala launch event held in the Lincoln Center, LG went all out on cheesy ads and awkward 'wow!' statements from their presenters in their delivery of features we've seen all over the place already. But apparently LG have been locked indoors for so long they didn't know half of them are already around and seem to think they invented them. But we have to give them some credit, the G2 does look pretty great and has some pretty nifty features.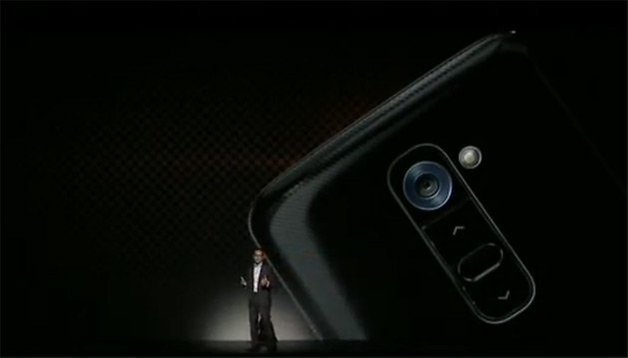 As already expected, the device will run on the 4G/LTE Advanced network with stock Android 4.2.2, will feature a quad-core Snapdragon 800 processor at 2.3 GHz, has 2 GB RAM with a 5.2'' Full HD IPS touchscreen with 0.1'' bezels, and packs a 3,000 mAh battery with a 13 MP main camera that features Optical Image Stabilization - a first for a smartphone with that pixel count. Here's the spec sheet for those of you who simply can't wait.
Technical Specs
| | |
| --- | --- |
| Processor | 2.26GHz Quad-Core Qualcomm Snapdragon 800 Processor |
| Memory | 2GB LPDDR3 800 MHz |
| Display | 5.2 inch Full HD IPS (1080 x 1920 pixels / 423 ppi) |
| Camera | 13 MP with OIS (rear-facing) / 2.1MP (front-facing) |
| OS | Android Jelly Bean 4.2.2 |
| Internal Storage | 16 GB / 32 GB |
| Battery | 3,000mAh |
| Weight and Dimensions | 138.5 x 70.9 x 8.9mm |
| Price | TBD |
Design and Display
The launch event focused on LG's ''five breakthroughs in innovation'': design, display, camera, sound and user experience. The main things they talked about were the rear-key we've been discussing forever, (and it looks like I was right when we first saw it - it also serves as a shutter button for selfies), which incorporates a volume rocker, power button and shutter button, and is the only physical button on the phone. LG were very proud of this fact and mentioned it a lot. A whole lot. They said it was the most innovative feature of the G2, and if my ears didn't deceive me they said it came from ''human research,' which seems like a rather unfortunate choice of words. They came up with the idea of the rear-key simply by watching people hold phones. Oh, and they really, really like fingers, but I'll get back to that.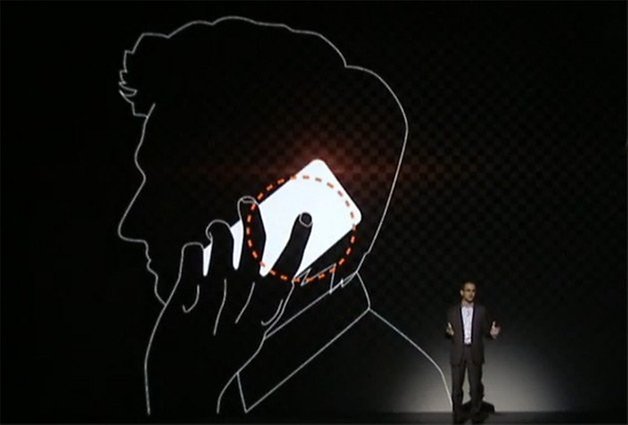 The phone has the perfect sized screen (as far as LG's hand advisers are concerned) of 5.2'' and will be a Full HD IPS display with dual routing for the touchscreen. This means there are two sensors, dividing the touchscreen sensitivity between them, which means the thickness of the sensor has been cut down. The screen is a size jump from last year's Optimus G at 4.7 inches and has a anti-fingerprint sapphire-tempered glass. The G2 will also feature a graphics RAM, that will boost graphics processing and improve battery life. The G2 has a new stepped battery design too that is meant to maximize battery life (wow!) by increasing density.
Camera and Sound
As expected, the G2 will have a 13 MP rear-facing camera and will feature Optical Image Stabilization, a first for a smartphone with a camera this size. As with everything else (the rear-key, the battery design, the dual routing sensors) LG are very happy that this innovation has been possible without adding to the phone's bulk. OIS means you can now take better low-light photos, which I am actually very happy about, don't get me wrong, because the shutter can stay open longer without suffering the effects of camera shake. To demonstrate this fact, LG showed a funny video of mechanically shaking hands holding the G2 and their competitor's devices, but missed a valuable opportunity to get someone's real fingers on screen.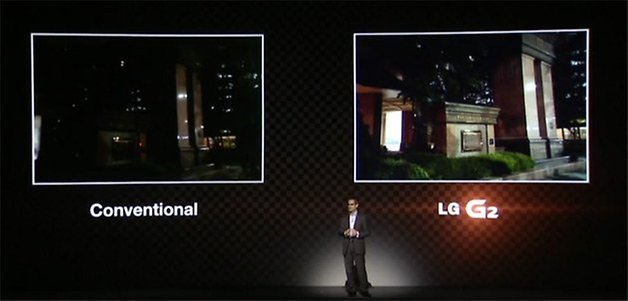 Sound quality is another major breakthrough in the G2. Humans can hear a lot more than the quality represented by CDs, which is 16 bit at 41.1 KHz. Hi-Fi sound is 24 bit at 192 KHZ, and that is what the G2 features. Studio grade, professional recording-quality sound on your smartphone. This is actually a very cool innovation, but LG had to go and make it seem kind of goofy by launching videos of the Vienna Boy's Choir to push the point, because ''there's nothing more pure than the sound of their voices.'' My lawd.
User experience
There's a bunch of new and old features (that LG thinks are new) on the G2. There's AnswerMe that allows you to answer you phone simply by moving the phone to your ear. Wow! You can even answer your phone while holding a cup of coffee or while wearing gloves. Kind of already available, but ok. Then there's GuestMode, which is exactly like Android 4.3's multi-user restricted profiles. But apparently LG came up with that one too (they are the first to put it on a smartphone though). There's multi-app switching with SlideAside, and QuickRemote that amazingly lets you use your phone as a universal remote. Apparently that's new too. TextLink automatically cuts information in text messages and offers to add the information to your calendar or map app. KnockOn turns your phone on by double-tapping it, and Plug & Pop launches a separate app drawer of audio apps when you plug in headphones.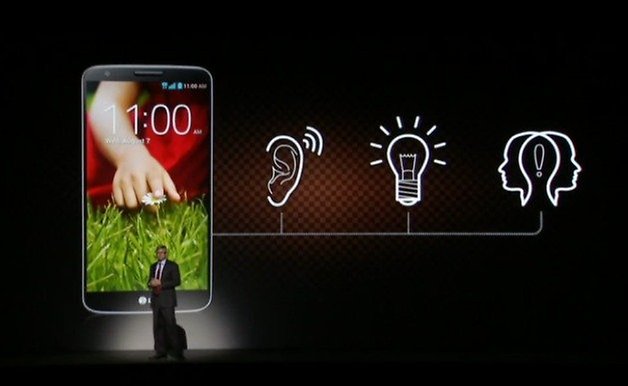 It seems like LG have been taking themselves very seriously in the development of the G2. Now, it's a cool device, sure, and I'm definitely looking forward to having a play around. But they've clearly been spending a little too much time inside because they've kind of gone a little weird. Their launch event was very comical, with some really awful aspects, and more terrible Vienna Boy's Choir show tunes than you could shake a Broadway stick at. And just in case you didn't get enough of those during the presentation, there's a bunch pre-loaded on the phone as ring tones. The presentation shared such valuable philosophical gems as ''people invented windows so they could see what was happening outside without opening doors'' so LG has a Quickwindow case that shows notifications through an opening in your phone case.
LG are also really big fans of fingers it seems. There was a whole bunch of finger-related stuff going on, from an ad that looks like it's trying to get fingers elected President, to the memorable line from the Senior Vice President of LG USA, James Fishler, that ''we've been blaming our fingers for smartphone drops that simply aren't their fault.'' Admittedly, taking design cues from the size and natural position of hands and fingers makes perfect sense, but LG take it reeeally seriously. The G2 may be the device your fingers have been looking for, and we'll tell you all about it when we get our hands - and all our fingers - on one.
The LG G2 will be available on the four major US cell networks in September.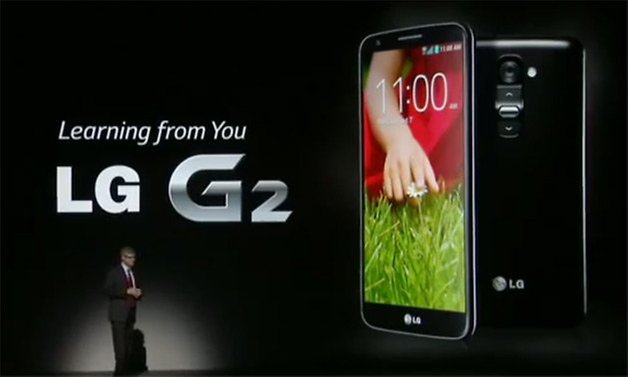 What do you think of the G2's specs? Would you abandon your current handset to get your hands on one?