Restraining Order Filed To Ban iPad In China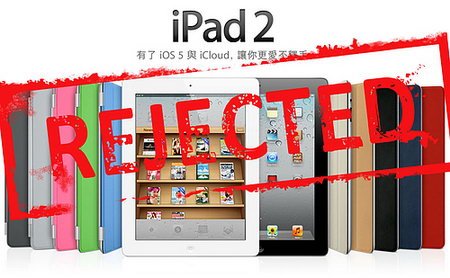 (picture from CFT2)
Man oh man...the last 7 days have been so hard for Apple that I'm honestly starting to feel sorry for them. Just last week, Motorola successfully managed to get specific models of the iPhone and iPad banned in Germany, and now we're recieving reports that Proview Technology (Shenzhen) has just filed for a temporary restraining against Apple to legally prevent from using the iPad name in China, which would effectively make the iPad and iPad 2 illegal devices in China.
The company apparently had already registered the name "iPad" back in 2001, and after an aggressive lawsuit and court battle, Apple was ordered by a Shezhen court to either stop using the iPad name, or to shell out 1.6 billion dollars for the trademark infringement. The entire process started back in 2009, and these court battles can literally drag on for years. But the request for a restraining order against Apple for using the name is no little matter, as approval for the order would mean that Apples iPad would become an illegal device.
Apple naturally countersued, saying it owned the iPad name in mainland China, but lost. Apple has appealed to a higher court to continue to fight for the iPad name.
Proview spokesman Yang Rongshan stated:
"We have to admit that Apple's iPad is a great product, and Apple creates great value out of that. But this is not the reason to support their irregular practice here......We've been negotiating with Apple. I can't tell you what the status right now since this is a commercial secret, but so far their attitude is still quite ambiguous".
A decision from the court is expected within 48 hours, but can take a bit longer to hear back from courts in such cases. If the device is banned, it could be one of those rare times that a legal dispute against a western company doesn't get popular backing from the rest of the country, as Apple products are very much embraced in China. Steve Jobs is an iconic figure to many of the Chinese, with young entrepeneurs looking up to the standards of innovation that he set.
Mr Yang ended by saying:
"I understand even lots of Chinese people think our company is playing dirty here or trying to blackmail Apple. But we are doing everything completely under the laws and rules, if people understand the whole process of this matter. There has been so much misunderstanding about us, but we would continue to sue until we win what we deserve."
When Apple was asked to comment on the matter, a spokeswoman refused to comment.
Pretty heavy stuff. It looks like that in as little as 48 hours we could know if one of Apples flagship products could be banned in the most populated country in the world. Personally, I'll bet that with the losses in court they have recently experienced, that Apple is really missing the late Steve Jobs leadership right now.
We'll keep you updated as we learn more.