If Google and Apple Really Talk Every Day, What The Heck Do They Say?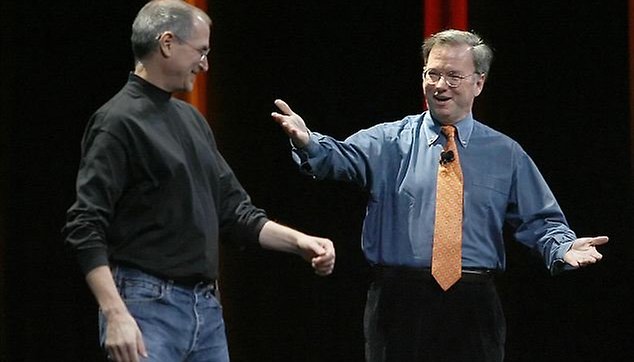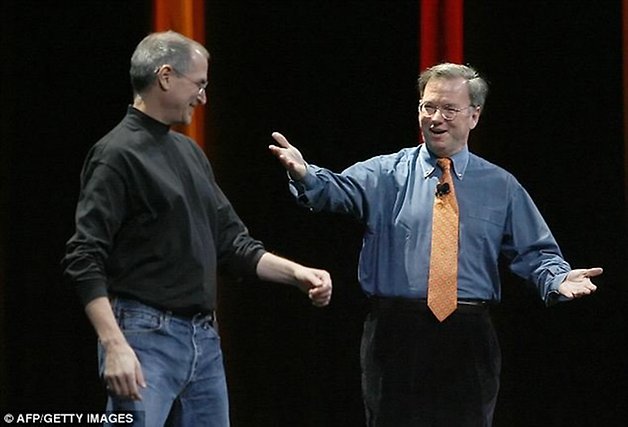 (Google's Eric Schmidt with the late Steve Jobs)
Considering Google's enormous stake in the fierce legal action happening between Samsung and Apple, it may surprise you to learn that – according to Google's Eric Schmidt – the companies actually have a good relationship.
Schmidt was in South Korea to announce the Nexus 7's availabilty there, and – in addiiton to the patent wars – he also had some surprising things to say about the relationship between Google and Apple.
In the press conference, Schmidt called Apple "actually a very good partner," and said that that the two companies "are literally talking every day about everything."
Really? Everything? If that were true, wouldn't Apple have figured out how to get their Maps working? Furthermore, what do you think they're saying to each other? I mean, really, the mind boggles:
Cook: Hey, uh, Schmidt. Just wondering, but, like, how do you program Google Maps so that Berlin doesn't end up in Antarctica?

Schmidt: What? Why is Berlin even IN Antarctica?

Cook: I really, really don't know. I guess one of our interns must have made a mistake in Apple Maps.

Schmidt: So fire your intern. Really, I don't have time. We're busy charting schools of fish in the Great Barrier Reef!

Cook: Oh. That sounds...cool. I guess. Can you tell me how you guys got rid of all these clouds in satellite view?

Schmidt: Yeah, you have to fly over the place again. Don't you still have Jobs's jet?

Cook: It's in the shop. Did you see that the iPhone 5 now has an aluminum back?

Schmidt: I heard it's getting scratched a lot.

Cook: Whatever. That's what makes it cool.

Schmidt: Umm..kay.

Cook: So..about those elections. Who are you voting for?

Schmidt: I really can't talk right now.
Right? Like, how strained and awkward would those calls be? I'm thinking like Mitt Romney-meets-a-gay-verteran levels of awkwardness.
But I'm sure it's true. In fact, we've even reported that the companies were secretly talking about how to resolve the patent matter on their own. As I wrote before, what's befuddling about these talks is that Apple and Google have never seem so estranged. Apple has fought to rid the iPhone of any traces of Google, eliminating Google Maps and YouTube from the pre-downloaded app selection. Google, for their part, filed a lawsuit to ban multiple Apple products just last month.
Furthermore, Apple's war against Samsung has always seemed like a proxy war in a much larger fight against the whole Android OS. Steve Jobs said he wanted to destroy Android, not just Samsung.
I suppose it is possible that Apple would back off from stock Android, so long as Google ditches unified search, which Apple claims infringes on their patents. Apple won an injunction against the sale of Samsun's Galaxy Nexus over this patent but Google has promised to find a work-around in an update to Android 4.1 Jelly Bean.
But I can't imagine the relationship not being incredibly strained, given the number of lawsuits flying in both directions. Even good guy Schmidt couldn't resist a dig at Apple's patent superiority complex in the same press conference when he talked of the two companies having a good relationship.
"With respect to Apple patents, the best thing we can tell there are plenty of prior arts and I don't want to go beyond that," he said.
That doesn't sound like what you'd say about a good partner.