Oct 14, 2014, 4:55:03 PM via Website
Oct 14, 2014 4:55:03 PM via Website
A cool new game Countries of Africa Trivia
★★★ Introducing Countries of Africa Trivia ★★★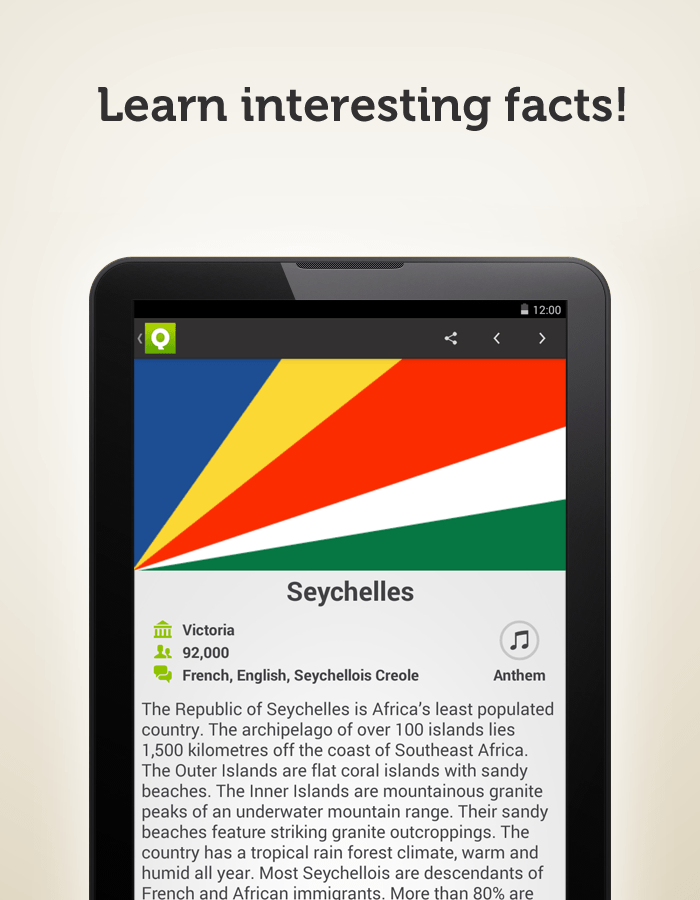 Description:
Discover countries of Africa and enjoy our quiz games for free!
If you love trivia and quizzes, you'll enjoy this app – it's about countries of Africa, you can learn amazing things about them and also play fun quiz games. And best of all it's free, so go ahead and download it now!
* Discover fascinating countries of Africa!
* Learn interesting facts!
* Play quiz games!
* Track progress and earn trophies!
You can find a lot of interesting facts about countries like Libya, Egypt, Nigeria or Burkina Faso. What's cool about it is that you can also play quiz games and track your progress.
Here's the full list of countries included in this app: Algeria, Angola, Benin, Botswana, Burkina Faso, Burundi, Cameroon, Cape Verde, Central African Republic, Comoros, Congo, Côte d'Ivoire, Democratic Republic of Congo, Djibouti, Egypt, Equatorial Guinea, Eritrea, Ethiopia, Gabon, Gambia, Ghana, Guinea, Guinea Bissau, Kenya, Lesotho, Liberia, Libya, Madagascar, Malawi, Mali, Mauritania, Mauritius, Morocco, Mozambique, Namibia, Niger, Nigeria, Rwanda, São Tomé and Príncipe, Senegal, Seychelles, Sierra Leone, Somalia, South Africa, South Sudan, Sudan, Swaziland, Tanzania, Togo, Tunisia, Uganda, Zambia, Zimbabwe.
What's more, you learn not only Africa trivia, but also develop general knowledge, you can learn flags, listen to anthems, know the capital cities, population, customs, culture and a lot of amazing facts about countries of Africa!
Ready for a challenge? Play quizzes, collect all trophies, and progress to 100%! Download this free trivia app now and have fun!
Requires: Android 4.0 and up
I recommend you to download this awesome and new game.
Enjoy!!