CyanogenMod Team: Jelly Bean Nightlies Will Take Some Time To Arrive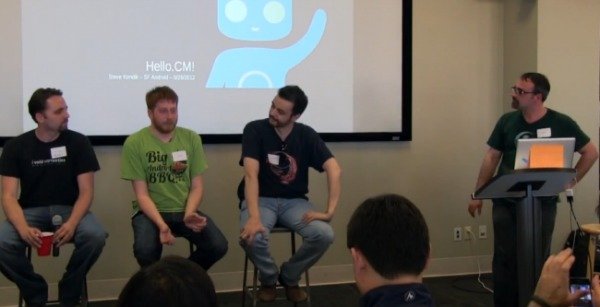 Google officially dropped the Jelly Bean source code yesterday, and one of the first thoughts that went through the minds of modders and flashers after hearing the news was "New CyanogenMod!". Well, the good news is that the team has already started merging Jelly Bean to CM. The bad news (this is actually only bad news if you're a really impatient person) is that the CM team has confirmed that the merge will will have to be manually performed, meaning that CyanogenMod nightly builds won't start popping for a little time to come.
(Fun fact: for those of you that have heard the name Cyanogen, but have never actually seen the man behind the name, he's the guy all the way on the right in the picture above. His real name is Steve Kondik).
The news comes from the CyanogenMod Google+ page, and the team explains that while a simple merge won't be possible, they had pretty much anticipated that the process would have to be done manually.
The CM team says that t"he plan of attack will be to cherry-pick everything from CM9 and fix the merge conflicts and relocations. It's tedious but the only way". Some of the more obvious challenges they are anticipating are:
Trebuchet might be messy to rebase onto JB.
Theme Engine will be messy.
SystemUI stuff will need to be restyled.
Lockscreen stuff will need to be restyled.
The current UX of Settings is good, no reason to change anything there.
After posting this information, the team noted that "this will be it on the updates (so we can focus on actually working). Next post referencing JB should be when the merge/cherry-pick process is complete". First rule of CyanogenMod is not to ask for ETA's, so keep that in mind if you're tempted to ask for a progress report :-D
In regards to nightly builds, the team stated that the "merge will commence when source is fully downloaded; this means hours not minutes since people all over the world will be hitting these servers. Do not expect nightlies to immediately be available for JB, we will have them up once we are content with where the ROM is".
CyanogenMod 9 plans have not at all been altered, and the team reiterated that they still anticipate a second release candidate for CM9, with a stable release to follow.
Picture credits: androidheadlines.com